Now departing: the economy meal tray. Qantas, which is in the midst of a cost-cutting program, is dropping the traditional carefully-arranged tray with small plates for starter, salad, bread and dessert — and a gap for the main course — in favor of one larger main course, a bread roll on a napkin and a pot of something sweet and gooey for after.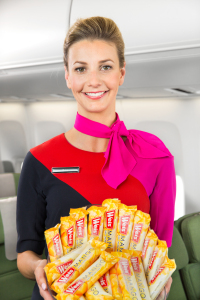 Signature main dishes on offer will increase from two to three options per meal, and will include:
• Smoky Barbecue beef with roasted sweet potato, broccoli and corn
• Yellow curry of barramundi with green beans and jasmine rice
• Barramundi poached in a lightly spiced coconut sauce with noodles, sugar snaps, choy sum and chilli
• Honey roasted chicken farro salad and seasonal vegetables with pumpkin and sesame seeds
"We have extended our Select on Q Eat service to Economy passengers enabling them to pre-order their meal online with access to an exclusive dish as the fourth dish," Qantas CEO Alan Joyce says.
The program is available on flights departing Australia now, and "progressively for inbound flights to Australia from March 2015".
Qantas also has self-serve and grazing options: Weis ice-cream bars, Maltesers, Carman's muesli bites, pulled beef sliders with capsicum and tomato relish, and fresh fruit.
Breakfast selections include traditional Greek yoghurt with muesli, a fresh fruit plate, or scrambled egg with chicken sausage, tomato, hash brown and baked beans.
The new meals start rolling out on Qantas' Melbourne-Dubai-London flight on 25 November, with Sydney following the next day and services to New Zealand on the 28th. Other routes will follow until 1 March 2015, when Santiago, Johannesburg, Honolulu, Bangkok, Shanghai, Tokyo Narita, Manila, Jakarta and Nouméa flights receive the new meal service.
RGN discussed Qantas' new meal strategy with Nik Loukas, airline food & beverage consultant and author of the Inflight Feed website.
"I think it's very innovative and the first thing that popped into my mind was how easy it would make the service for cabin crew," Loukas says. Qantas expects the service to be completed 30 minutes faster as a result of the changes.
Loukas does have one caveat, though: "My only concern is that with the removal of the airline meal tray passengers could possibly be exposed to more germs on their tray table, and we all know that the tray table isn't always cleaned between flights. So let's hope that the airline has built in a redundancy for this."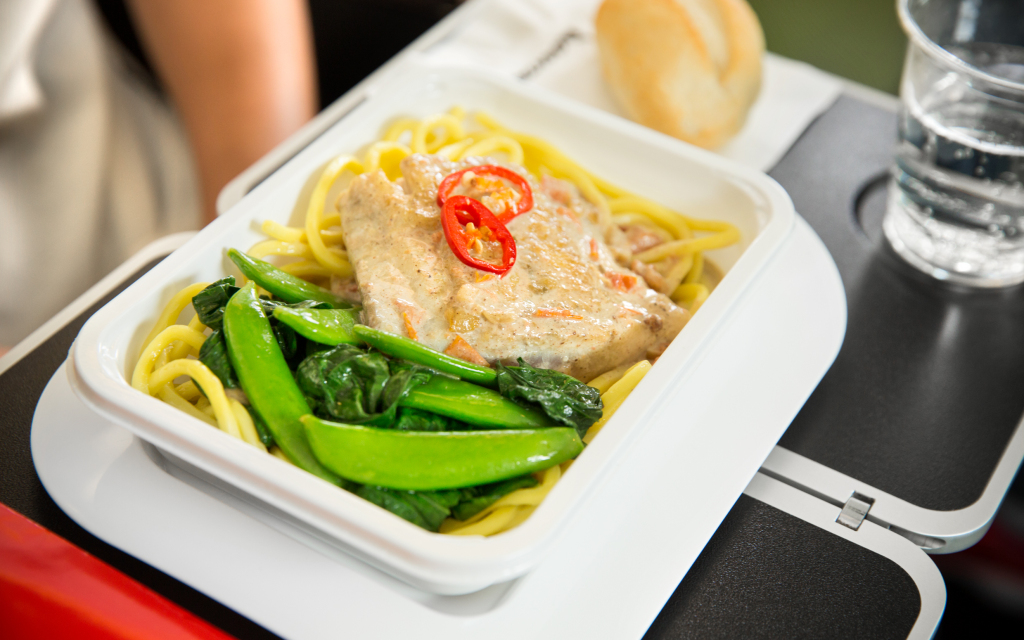 RGN asked Loukas whether Qantas' increased focus on its economy meal options were at least partially a result of its close partnership with Emirates, an airline renowned for its extensive economy meal offerings. "I think so," Loukas says. "Airline partnerships aren't just about cost savings and codeshares. They are also about working together to learn from each other."
"Of course it's about the passenger experience, but airlines being airlines need to see savings in order to make things work. I suspect that there will be a considerable saving on shipping catering equipment around the different Qantas bases, sourcing catering equipment, and of course the massive fuel savings due to carrying a lot less weight."
Flight attendant and author Heather Poole warns, however, that she envisages "a messy seat-back pocket" as a result of Qantas' decision.
Inflight food is a significant part of the passenger experience, allowing carriers that wish to be an airline of choice to make a lasting mark. Loukas agrees: "Airlines are constantly creating memories for us inflight. Some of them are aware of this, whilst many others aren't." If Qantas gets its new meal service right, economy passengers' memories could be good ones.