Gogo has expressed a willingness to talk with AT&T about potentially leasing the company's C and D spectrum blocks of Wireless Communications Services (WCS), after AT&T bailed on plans to launch a competitive inflight connectivity service in the United States.
"If AT&T is interested in leasing its spectrum, we'd be happy to talk to them," Gogo CEO Michael Small said today at the Wells Fargo Securities conference in New York.
This spring, AT&T announced it intended to launch a 4G LTE-based air-to-ground (ATG) service in the continental United States in partnership with connectivity hardware provider Honeywell. On 8 August, AT&T petitioned the FCC to open a rulemaking proceeding to amend rules governing the C and D blocks of the WCS in the 2.3 GHz band. "The proposed amendments will enable AT&T to use its C and D block spectrum for the air-to-ground component of its planned LTE-based inflight connectivity service for airlines and passengers," said AT&T in its petition.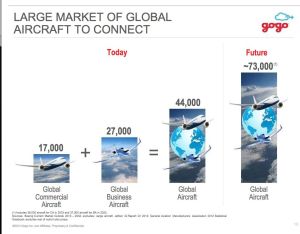 Earlier this week RGN broke the story that AT&T is no longer interested in pursuing this plan. The company explained that, after announcing its intent to acquire Mexican wireless company Iusacell – and following a thorough review of its investment portfolio – it decided to focus its capital instead "on transformative investments", such as international and video. Among those transformative investments is AT&T's planned acquisition of DirecTV. Once approved, AT&T by default will have a content presence on board aircraft, as DirecTV is offered on JetBlue Airways, a portion of the United Airlines fleet, and Frontier Airlines.
Even so, AT&T's decision to abandon its inflight connectivity plan came as a very big surprise to many industry stakeholders, including individuals who were planning to work with AT&T to assist in rolling out the service. Executives who had already scored work with AT&T's new inflight connectivity unit in Dallas will be assisted in their transition from the unit over the next 90 days.
Asked to opine about AT&T's decision this morning, Gogo's Small said he could "never understand the strategic rationale for AT&T getting in or how they could implement it if they had a reason to do it". He noted that the "barriers to entry in this business are extraordinary", and that would-be inflight connectivity providers need "extensive telecommunications knowledge because nothing off the shelf works". This requires knowledge not just in being a service operator but "as an equipment manufacturer". Additionally, he added, inflight connectivity is a "truly global business", which requires companies to take care of that equipment wherever it may be on the face of the globe.
Touting Gogo's solid gross margins, and the fact that the 4,700 aircraft fitted with Gogo connectivity is "eight times the size of our nearest competitor", Small said a focus on breaking even is next. "We think a lot of our competitors are bleeding badly at the gross margin level," he added.
A potential threat to Gogo is looming on the horizon, however. The FCC is nearing a decision to auction new air-to-ground licenses (within Ku spectrum). Should Gogo be out-bid at auction, and not walk away with a license, it could find itself at a competitive disadvantage to whomever emerges victorious. Small assured today, however, that while Gogo favors the auction happening, "we're not counting on it happening. It's a good alternative for us." Another potential insulator could be a Gogo lease of AT&T's spectrum.