It is always interesting to see the results from SITA's annual surveys to get a global view of which technology airlines and airports are actually investing their money in, and this month we have the SITA/ACI Airport IT Trends Survey 2014. At SITA Lab, we are always on the leading edge of technology, so it's great to start to see some of the tech we are researching now begin to appear on the radar of CIOs and CTOs in the industry.
This year was a major one for beacon technology. Beacons have been around for several years, but in late 2013, Apple kick-started a new eco system through its iBeacon technology – which means these beacons can trigger actions on a person's iOS phone. In SITA Lab, we've been actively working on this for the last 12 months and see huge potential – the physical and digital worlds are converging on your phone! After early tests with projects at major airports, we identified the need for a common use approach in our industry and then announced the SITA Beacon Common-use Registry to allow airlines, airports and their many partners to work together to get the most efficient use of beacons.
So, what does the survey tell us…
Well, not surprisingly, the numbers are still very low for the planned investments for major programs for beacon technology. We are still in the early-adopter stage with only 3 percent of the airports surveyed having major programs. But there is real interest in this technology; over the next three years, one third of airports will be investing in beacons. Beacons are also a gateway to the Internet of Things, so I expect to see this rate of adoption grow.
Connecting with passengers throughout their journey and providing them with relevant and timely communications is a widely-held goal in the air transport industry. Airports are particularly interested in sending passengers notifications on their mobile phones about flight status, check-in and boarding information – half are doing so already, and by 2017, this will rise to 90 percent. Beacons are relatively low cost, and so this tech appeals to airlines and airports that are investing in programs to connect directly with customers.
Beacon technology makes it possible to know where the passenger is and to only provide the right information at the right time. Through the common-use registry, one beacon can be used by the airport or its airline, retail and other partners' apps to trigger useful content to passengers or staff. Of course, we must be careful not to bombard the passenger with information.
The app developer can ensure now that information that is relevant to the passenger's location or stage of the journey is provided: e.g. gate number, baggage carousel, favorite coffee shop, flight status, etc. And of course, it is not just for passengers; beacons can be used for staff notifications and to beam operational information – such as temperature, noise levels, vibrations, etc. – from throughout the airport to allow efficient operational management.
Of course, the support of Apple for this technology through its iBeacon work shows how it can influence investments and adoption in the air transport industry. And it is not just in the area of beacons that this giant of tech is showing its influence. This September, the long-awaited move by Apple to incorporate NFC capabilities into its devices will have a significant effect on airlines and airports. Now, the majority of the world's mobile phones will have NFC capabilities, the travelling public will become familiar using it outside of the airport and will begin to expect to see it being used at airports across the world. Our survey was carried out before Apple's announcement, so it will be interesting to see how many more airports will invest in NFC programs next year – will it jump a lot from this year's 10 percent? SITA Lab has been working with NFC for about four years now, and over this time, we have defined standards for how boarding gate readers interact with phones. These standards have been adopted by IATA and implemented by the major gate reader manufacturers, so the industry is ready for NFC.
Wearable tech is another innovation that is making its mark on our industry. The success of SITA Lab's pilots with leading airlines and airports, such as Virgin Atlantic and Copenhagen Airport, has attracted a huge amount of attention. The airports in our survey are investigating this technology for both passenger-facing and operational use.
Again, it's early days, but over the next three years 16 percent of airports plan to trial this new technology. Expect to see smartwatches at airports used for boarding and Google glass used for document verification and customer services. Behind the scenes, wearable tech will be used in operational and maintenance departments.
Passenger numbers are rising and the majority of airports are putting passengers first by prioritizing IT investments that can improve their time at the airport. Beacons, NFC and wearable tech are just some of the innovations that will make the passenger journey better. SITA Lab is already working with airports around the world to see how we can take advantage of the latest innovations; the future is closer than you think.
The eleventh edition of the SITA Airport IT Trends Survey is based on responses from participants at airports across the world through which 2.35 billion passengers travelled last year. This represents 42 percent of the total global passenger traffic and 46 percent of the traffic among the world's Top 100 airports.
Further details on the survey are available here and customized data from all of SITA's industry surveys can be accessed on the SITA IT Trends Hub.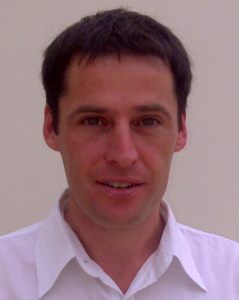 About the author, Kevin O'Sullivan:
Kevin is lead engineer at SITA Lab, which works on strategic technology innovation projects in the Air Transport Industry. SITA Lab's goal is to stimulate technology innovation in the ATI and bring emerging technologies into SITA's portfolio. Current areas of focus are wearable technology, connected everything, big data, mobile technology, cloud computing, NFC, and social networking. In his role at SITA Lab, Kevin is responsible for bringing concepts to reality. He has 17 years of IT experience, 12 of those in airline & travel industry.