Wednesday, 8 October 2014, was a day of firsts for Star Alliance member and German flagship carrier Lufthansa. Departing gate Z52 at Frankfurt Airport and bound for Washington Dulles was the maiden voyage of 'Schleswig-Holstein', the carrier's newest Boeing 747-8I aircraft.
That however, was not the day's biggest news: for within that gleaming new 747-8 was the first installation of Lufthansa's new Premium Economy cabin.
International press joined some of the airline's top executives to fill the 32-seat cabin separated by full dividers and a set of lavatories from Business Class (in front) and smaller, ceiling hung fabric partitions from economy to the rear.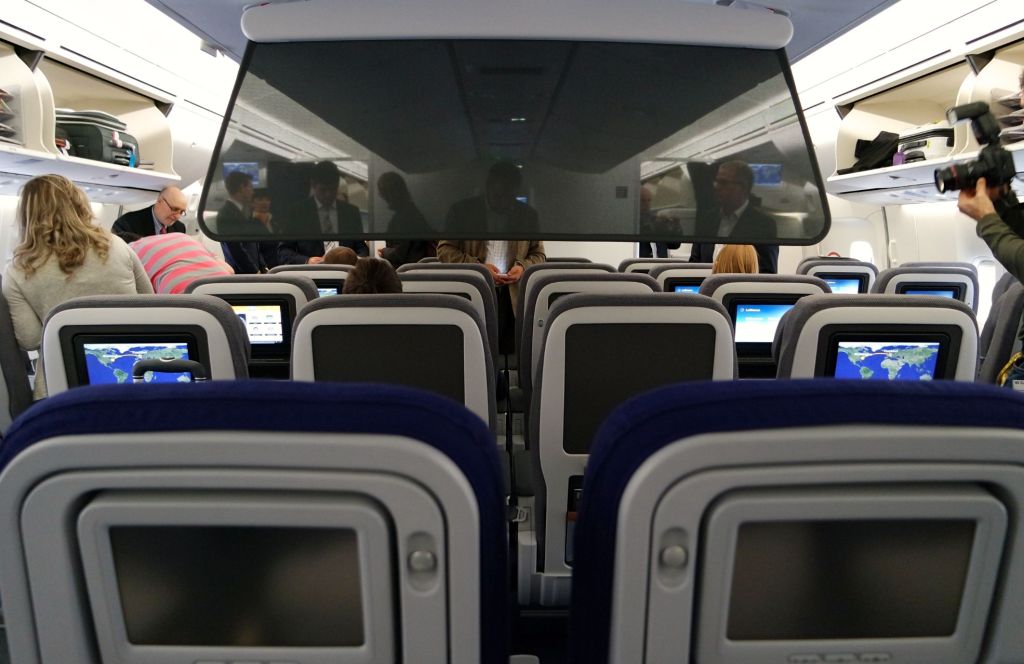 Similar to other 'premium' full service airlines, Lufthansa's new product is a truly dedicated Premium Economy offering, not simply an extra legroom seat. "From Lufthansa, people always expect a lot…and we are not the first," explained Annette Mann, director of premium economy launch management at Lufthansa. "So when you come late, and there's a lot expected, and you come with a simple eco-plus product, this does not really fit. We would get really bad press for that."
Journalists were permitted on board the Schleswig-Holstein prior to regular boarding for an opportunity to inspect the product. In a flurry of flashbulbs, reporters thoroughly poked and prodded the specially-modified Zim Flugsitz-made seats, wiggled and pulled the brushed platinum-finish coat hooks and leg-rests and located and occupied various ports and plugs at every seat for headsets and electronic device integration or charging.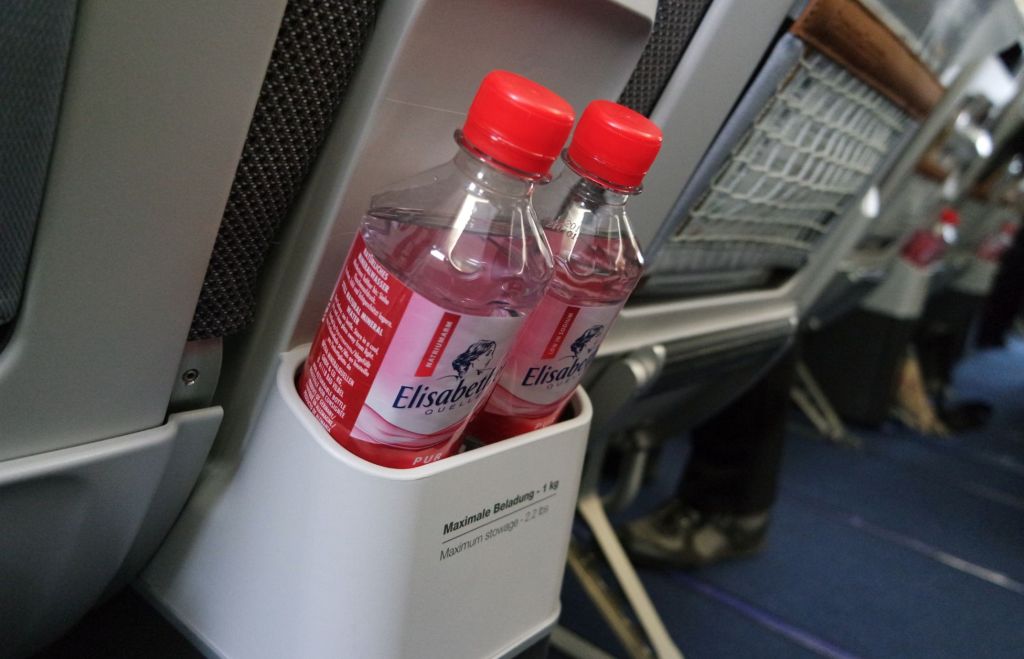 Aside from allowance for a second checked bag, a Premium Economy ticket entitles the holder to Lufthansa Business Class Lounge access for an additional $25, and priority boarding. Service begins pre-takeoff with refreshment in the form of mint-infused orange juice, proffered in a stemmed plastic glass. A bottle of water is also provided to each guest – a move that wins points from even the crankiest flyer.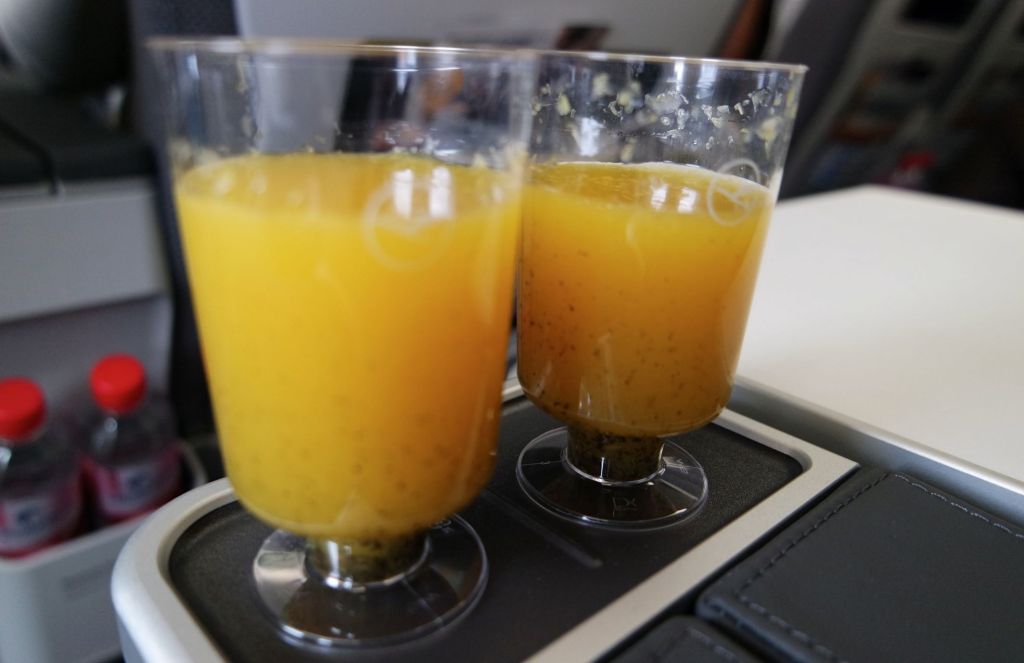 Subsequent meals (hot lunch and cold second service) were served upon china tableware, with a serviette made of a rich, non-woven textile and real metal cutlery – plus glass for beverages. The content of first-service (larger) meals on Premium Economy will basically mirror the main cabin offering, however a menu is supplied and small upgrades will be incorporated. For example, our side salad was garnished with fresh prawns. Another small, but noticeable add-on was an after-dinner drink service of Baileys or Cognac.
Hot towels are a nice touch as well. Second-service meals in premium economy are served on a half-tray with china and metal cutlery, while economy passengers receive some variety of a boxed snack. We had a fresh Brötchen (little bun) with several cheeses, butter and sliced meat with a fruit salad and drink.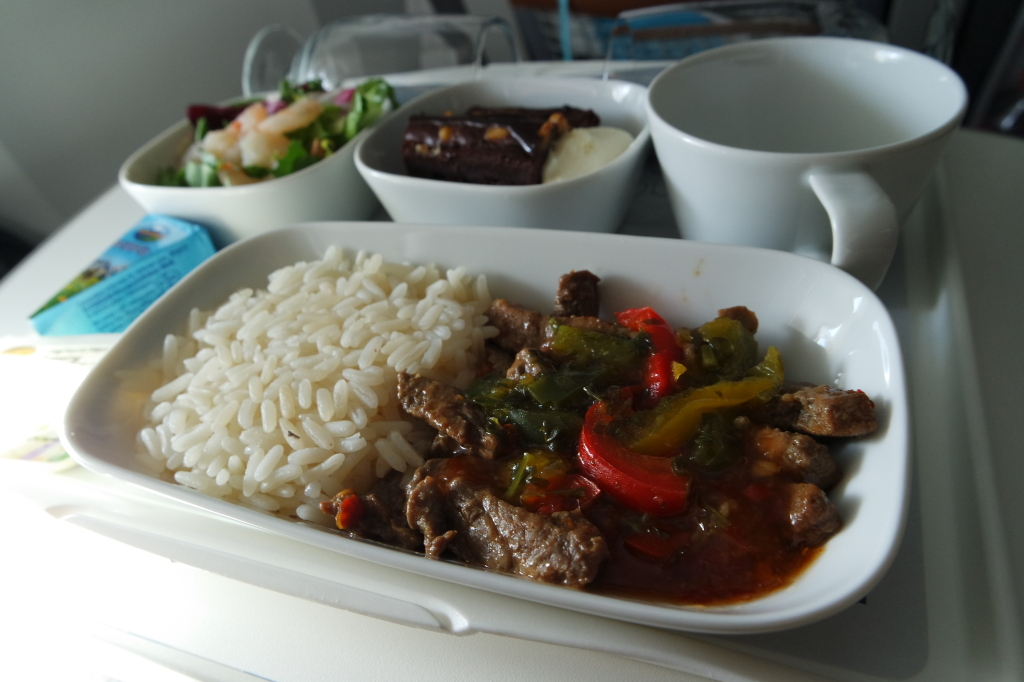 This reporter was seated in seat 25A (window), found in the last of four Premium Economy rows. I discovered that this seat, at a still-comfortable width of 18", was actually one inch narrower than those in the three rows ahead of me. According to Dorothea von Boxberg, director of passenger experience and design for business and premium, this is the airline's solution to a trolley navigation issue stemming from the abrupt 2-4-2 to 3-4-3 configuration switch and aisle curve encountered when moving between Premium Economy and regular economy cabins. The final premium row also has a 20" backrest where the other rows boast 21".
At just less than 5-foot-4, I represent the smaller end of the passenger demographic. With the seat in an upright position I could not quite reach the metal footrest which extends down from the seat in front. When fully reclined (8" compared to economy class's 6") I found it to be perfect. My 6-foot neighbor was comfortable as well. Seat pitch in the Premium Economy cabin is 38", which many will agree is enough to ensure a degree of comfort to even the most vertically-gifted passenger. The centre console between seats is probably the most profound source of space and relief; your shoulder and arm will likely not come into contact with your neighbor… unless you want it too.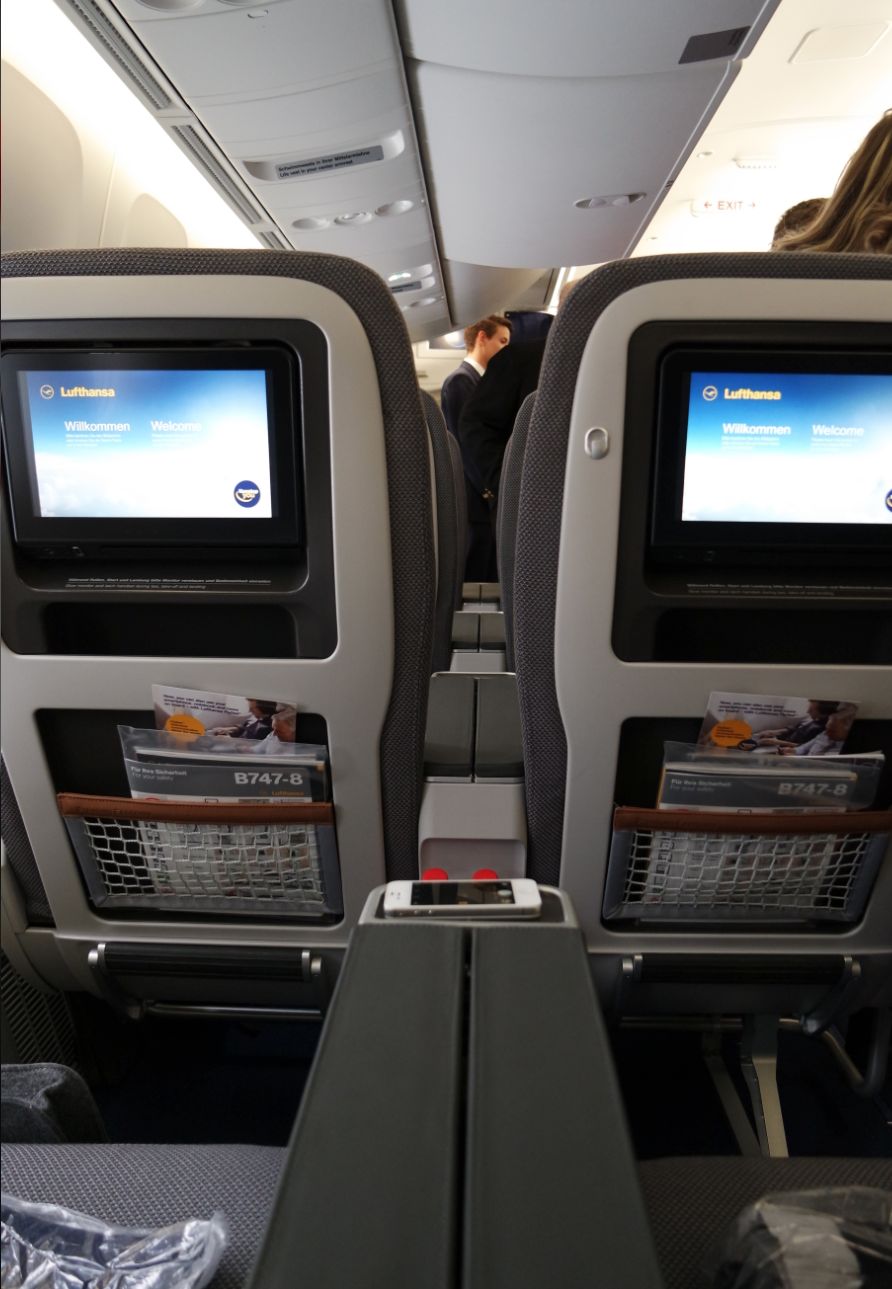 Overall, Lufthansa's goal of creating a truly independent product, positioned directly between economy and business, has been achieved. Passengers will ultimately decide whether additional space, intuitive storage compartments for the modern traveller, fine detailing like stitched-leather and sleek organic seat fabric, a distinctive color scheme, and all the other perks and service enhancements that create an exclusive atmosphere, are deserving of this Premium Economy product's projected price point (Lufthansa says this is €600 above standard economy fare as a rule of thumb but can, if you're savvy, be had for less).
Every three days between now and December, a new 747-8 will leave Lufthansa's Frankfurt hanger with the new Premium Economy class. Until the full Boeing long-haul family (19 birds) has been reconfigured, the existing seats will be offered on a flight-by-flight basis as a paid upgrade or as a compliment to awards program members, frequent fliers and travel agencies known to book high-yield clientele.