Redundancy. Redundancy. Redundancy. This is the aviation ethic demanded of virtually every aspect of flying, and should be demanded for aircraft tracking as well.
British satellite communications firm Inmarsat is known for a great many things, and cockpit comms is certainly one of them. That's why Inmarsat's proposed aircraft tracking solution would make a natural choice for IATA/ICAO as they mull their options in the wake of the tragic disappearance of Malaysia Airlines MH370. Hawaiian Airlines has already signaled its intent to deploy Inmarsat's SwiftBroadband Safety product, and a number of other airlines are considering the company's free positioning data proposal.
As Inmarsat has repeated many times, some 10,000 aircraft already carry the hardware necessary to support the type of aircraft tracking being mulled by IATA/ICAO, and a further 5,000 more will be primed to do so when SwiftBroadband is cleared for safety services, which is expected next year.
So Inmarsat is a natural choice to track the vast majority of widebody aircraft flying internationally in the world fleet. But where is the redundancy in this equation for over-water operations that don't entail the high-trafficked — and already heavily tracked — North Atlantic ocean? Leave aside the tricky question of, "What happens if the pilot shuts off the system" for a moment, and ask yourselves, "What happens if the system fails?" Then what? I can imagine the headlines now. "Whoopsie. The system failed. We still don't know where the plane is at." And the world would answer, "WTH?"
That's just one of the many reasons why I believe there is room in this great industry for more than one tracking solution for over-water operations. And it seems reasonable to me that solutions that operate via Iridium's global constellation should be given serious consideration by IATA/ICAO. It also seems clear that if the industry wants redundancy for flight tracking, specifically, it doesn't necessarily need to offer two traditional satcom tracking solutions, but rather might consider the space-based air traffic surveillance service known as Aireon as back-up.
Aireon, which will operate via Iridium's second generation constellation of satellites NEXT, has long been billed as a way for airlines to save billions of dollars in fuel costs because it will facilitate more direct air routes and optimal climbs, as well as allow for aircraft to be spaced closer together on high-traffic corridors like the North Atlantic. But in the wake of MH370, Aireon's ability to track aircraft via space-based Automatic Dependent Surveillance–Broadcast (ADS-B) could prove to be its most important feature, at least as far as the traveling public is concerned.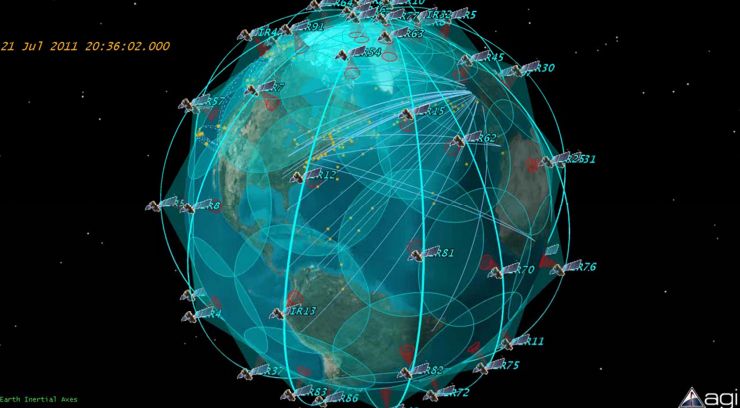 Aireon is a joint venture among Iridium Communications, NAV CANADA, ENAV, IAA, and Naviair. When Aireon is fully operational, anticipated for 2017, it will create a platform capable of tracking ADS-B-equipped aircraft around the globe in real-time.
Rather than wait for IATA/ICAO to formalize its recommendations to the industry — and after Inmarsat made its own gesture to offer free positioning data — Aireon today announced plans to provide a global emergency tracking solution as a public service to the aviation community, free-of-charge.
The so-called Aireon Aircraft Locating and Emergency Response Tracking (Aireon ALERT) service will allow rescue agencies to request the location and last flight track of any 1090 MHz ADS-B equipped aircraft flying in airspace currently without surveillance.
It will be available soon after Aireon's full deployment and will be provided through a 24/7 application and emergency call center. Historical track data will be available to pre-authorized users, including ANSPs, airlines and search and rescue authorities, through Aireon ALERT soon after controller communications are lost with an aircraft, and the system can also provide real-time tracking of aircraft in distress, provided ADS-B transmissions are still operational, according to the firm.
"A comprehensive, global aircraft tracking solution is essential in emergency situations, as evidenced by MH370 earlier this year and Air France 447 in 2009," says Aireon president and CEO Don Thoma. "Aireon is being deployed to improve the efficiency and safety of aircraft operations in oceanic and unsurveilled airspace. The same technology behind these efficiency gains can also make a significant difference in providing quick, accurate information in emergency situations. With one global view of ADS-B equipped aircraft, Aireon ALERT will provide accurate and real-time tracking data immediately to authorized search and rescue operations, without requiring airlines to equip aircraft with new avionics or the ANSPs and authorities to deploy new systems."
Raymond James analyst Chris Quilty says the chief arguments in favor of Aireon have long been that it will produce huge fuel savings and route efficiencies for the airlines. Additionally, ADS-B equipment will be mandatory by 2020 and is being line-fit on all new Boeing/Airbus aircraft; and ANSPs, not the airlines, pay for the service (in most cases), he says. "In all honesty, the tracking/safety aspect of Aireon was a secondary consideration in their business plan. In light of MH370, however, it has become a major selling point."
Cyriel Kronenburg, vice president sales and marketing for Aireon, says the company plans to engage the various aviation stakeholders including the airlines, ANSPs, regulators and search and rescue organizations over the next 12 months to define the technical, operational and legal details of providing this data in emergency situations.
"We anticipate support from the world's airlines for the approach taken by Aireon for emergency tracking," says NAV CANADA president and CEO John Crichton. "Airlines already stand to gain over $125 million per year in fuel savings in the North Atlantic alone by using Aireon's space-based surveillance service. The Aireon ALERT public service offers an additional benefit, free of charge, ensuring that ADS-B equipped aircraft can be tracked anywhere in the world, even in airspace managed by ANSPs that have not subscribed to the Aireon service."
It's all worth considering, considering the aviation ethic.
As writer Dan Namowtiz wrote in a 2012 OpEd for AOPA, "Any pilot who has ever dropped a pen into the abyss beneath the seats while copying a complicated clearance immediately learns one of aviation's overarching lessons: Carry more pens.
"The trauma of such experiences has caused aircraft owners to hoard pens from anywhere and everywhere, until the Baron bristles with Bics. Don't bother trying to write with the pens found rolling around in the baggage compartment; it's just a graveyard for inkless implements.
"Pen failure ranks right up there as an aggravating aviation systems malfunctions. Fortunately it has the same remedy as many others: redundancy."