It's not often that long-established airports build new terminals. Heathrow Airport last opened a new terminal six years ago, and that was the much delayed Terminal 5, which opened to much fanfare and…a fiasco of a first day. Heathrow Airport has learned a lot since then.
Terminal 2, the so-called Queen's Terminal, was the first proper terminal building to spring up after World War II, and frankly, through the years it grew tired and worthy of perhaps third world status. Heathrow's solution? Move the airlines out, rip it all down, then start fresh.
The new incarnation, risen from the proverbial rubble after half a decade of rebirth, has a wavy roof, designed to let in swathes of light and perhaps even evoke flights of fancy. At the same time, Slipstream (pictured above), the massive sculpture stretching across the entire frontage of the building, shows off the vapor trail of a Red Bull Air Race plane as it performs a trick. Impressive? Definitely.
The passenger experience (#PaxEx) from both Heathrow Express and the London Underground is reminiscent of a club experience with funky lighting leading the way to the piazza under the Slipstream. For people arriving by car, the inevitable parking garage is the first thing visible and that too has had a good revamp. Gone are the dingy low ceilings, but beware, when winter comes, that garage will be airy and cold.
Once you've travelled up the two levels of escalators (the first to Arrivals, the second to Departures), you are faced with the same large hall as Terminal 5. Self-check-in kiosks are the advance guard, followed by the Economy class bag drops and check-in desks, before an airy space separates those from the premium class desks. Four zones are fairly clearly marked, but beware, some queues are for multiple airlines and their signage rotates.
Unlike Terminal 5, there is only one entry to the security check. Fear not, those with fast-track passes will have their dedicated queue on the right, which opens into four dedicated lanes, while the common man is funneled into one of 17 security lanes. The security zone is airy, again gone are low ceilings and you can say 'hello' to automatic tray returns. Then it's a short walk to the mezzanine that opens up over the main departure level. Two sets of escalators on either end and a set of lifts allow you to descend into the controlled chaos, while the Lufthansa Senator and Aer Lingus Gold Circle lounges are by the right-hand side escalators on the upper level. The Plaza Premium Lounge is on the left side of the main departure level, tucked away past the airline service desks. Heathrow provides 45 minutes of free Wi-Fi, with Heathrow Rewards members receiving 90 minutes.
All tastes are catered for in terms of shopping and dining before your flight. From Gucci and Burberry to Harrods and Prunier Caviar House, from WH Smith to Dixons to World Duty Free, Costa and Yo! Sushi, it's nearly all there.
The A-gates are clustered around the front and right sides of the terminal, while the B-gates are accessible through a subway (with travelators, thank goodness) to the satellite. Even this building is nicely appointed, with several concessions present and accounted for. The satellite also contains the United Club, Air Canada Maple Leaf and Singapore Silverkris lounges. I strongly recommend though that you set off for the B-gates as soon as they open as the walk across takes 10-20 minutes, even with a moving walkway.
The Arrivals level, accessed from airy bridges and brightly-lit tunnels (from the B satellite) opens into a cavernous space with UK and EU passports to the right, with non-EU arrivals on the left of the space. Biometric passport gates are available to the right-hand side too. The new design also means that the main baggage hall, equipped with twelve belts, is accessible immediately after immigration without any more level changes. The customs experience also has a bright and airy feel. There is only one exit, funneling you through a last-minute duty-free area before spitting you back out into the bright main arrivals hall.
Whereas Terminal 5 opened with a big bang with the majority of the new tenant's flights moved on the same day, Heathrow takes the more cautious approach this time. Terminal 2 will be the Star Alliance's new home. When the new terminal opens on 4 June, only one airline, United, will see all its Heathrow flights arrive and depart there. Two weeks later, United will be joined by Air China, ANA and Air Canada, followed two weeks later by EVA Air, Turkish Airlines, Thai Airways and new entrant Avianca, which is scheduled to start its inaugural service on 4 July. By 22 October, all airlines should be settled into their new home and with any luck, Terminal 2 will function as if it had never left!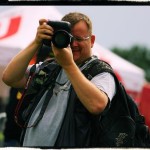 About the author, Stefan Paetow:
Fascinated by planes from childhood, Stefan has travelled extensively for work and pleasure.
Nowadays he spends his time running after dirt bikes with a camera, working on authentication systems in science, and following trends in a wide range of sectors, including aviation and travel.
All images above courtesy of Stefan Paetow.