Now that US regulators have given their tentative nod to IATA's New Distribution Capability (NDC), which offers a framework for XML-based data transmission standards, airlines are jumpstarting their technology planning for merchandising.
Since the NDC won a key endorsement from the US Department of Transportation, airlines have "actually put a budget around this [NDC]", notes Jim Davidson, CEO of travel technology firm Farelogix, which stands to benefit from the decision.
To date, the strategies adopted by airlines to create merchandising schemes have generally progressed faster than the actual technology available to support the new world of airline retailing.
On a scale of one to ten, Davidson currently rates airlines a "five" with respect to crafting their product merchandising strategies. "I think they [airlines] get it. They've either hired the right people or brought in consultants to see that [merchandising] happen," he says. For instance, Middle Eastern carriers that offer a higher-level premium product are examining value-add options whereby they offer economy passengers certain items for sale featured in upper classes to give those customers "a little taste of what is on the other side of the curtain".
In the US, Delta recently upgraded amenities for passengers traveling in the Economy Comfort segment of aircraft operating in hotly contested transcontinental markets from JFK to Los Angeles, San Francisco and Seattle. Now along with extra legroom and priority boarding those passengers receive complimentary cocktails, a sleep kit a, pillow and blanket, and snack wraps.
All of the new product offerings are a natural evolution as airline merchandising grows in sophistication; but what about the crucial element of customer engagement?  Davidson believes airlines are just starting to scratch the service of engaging their customers in the merchandising realm. The Farelogix chief suggests that airlines have not generally adopted the concept of customer engagement beyond offering a schedule and set fare.
Of course the most crucial element for airlines to succeed in merchandising is finding the optimal technology to execute their strategies. Davidson currently rates the industry at a "two" in terms of available technology. Using the travel agent workflow as just one example, he says it's tough to sell a product like Premium Economy from a "green screen". However, some GDSs have invested in new desktop technology for travel agents and Davidson concedes that the hybrid offering from Travelport is "not a bad idea".
Shelly Terry, VP of supplier merchandising for the Sabre GDS, previously agreed that the new merchandising paradigm requires a change in the travel agency environment. She believes it is only a matter of time before managers and agents are acclimated to changes ushered in by merchandising.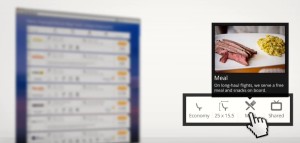 Now that NDC has been tentatively approved, the technology community supporting airlines "needs to elevate their efforts on supporting airlines with NDC-friendly solutions", Atmosphere Research analyst Henry Harteveldt recently told Tnooz in a statement. "This should lead to more business for everyone from smaller companies like Farelogix to larger firms like Amadeus. Airlines no longer have an excuse to ignore NDC. Now, they must simply determine whether and how NDC will fit their business and distribution strategies."
As airlines begin to develop NDC-compliant tools, the pieces of the technology puzzle are coming together for them to further capitalize on merchandising. But questions still abound. Some airlines say, 'Our customers aren't asking for these products and services', says Davidson. His response captures how customer needs and potential revenue intersect in the new airline business paradigm. "Well, they're asking someone for them, otherwise they [customers] wouldn't be spending over $50 billion on those services this year."
See's IATA's explanation of NDC in the video below.