Last September Gogo made a big splash, announcing its Ground-to-Orbit (GTO) solution at the APEX Expo in California. The solution combines satellite and terrestrial services to provide more bandwidth on each airplane, breaking away from the company's traditional air-to-ground (ATG) or satellite-only solutions in service today. Virgin America signed on to be the launch partner and GTO was expected to enter service in late 2014. It turns out that Gogo was not the only company to have ideas about combining ATG and satellite services, however, and it seems that someone beat them to the punch when it comes to the US Patent Office.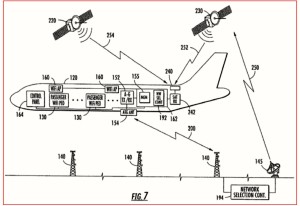 Over the past several weeks there have been four patent application granted, all to LiveTV and all of which potentially affect Gogo's ability to implement the solution as announced. You see, all four of the patents include phrasing which describe implementing a network where the invention can switch data traffic between an ATG or satellite-based transmission path. LiveTV is being acquired by Thales.
Patent number 8699403 in particular is very interesting in this context. It describes "an aircraft-based network selection controller for determining whether to send data communications to the PEDs through said air-to-ground transceiver or said satellite receiver based on a communications link metric," and how a "network selection controller determines to send data communications with a higher needed channel capacity with a high bandwidth using the satellite receiver, and determines to send data communications with a lower needed channel capacity data communications with a low bandwidth through the air-to-ground transceiver."
And that's very, very similar to what GTO proposes to do. Would it be possible for Gogo to implement the GTO platform without infringing on LiveTV's patent?
Multiple sources said Virgin America might be shying away from the GTO option, preferring the 2Ku solution announced in April 2014 instead. The 2Ku option would be satellite-only, completely removing the ATG communications channel from the planes. It might be prudent for Gogo to simply walk away from the GTO option, pushing customers who want higher-speed service on to their 2Ku solution and conserving ATG bandwidth for smaller aircraft where mounting the two Thinkom antennae is not viable or where the flights are short enough that the lower bandwidth ATG solution is sufficient.
In other patent fun, Gogo has been granted patent 8700032 which allows for directional-antennae on planes and on the ground in a wholly terrestrial solution. The patent outlines why a terrestrial connection is better than the design of the GTO solution (though said challenges were obviously omitted when announcing GTO):
The asymmetric manner of the first method, which transmits data directly from the aircraft to the terrestrial-based system, but requires data to return by way of orbiting satellite, results in several disadvantages. First, the system is quite complex and expensive due not only to the requirement of a satellite, but also the need for terrestrial-based transmitters and antennae that are powerful enough to communicate with the space-based satellite. Operating costs also remain quite high due to the significant amount of power needed to run a terrestrial-based transceiver and antenna capable of transmitting to a satellite. Lastly, reliability and ease of repair are issues due to the difficulty in physically accessing the satellite, which can result in long durations of down time of the overall system.
None of that is untrue, of course, but it is always entertaining to hear a company suggest that the solution they've been pushing hard to sell is fraught with challenges. Next week Gogo will entertain journalists and then analysts at its Itasca, Illinois headquarters. We've been promised that we'll get a chance to see GTO up close and personal at that time. We hope to gain clarity on the aforementioned patents as well.