Major global distribution system Sabre has identified three broad merchandising trends in the airline industry – bundled pricing, unbundled pricing and hybrid pricing – and says the strategies now being employed by airlines move up and down that spectrum.
The bundled approach is attractive to some carriers and their customers because, while passengers may initially pay more, they feel they are getting better value from a package that includes checked bags or preferred seating. Other airlines prefer a hybrid approach after concluding that selling items a la carte – in a completely unbundled environment – can create an image of nickel and diming, notes Shelly Terry, Sabre's vice president of supplier merchandising.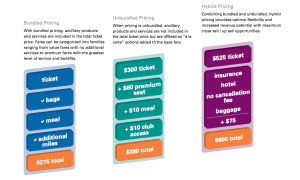 Branded fares are also a tool in an airline's merchandising arsenal. Rather than offering add-ons, airlines through their branded fares offer passengers access to a certain number of amenities, including stand-by or itinerary changes, says Terry.
One significant issue airlines faces once they craft a merchandising scheme is adopting the proper technology for execution. Terry suggests that airlines overall can achieve their merchandising goals through technology at a price point that is actually less than roughly five years ago, and the capabilities include allowing carriers an ability to offer their products through both direct channels (their own websites) or indirect channels including online travel agencies.
The Sabre executive believes airlines that truly master merchandising successfully use all the channels for product distribution to target not only corporate travelers, but leisure passengers as well. Having a multi-channel strategy generates more revenue opportunities and drives a more consistent brand message across all those channels.
One of the ripest merchandising opportunities for airlines or any travel supplier is mobile devices, says Terry, noting that mobile provides a platform to target impulse purchases from customers.
Some airlines have expressed difficulty in effectively targeting some of their products to customers. Specifically, carriers sometimes find it challenging for corporate customers to access their various extended legroom offerings in economy class. Delta Air Lines, in particular, has been working to create more visibility for its Economy Comfort product.
But Terry insists a technology gap does not exist in that regard, though she concedes the new paradigm requires a change in the agency environment. She believes it is only a matter of time before managers and agents are acclimated to changes ushered in by merchandising.
Of course airlines also face the challenge of understanding if the required technology spend on merchandising will ultimately be worth the investment. "Technology is the enabler," concludes Terry. "When airlines have a well articulated [merchandising] strategy," she adds, those firms can create a solid business case for the technology expense.
Some airlines exhibited forward thinking related to merchandising as far back as 2006, says Terry. But after the global recession emerged in the 2008-2009 time period numerous airlines adopted product unbundling to bolster their revenues to withstand the weakened economy. Yet consumers were left feeling as if they were forced to pay for a service that was previously complimentary, which Terry states is "not merchandising".
Now airlines realise a concrete strategy is necessary to carry out the fundamentals of merchandising – product, pricing, placement and promotion, says Terry. She believes a fifth and necessary element for airlines is personalisation, leveraging data to understand historical buying trends. "That is where sophisticated merchandising happens," Terry concludes.
Related articles: