Melanie Friend is the type of chick that oozes confidence. She rocks a vixen red hair 'do', owns her circa 50s femme-style, and has ink up both arms. She's an East coast broad, who recalls landing in a helicopter on the Steel Tower in Pittsburgh with her pilot father. She's got grit, oomph, spunk, and I assume a helluva right hook. But while Melanie is clearly comfortable in her own skin, you might be surprised to learn that she isn't always comfortable with the atmosphere in-flight.
As the Photography Producer for Modcloth, the popular indie e-retailer, Melanie travels monthly to LA for shoots and has adopted a lifestyle she never quite pictured. "As it would be, I'm terrified of flying," she says. "Fast forward and I'm a Silver Member at United."
Yet there is an alarming lack of women in business and first class on most airlines, and Melanie often discovers she is the only women sitting up front, or one of a very few.
"It's another world up there," says Melanie of the male-packed first class. "As a woman, have your nurturing side, but when you get on flights, it's the squeaky wheel that gets the grease and don't put up with this 1940s mentality of 'you're lucky to have a seat'."
Whoa, is there really still a boys club mentality in premium classes?
It takes but one Google search to find myriad horror stories about the treatment of women on board aircraft, irrespective of travel class. These range from a lack of women's rights to nasty notes left for female pilots. In February NBC reported that the FBI has investigated at least four recent reports of sexual assaults aboard airplanes en route to Reagan National and Dulles International airports.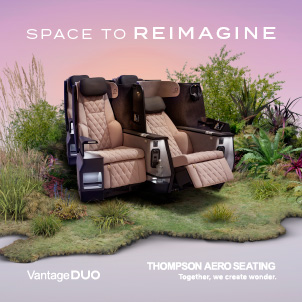 Judging by reports, female flight attendants consistently face sexual harassment, and often at the hands of privileged male premium class flyers.
For instance, Cathay Pacific's flight attendants recently sounded the alarm that they have become a target for sexual harassment, saying these incidents have been on the rise since the carrier introduced a new, sexier uniform in 2011. The flight attendant union's honorary secretary, Michelle Choi, was quoted as saying, "Whenever a flight attendant bends down, her waistline is exposed. We believe the company intentionally does this to make us look a bit sexier and to let the passenger see more."
But in a highly convincing opinion piece, South China Morning Post columnist Alex Lo suggests that that uniforms are not to blame, but "rather it's Cathay's 'class' system for passengers and its differential quality of service for first, business, premium economy and economy 'cattle' classes".
A key par from Alex's piece:
Now, I am not disputing Choi's characterization of Cathay uniforms as being too revealing. I recently travelled in economy – where else! – on Cathay between Toronto and Hong Kong and could testify what Choi said about the waistline is true. But given the watery congee and instant noodle, the minimal service and tight seats, we in cattle class were constantly reminded of our insignificance. One stern look from those attendants would put us in our place and banish what lewd thoughts we may have about them. And guess what? Choi says the problem stems mainly from the upper classes of passengers. "Some of the Marco Polo Club members [frequent fliers] think they can do things to us because they are privileged and we somehow allow it," she said. "I think part of the reason is that we treat our passengers so well. They are spoilt … They think it is part of their privilege." It's no secret that Cathay and other Asian airlines pamper the upper classes of passengers, as they are the engine of profits. That makes clients feel entitled, especially after a few free drinks.
It would be unfair to single out Cathay Pacific. After all, even the CEOs of certain airlines have been guilty of objectifying and demeaning women (see Nok Air CEO's spectacle at the recent Singapore Air Show).
And plenty of non-Asian operators still foster – and feed into – a boys club environment in-flight. As a young writer who can barely afford a seat at all let alone business or first class, the last thing I want to do is sit beside some middle-aged businessman after he's watched half-naked women show him how to "tighten" his seatbelt. Yet Air New Zealand serves us 'Safety in Paradise', while Virgin Atlantic promotes its 'Guide to Getting Lucky'.
Just today a woman on an Air New Zealand flight tweeted the following (gently censored):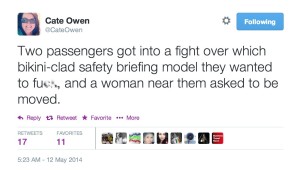 The full thread related to this tweet is worth a read.
Melanie's approach is to hang tough. "It's just standing your ground. Leave your maternal instinct at home and be a bad ass. By the time you get to the hotel, the last thing you want to do is have any issues between home and this city."
Unfortunately, not all of us are of that nature and shouldn't have to be.