When flying starts to feel pedestrian and you start wondering why it takes so long for a product on the ground to get in the air, it's worth remembering that the movement of innovation goes the other way too. It sometimes just takes a little digging.
We'll start with a printing process pioneered by the STAG Group. Thought to be the first of its kind in aviation, it applies ink that can seep 0.25mm into plastic and can also be used on metal and fabric. The new printing technique has already been adopted by Agusta Westland, Transaero and other component suppliers to the aerospace industry.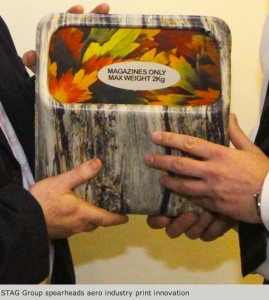 Currently, the allure lies in branding seatbelt buckles and wear-and-tear resistant emergency signs. The product certainly lives up to the hype, as I discovered at the recent Aircraft Interiors Expo (AIX) in Hamburg. A sample of printed vacuum formed plastic was quite resistant to my attempts to deface it with a Swiss Army knife.
"By printing components directly onto the substrate, a tamper proof solution is provided and there is no requirement for adhesive labels, with their associated purchase and application costs. This is a durable printing solution that has widespread appeal for the aircraft industry," says Rick Crosby, unit director of the business.
Perhaps we are stepping into a world where keyboards and remotes won't ever get to the point where one must guess which button is which and branded water bottles retain their like-new appearance even after being owned by the most vigorous and clumsy of hikers. A preliminary test of a cap from a bottle of iced tea suggests that the bottle cap industry might be ahead of the curve on this one, as it is proving to be rather resilient.
Up next is SABIC Innovative Plastics, a company that has had some time in the Runway Girl Network sun with LEXAN LIGHT F6L300 and LEXAN XHR2000, which were both showcased at AIX this year. The former seeks to reduce weight on an aircraft while the latter boasts 80% light transmission, the most for an OSU-compliant material so far.
However, it would be foolish to confine it to the air. The implications for weight savings on ground transportation, whether on trains or in automobiles, are enormous. Furthermore, LEXAN products are already finding their way into consumer electronics like Xiaomi smartphones in China.
A product that has already found a place in the consumer goods market is the ACME Group's Dymetrol. Originally formulated as a component of high-end office furniture, the nylon-based fabric was later used on aircraft seats.
Given the aviation industry's obsession with slimming down the seat profile, it was well placed to enter the aviation industry. The fabric suspension system retains a perfect pressure profile, meaning that anyone can sit on it comfortably, and the fabric will pull taut again when the passenger stands up. Covered with a thin layer of cushion and leather, it makes for a space-efficient and reasonably pleasant seat.
A modified version of the flame-resistant version of the fabric created for airlines found its way to trains, where the added row of seats in a compartment allegedly added up to about a million euro in extra revenue.