As with all things, IFE systems are susceptible to change. Strides are being made every day to improve what exists already, moving at a pace that could give an unprepared observer whiplash. Such is the case with Arconics' new CloudStore IFE system, a wireless system that puts control of content into the hands of the airline.
CloudStore gives the airline control of what content is available to passengers, how it is presented, and then further gives them insight into what the passengers are most interested in. In fact, if the airplane has broadband Internet connectivity, content can be altered in flight. It even has a place for viral videos, so passengers can stay up-to-date on whatever Internet trends are taking off, so to speak.
The service further seeks to differentiate itself from the mammoth IFE hardware providers, and the growing cadre of wireless IFE providers, with price. At almost half the cost of a traditional streaming service, the service makes it possible for low-cost carriers that have historically eschewed IFE to bring it on board. On top of that, the retail options and potential partnerships with services such as Uber mean that ancillary revenue can also increase, according to the firm.
Arconics' history lies with working with low-cost carriers like Ryanair, which comes through in the amount of thought they've put into making a system like this feasible for such a carrier. In the case of retail, knowing what draws buyers in and what actually sells means airlines can avoid stocking poorly performing products, thus saving weight and cost.
Billed as a revenue-generating IFE system, CloudStore allows airlines the ability to insert advertisements before content. And with a bevy of tools in their hands, they can not only direct advertisements at specific demographics and routes (making those ad slots extra valuable), but are also able track the success (or failure, as it were) of content and retail using the built-in analytics systems. The amount of data available to the airlines is extensive, breaking down revenue and viewing according to a number of factors, including route and origin.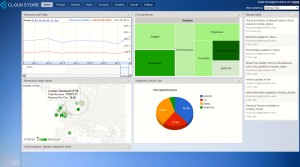 Given the recent privacy scares, the idea of an airline knowing which passenger is doing what and tailoring their experience can almost be construed as invasive, even if registration isn't necessary. Arconics is suitably concerned about what data is available and what is protected, and insists that controls can be put in, though it's worth noting that the data collected won't be particularly different from the data already collected on land.
The company also has another not-so-secret weapon under its sleeve – IFE industry veteran Michael Reilly has joined Arconics as VP, avionics and entertainment. To the uninitiated, Reilly is a well-known face in the IFE world, and most recently served as chief operating officer of major content service provider Stellar Entertainment, which was the first CSP to support Apple-approved use of the iPad as IFE (flown by Jetstar).
What with its revenue generating capabilities, increased airline control, customizability, and seasoned management, Arconics has ambitions for CloudStore to overtake some of the biggest wireless IFE providers. This confidence will be put to the test when the system takes to the air, which is expected for sometime in July.