Norduyn, a Canadian manufacturer of products for commercial, business and military aviation, exhibited recently at the Aircraft Interiors Expo (AIX) with a bigger booth than in previous years. It also occupied some premium real estate on the trade show floor.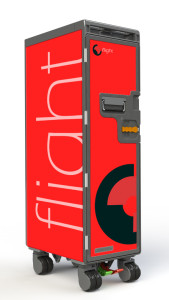 The reason for this high-profile presence at the world's largest marketplace for aircraft interiors products was that Norduyn, like so many other exhibiting companies at AIX, was using the busy international event as a launch-pad for its latest airline offering – the world's lightest certified duty free trolley, shifting the scales at a modest 9.7 kilograms for the half-size version.
Norduyn specializes in high performance composites. In 2010 the Norduyn 'Quantum' all-composite airline trolley, developed jointly with airline caterer LSG Sky Chefs, achieved airworthiness certification and won the coveted Crystal Cabin Award in the category "Greener Cabin, Health and Safety". Today, more than 25,000 of Norduyn's lightweight composite catering trolleys (still the lightest certified full-size and half-size catering trolleys in the world) are in operation and new airline customers have been secured.
According to Patrick Phillips, director of business development at Norduyn, his company's new duty-free trolley is not only the lightest certified duty-free trolley on the market, it's also the one of toughest for a potential thief to break into. "The true magic of this cart is that it is moulded from a single body shell," he explains. "This means that you cannot break into it by removing a side-panel or rear panel sections, like is the case with all the aluminum-built carts out there."
Adding to the insurance offered by its single moulded body shell, the new duty-free trolley from Norduyn has a specially reinforced door panel, giving the most vulnerable panel of the trolley considerable fortitude. Norduyn claims that several US-based carriers have already conducted "break-in tests" comparing the cart to a handful of competitors, and that its trolley was proven the most difficult to breach.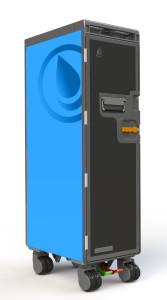 Although the new trolley is available with RFID tracking capabilities, which makes economic sense considering the high monetary value of most duty-free products, Norduyn is not attempting to introduce any new or unproven locking mechanisms on the cart. Instead, says Phillips, the company is encouraging customers to use the seals and/or padlocks they already have. This decision was made to prevent the unnecessary stocking of a new line items and additional training for flight crews in an industry where time is money. Not everyone agrees with this assertion. A new trolley company called FlightWeight has tabled a duty-free cart that uses a keycard to lock and unlock the door to prevent unauthorized access.
But Norduyn has strong airline backing. Like the company's original all-composite catering trolleys, Lufthansa will be the launch customer for Norduyn's new product, and the airline will use the "Quantum" name for their specially-developed version of the cart.
"We will begin stages of delivery to Lufthansa in August," says Phillips. "Total quantities are not finalized, but we are talking about fleet replacement."
At AIX, Phillips also hinted at the possibility of a second customer announcement in the coming weeks.
Famously, the Innovative Plastics branch of SABIC worked with Norduyn to create Quantum, which it too showed off to full effect as part of a cabin mock-up at the SABIC booth.
SABIC also took the opportunity to reveal its newest form of sheet plastic. Dubbed the LEXAN LIGHT F6L300, the new microfoam clocks in at 40% lighter than traditional PVC materials while still boasting durability and flexible design functions.
Slim seats were also part of the mock-up – these were moulded to accommodate a tablet on the seat-back, though embedded IFE systems are not ruled out. Thermal window shades were of a new design as well, cut out of a single sheet with a black core to achieve darkness without sacrificing lightweight build.
Behind the scenes, the material works just as hard. SABIC has found that its parts lasted about two to three times longer as traditional ones do, and that they absorbed less water. Overall, Kim Choate, the new global marketing director for Innovative Plastics, estimates that water absorbed by plastic parts accounts for about three tons of weight.
The transparent version of LEXAN is impressive as well. As the first to meet all safety requirements, including toxicity, while allowing 80% light transmission, it breaks open a new world of design that could not previously be achieved. SABIC has also created a version to diffuse LED lights, allowing for mood lighting.
When asked how much weight could be saved overall by using the new plastics in place of traditional ones, Choate approximated about two tons. During a time when every breakthrough that saves a kilogram is a feat, this is certainly an impressive number that could, if it stands up to further scrutiny, usher in a new age for aviation.
Additional reporting from Chantal Berendsen.