Updated to note that SITA and Virgin have won a Smart Technology award for their use of Google Glass in #PaxEx
Multinational IT company SITA is gearing up to employ wearable technology during other touch points of the passenger experience (#PaxEx), after completing a six-week trial with Virgin Atlantic that saw the carrier's 'concierges' wear Google Glass devices to provide personalized service in its Upper Class lounge at London's Heathrow Airport.
"Wearable continues to be a big focus for us this year," says Kevin O'Sullivan, lead engineer at SITA's strategic technology research arm, SITA Lab.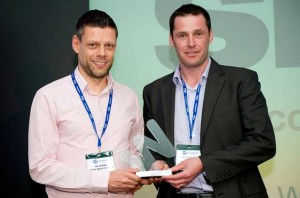 During the short trial, Upper Class passengers at Heathrow were greeted at their chauffeured limousines by Virgin employees wearing Google Glass, and the check-in process was immediately initiated. Employees provided real-time flight information updates, up-to-the-minute weather reports and information about local events, as reported by the APEX editor's blog.
O'Sullivan says SITA and Virgin "wanted to figure out if passengers would have a negative [reaction] to Google Glass, and surprisingly, there was none so I put that down to the fact that it's an airport environment and people understand it is secure, and you hand over your information, and that Virgin would do everything to treat them royally".
At the start Virgin employees admittedly donned the Google Glass eyewear with hesitation. "But after a couple of days using it, they got the value of having that passenger information pushed to them just when they needed it, and the notification that a premium passenger [had arrived]," he says. So in the end, "they really loved it". Virgin says it received "incredible feedback" from the pilot program.
Since then, SITA and Virgin have received a Smart Technology Award during the Wearable Technology conference and expo for their pioneering pilot, which also tested how Sony Smartwatches could enhance #PaxEx.
The judging panel commented: "The Virgin Upper Class innovation is a great example of how data from many wearable and mobile devices can make life better for passengers and create a better relationship with the business itself."
While O'Sullivan doesn't think SITA Lab will have wearable technology projects to sell in the near-term, "as it is still in the concept and research phase", he says the company will "sit back and discuss with Virgin the details of what was good and bad [in the trial] and then pick another area of the passenger journey or airport operations to look at and see where else we can deploy wearable technology and learn its appropriate use".
(Pictured Above Left to right): Tim Graham, Innovation Manager, Virgin Atlantic Airways, and Kevin O'Sullivan, Lead Engineer, SITA Lab, SITA's strategic technology research group, accept the award.