We all know the expression that proclaims, "Getting there is half the fun," but few carriers in the holiday travel world have taken it on as a challenge the way Condor has.
The experience begins before the plane is even in the air, where the carrier has taken something as simple (and, let's face it, boring) as a safety video and turned it into an eye-catching episode. Featuring an Elvis Presley impersonator sheepishly putting away his music player and an astronaut declaring that watching the video is a giant leap for your safety, it's obvious that Condor is establishing itself as ahead of the herd of low-cost carriers.
Of course, other carriers, low-cost and otherwise, have boarded the delightfully campy safety video bandwagon. Delta, for example, screens one that hearkens back to the eighties with big hair, Rubik's Cubes, and leg warmers galore. What's a family friendly holiday carrier trying to distinguish itself to do?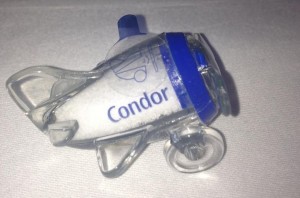 In an industry segment that strives to depress costs as much as possible by resorting to measures some might deem extreme, Condor seeks to differentiate the holiday travel experience with 'little touches'. In Premium Economy and Comfort Class, passengers receive lunch bag-shaped amenities bags. For holidays like Christmas, Easter, and Mother's Day, there are special candies.
Perhaps most amusing are the airplane shaped salt-and-pepper shakers included with the meal, which is good in its standard form. If you're sitting in Economy, you can spring for a Premium Economy meal and enjoy an expanded repast that includes a small cheese plate. The extras come packaged in a box claiming, "Condor: Quality since 1956".
Johannes Winter, head of communications at Condor, describes the carrier's mission to me as "providing a whole holiday experience…that starts with boarding…" This isn't just a matter of getting vacationers to their destination, but of starting them off on the right foot. For their efforts, the German quality control agency, the Deutsche Institut für Servicequalität (DISQ) awarded Condor with a top rating of 'very good'. A 2012 DISQ study also found the airline to be the top choice of German consumers, bringing together price and quality to beat out industry behemoth Lufthansa and low-cost carriers like Easyjet and Ryanair.
Condor is pursuing other initiatives to fulfill its promise of a quality passenger experience. Early in 2013, it announced an overhaul of the cabin interiors in the long-haul Boeing 767 fleet by müller/romca industrial design and Zodiac airline cabin interiors.
The Comfort Plus class will be redubbed Business Class and with that will come new seats designed by Zodiac Seats France. Featuring 170° reclining capabilities and USB and power outlets, the Majesty design fits Condor's dedication to comfort. However, at 170°, the offering falls short of the full-flat beds that are an increasingly expected offering in any Business Class flying long-haul.
Economy and Premium Economy are also getting facelifts courtesy of ZIM FLUGSITZ, a company known for its philosophy that the pursuit of weight minimization doesn't have to sacrifice comfort or quality. Narrower backrests give the illusion of more legroom in both classes while the extended backrest tilt in Premium Economy adds an extra touch of accommodation. A true leisure carrier, Condor keeps its seat pitch fairly snug.
The first converted 767 completed a flight from Frankfurt to the Maldives at the end of October 2013. Passengers aboard were able not only to enjoy the new cabin interior, but also the new inflight entertainment system.
Created by Zodiac In-flight Entertainment, the RAVE system offers each guest a considerable selection of movies, TV shows, games, and audio programs. Furthermore, by making each seat independent, the RAVE system forestalls the need for a full cabin reset.
Passengers in Business Class have full access to the IFE system via a 15.4" touch screen. While Premium Economy passengers also have full access to the programming, Economy passengers must make do with a basic line-up of programs. However, for €7, any Economy passenger can join the club. After the entire fleet is converted, which is planned for summer 2014, Economy passengers will be able to reserve access to the IFE online beforehand.
The carrier is bringing its leisure service to more parts of North America. Flying out of Frankfurt-am-Main in the coming months, the single-prop salt-and-pepper shakers will be landing in Las Vegas, Halifax, Baltimore, Vancouver, Anchorage, and Fort Lauderdale among other destinations.