Passengers are accustomed to hearing claims from airlines that new "slimline" aircraft seats will equate to more living space, and quite rightfully many aren't buying the message.
But one company is making a name for itself for the monospar construction of its seats, which maximizes leg and shin space and makes a 29in pitched seat feel like a conventional seat at 32in pitch.
I know. We've heard it all before. But if you'll forgive the poor audio in the video below, you can see how much living space a near 6ft tall passenger can expect in an Acro Aircraft seat pitched at 28.75 inches.
Now Acro has cracked into the US market with its 'Superlight' seats. "We've worked with four or six lease companies in the US, and have delivered four shipsets of seats to a US low-cost operator of Airbus A320s," reveals Acro commercial director Cameron Allan. The latest shipset of 1,500 Superlight seats was delivered very recently, he says, "and there was very strong indications we'll sign another [separate] contract in the next few months certainly". These carriers "have asked me not to name them".
A320 operator Spirit Airlines, which offers fixed recline seats pitched at 28 inches, seems like a likely candidate for Superlight. The carrier could not be reached for comment.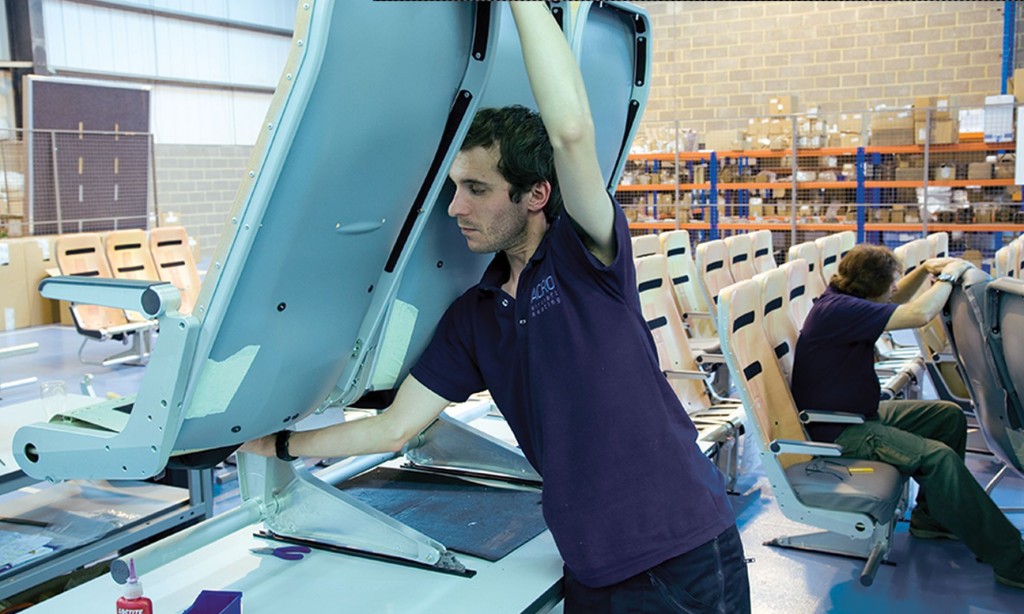 In the beginning, Acro was "just producing a very simple, very tough, low-cost carrier seat", says Allan. British budget carrier Jet2.com served as its launch customer, and one shipset of 'Superlight F' seats turned into three shipsets "and as they grew, we grew along with them", he says. "And for three or four years, we used that time to produce a seat with more global appeal, a reclining seat that looks more like a regular seat, and can take IFE. We launched that new range – called 'Ultra' in 2011 – and this year our turnover is about three times what it was last year and we plan to double that in two years.
"So [we provided seats for] Thomas cook in the UK, an A330 for them in October; and we did KLM Cityhopper's entire Fokker fleet earlier this year; we've worked with [South Africa's] Mango, and Nordwind [of Russia] this year."
The Thomas Cook seat "had Zodiac's RAVE IFE in it", representing the same type of IFE/seat integration project that Acro executed for Royal Air Maroc's Boeing 767s and a single Boeing 747. "We're quite pleased with how it went," says Allan.
Also this year, Acro and Saab reached agreement to offer new Acro seats as a retrofit option for Saab 340 and 2000 turoboprops. "We're in the final stages of development on the Saab program. We still have to certify that seat, but that's continuing to plan, and first delivery of that seat [will be] to a customer in April," says Allan.
As previously reported on Runway Girl Network, Acro's new 'Ultra XC' seat for the A320 was recently chosen by a major European carrier for retrofit across its A320 fleet. "The XC is the way of naming the seat which we developed for the A320 project next year; it retains about 95% of the previous version of the Ultra, but it's a little bit wider" to accommodate the wider cross-section of the A320, explains Allan, who can also look forward to the Crystal Cabin Awards in 2014, as Acro has been shortlisted.
Management believes Acro's mix of customers "is going to naturally change as we become a bigger organization". And it sees opportunities for ultimately winning linefit offerability at major airframers. "We believe we'll run into people who have large retrofit programs combined with aircraft on order and probably our first linefit on Boeing or Airbus will be driven by the customer demanding that [it] happens," says the Acro executive.
"We don't have ambitions in the next three to five years to be in the Airbus catalog, but whether that happens organically or not, I'm not sure. I strongly believe we'll be involved in a linefit program without being in the airframer's catalog in the next 18 months. So the airline will buy the seats from us, and insist they are installed in Toulouse or Seattle or wherever it is being built. The whole Airbus and Boeing catalog thing is – we don't know enough about it; we know where we thrive is where we have direct connections with customers, and understanding what they need and giving it to them. We can deliver a shipset in 14 weeks. And the whole catalog supplier is the reverse of that. There is minimal interaction with the end user and the lead times are very, very long."
With so much business on its plate, does Acro contemplate selling up and cashing in? "My boss, the CEO, says he doesn't have any plans to give up the business or abdicate responsibility for anything like that," says Allan.