For the past few months, Airbus has been campaigning for an 18-in seat width standard on long-haul aircraft, even though the European airframer continues to advertise the option for airlines to order a high-efficiency A330 in 9-abreast configuration with a 16.7-inch seat width and a high-density 10-abreast A350.
Airbus also recently tabled a plan to A340-600 operators that would allow them to configure their aircraft with a whopping 475 seats after clearing certification hurdles, in a bid to make the out-of-production widebodies more appealing.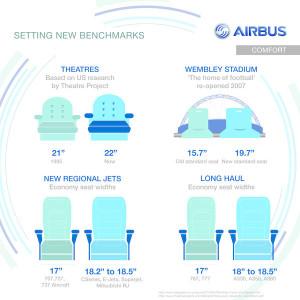 Some industry observers believe that, in flogging an 18-in "comfort" standard while actively pitching super snug, high-density configurations, Airbus is talking out of both sides of its mouth. Lufthansa has already said it does not support Airbus' campaign.
Airbus VP cabin innovation & design Ingo Wuggetzer disagrees, saying the airframer is being forward thinking, and considering the next generation of traveler. "In general, we see people are growing more in width than height, so there should be a demand and I think we also have a good position because we have the best cross section in the market. So we should make use of it. [So we're] offering seat width that is superior, and is made for that next generation of traveller," he says.
Wuggetzer notes that Airbus didn't draw conclusions about an 18-in comfort standard on its own. "We also asked our questions during a customer workshop in June on a survey we performed based on several seating configurations."
He also reveals that all Airbus A350 customers "except one low-cost carrier" has adhered to an 18-in seat width in economy. Flightglobal in May 2012 reported that AirAsia X had ordered its A350s in two-class configuration, with 10-abreast in economy. But one can't help but wonder if other airlines will follow suit, as the market has wholly embraced the 10-abreast 777-300ER and its 777X successor (even in the face of passenger consternation about 10-abreast).
But what happens when an Airbus operator wants to offer both a high-density configuration AND an 18-in seat width in economy? Airbus faces that challenge now in trying to develop an 11-abreast interior for the A380.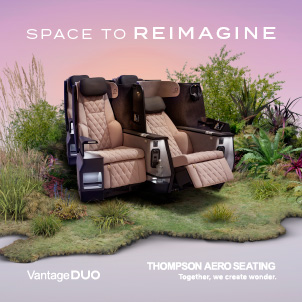 Emirates appears to be growing more comfortable with the prospect of offering 11-abreast A380s in a 3-5-3 configuration. The carrier, which previously said it eschews the idea of 3-5-3, reportedly told Air Transport World that Emirates would offer 3-5-3 if it opts for 11-abreast on the double-decker aircraft. "The middle seat of the five would be a difficult one to have. We are working on how to deal with that," Emirates president Tim Clark is quoted as saying. He stressed, however, that Emirates would not allow seat width to fall below 18 inches.
Airbus is working on a number of innovations to maximize seat width comfort. Asked whether the airframer might consider removing traditional window seat armrests, Wuggetzer said, "Generally I think there is some room to improve still and we have some buffers that we have not used so far." But he would not address the A380 specifically.
Offering bench-like seats on aircraft might not be out of the question in the future, suggests Routehappy director of data John Walton. "I think there are certainly families that would like that option. The question is where do you put the armrests that you take away. Can you do something clever with this, particularly towards the front of the plane on short-haul? Can you use a tempur-style material or memory foam as a seat surface with attachable and detachable armrests that lock in safely and securely, yet unlock?"
The Seymourpowell-proposed Morph seat that was doing the "isn't it cool" rounds recently is an example of advanced materials engineering solutions that could work – assuming, of course, that it passes safety considerations, says Walton. "Cathay Pacific, for instance, uses different types of foam on its James Park Associates-designed Cirrus seats. So how do we structurally recreate that to move away from the very rigidly defined seat we have now, into more customizable options?"