Airbus is working to develop a new interior for its A320 family, in a move that will better position the single-aisle airliners to compete – from a cabin perspective – with the 737, which boasts the highly popular Boeing Sky Interior.
While the new A320 interior is not formally part of Airbus' offering yet, RGN Premium has learned it features a new overhead pivot bin solution that will offer more room for passengers' bags, while taking advantage of the A320's wider cross section to provide better spaciousness overall in the cabin without adding weight.
The design will starkly contrast to the A320's current, dated interior, with its angular fixed overhead bins and segmented ceiling panels. Airbus declines to comment on where development now stands, with a spokesman saying, "Nothing has been launched and there is no timeline. I can only say what we're doing or not doing."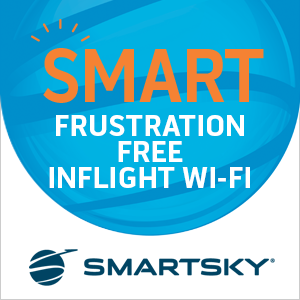 He adds, "Airbus is hard at work on lots and lots of things all the time but that is just part of business as usual. We're always looking at things. We know what pivoting bins are. We have them on the A380 and have fixed bins on the A380, and one doesn't replace the other; it depends on what the market needs and wants."
C&D Zodiac had hoped that its new ISIS interior for the A320 – with its pivoting 'SmartBin', backlit PSU pod and full LED lighting – would spark Airbus' interest in adopting ISIS for the A320. The company has showcased ISIS at the Aircraft Interiors Expo for two years running, and made clear it sees ISIS as a good option for Airbus to roll out a new interior when it launches the A320neo, the re-engined successor of the A320. It recently snagged a US-based launch customer for ISIS in the retrofit market.
Whether the new Airbus pivot bin will debut on the A320neo remains to be seen. During my conversation with the airframer, it repeatedly stressed that it hasn't officially launched any new interior program. Also unclear is whether Airbus is working with Zodiac on a modified design or with another of its suppliers, though RGN Premium understands that Airbus' solution will be integrated in a different way than ISIS and represents a different technical solution.
Airlines and industry observers believe the time is ripe for Airbus to upgrade the A320 interior. The Boeing Sky Interior (BSI) has been hugely popular with airlines and passengers alike. In addition to offering bins that pivot up and out of the way, sculpted sidewalls and other features, the Boeing Sky Interior uses LED lighting in the cabin to give the appearance of a soft blue sky overhead.
An Airbus operator says it sees Airbus' new interior concept as a significant improvement to the onboard experience because it opens up the cabin. An interiors firm that has also studied the design notes that, when launched, it "will help move the market" forward for A320 retrofits, which is good for business.
The A320 interior was last refreshed around 2007, notes long-time industry consultant Scott Hamilton. "The Boeing Sky Interior is a 21st Century look, as opposed to a 20th Century look. The A320 interior is very functional, but, by contrast to BSI it looks dated, and with the development of the A320neo family, Airbus – I personally believe – has to go ahead and refresh the interior as well. Bombardier has a more modern looking interior for the CSeries. So Airbus had to refresh the interior.
"So you have Zodiac doing that for retrofits, BSI, the CSeries – Airbus has to do something, and with the pending introduction of the A350 into service, why wouldn't you want your most popular airplane by sales count to have a similar look to what is now your new flagship airplane?"
Scott further notes, "By October 2015, when EIS [entry-into-service] is planned for A320neo, the current cabin interior would be eight years old, and it would be up against the Boeing Sky Interior."
At the end of last year, Airbus said it would offer A320 family customers the option of a new LED lighting solution with a full spectrum of colors within about a year. The airframer has also been busy with other interiors innovations. Its Space-Flex product, developed in partnership with Diehl, replaces an A320's full-width rear galley with a smaller unit along with two lavatories that previously were located left and right of the central aisle. The design enables operators to add three seats while providing an accessibility option for persons with reduced mobility (PRM), as the two lavs can be converted into a single enclosure for wheelchairs. TAM Airlines is the launch customer for Space-Flex.
Airbus' new optimized Smart-Lav lavatory is part of Space-Flex for the A320, but is something the airframer can offer as a standalone product on this and other platforms. This flexibility is important. B/E Aerospace's modular lavatory for the 737NG debuted on a Delta Air Lines 737-900ER in September, and shows every sign of being a runaway success. Indeed, the lavatory and B/E's exclusive contract with Boeing to produce it for the 737 has elicited much interest from the investment community (and B/E's stock price certainly hasn't suffered in recent months).
Asked if Boeing intends to offer modular lavatories on other aircraft types, including lavs to accommodate PRMs, a spokesman for the US airframer said, "Boeing can accommodate customer requests for specific lavatory layouts on Boeing widebody airplanes, including lavatories providing more space for reduced mobility passengers."