Inch by inch, row by row, Airbus and Boeing are making their cash coffers grow by squeezing more economy class seats into their widebody aircraft. But is Airbus pushing its luck in proffering an 11-abreast, high-density configuration on the A380?
The answer to that question will likely ride on whether Airbus cabin engineers can suitably reshape the A380 interior to Emirates' liking.
The prospect of being seated in the center of a 3-5-3 layout in economy class is quite harrowing for some passengers, who fear they'll suffer from claustrophobia even if Airbus somehow ensures that each seat has a width of 18 inches (which is the airframer's newly proposed "standard" for comfort on long-haul flights). A 3-4-3 configuration on Boeing 777-300ER aircraft "is already bad", notes frequent flyer Stefan Paetow. Being seated in the center of five seats on an A380 configured in 3-5-3 "would be hell", he says.
Paetow and other travelers will be happy to learn that Emirates shares their concerns. After announcing a fresh order for 50 A380s yesterday at the Dubai Air Show, Emirates president Tim Clark was asked about the carrier's interest level in offering an 11-abreast layout, which would increase the number of economy seats on the double decker aircraft by about 40. "Our president responded that Airbus [is] proposing it, with a minimum 18-inch seat, but we have not been persuaded yet," confirms Emirates VP, product, publishing, digital and events Patrick Brannelly.
At present, Emirates offers 19-inch wide seats in 10-abreast formation on its A380s. It's not immediately clear how Airbus could offer an 18-inch width minimum in 11-abreast, though some space could potentially be reclaimed between the outer seat and the sidewall. "Here's something that's always puzzled me: in most aircraft, the window armrest does not raise. It's difficult to see a need for that window armrest not to raise, particularly on widebody aircraft where the fuselage curves outwards rather than inwards at window level. It seems to be a clear opportunity for airlines to really offer additional space for every window passenger," says John Walton, director of data at RouteHappy.
But for Emirates, the physical 3-5-3 layout represents much more of a barrier to offering an 11-abreast A380 than the width of the seats. To wit, Emirates' 777-300ERs are configured 10-abreast with 17-inch wide seats (the same width as on a 737 narrowbody). And Emirates yesterday further endorsed the 777 when the carrier announced a whopping 150-jet order for the twinjet's successor, the newly launched 777X, which can carry up to 406 seats if configured 10-abreast with economy class seats that are just wider than 17 inches.
Indeed, Tim Clark "said the real issue [with an 11-abreast A380] is the middle seat of 5 in the 3-5-3 configuration. Emirates is focused on comfort and I don't think we'd ever compromise on that," says Brannelly. This begs the question of whether Emirates would consider a 4-3-4 configuration.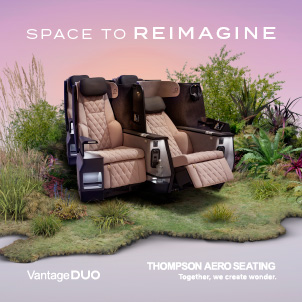 What now seems apparent, however, is that Emirates is edging ever closer to offering 11-abreast on the A380. Aviation Week quotes Clark as saying, "I'm sure Airbus is going to persuade us to do it".
But how can Airbus offer more seats and meet it's own proposed 18-inch standard for seat comfort?
Walton reiterates that allowing the window seat armrest to swivel is a solid first step. "If you look, for example, at the Bombardier Q400, the cabin floor is lower than the diameter, much lower than it would be on a comparable 3-3 narrowbody. If you're in a window seat on a Q400, the vertical structure of the seat  supports in front of you come out roughly a third of the way across that seat, so it's already possible to have a seating area wider than the cabin floor on the 2-2 turboprops. So why shouldn't passengers have seats that go all the way up to the window?"
Meanwhile, after finding a sweet spot with the 10-abreast 777-300ER, Boeing is now focused on carving out a little more space for passengers on the 777X. While it has dismissed Airbus' call for an 18-inch standard, the US airframer is fully aware that passengers regularly voice their discontent about super-snug 10-abreast configurations on social media and travel forums.
Walton says, "I'd be surprised if Boeing isn't factoring this [traditional armrest removal] into its 777-9X considerations, given the level of passenger dissatisfaction with 3-4-3 on a 777-300ER. And certainly with new distribution opportunities – such as the distribution opportunities that we're looking at with Routehappy, that IATA is looking at with NDC, and that airlines are looking at of their own volition – there is no reason why this can't be solved in some way. I can't believe this wasted space has gone unaddressed for so long."
Related Articles: