Twelve months after Boeing started working with AVIC to assist the Chinese manufacturer in expanding its capabilities to include aircraft interiors such as passenger seats, galleys, lavatories and inflight entertainment systems, the US airframer has confirmed it intends to offer AVIC's products on its aircraft.
"We anticipate that AVIC-produced interiors products that we are working with AVIC to develop will be offered on Boeing aircraft in the future. These commodities will be designed and manufactured by suppliers, and airlines will choose these items from Boeing's catalog," says a Boeing spokesman. "Most of [these products] will be 'buyer-furnished equipment', which means our customers will choose what they want and purchase them directly from a supplier to be installed by Boeing.
"AVIC would be a new supplier for these items, whether on Boeing aircraft or on other manufacturers' aircraft, providing airlines with more choice in China and around the world."
During the Zhuhai Airshow in November 2012, the two parties inked a memorandum of understanding covering their interiors payload initiative. At the time, details about the arrangement were scarce. Now Boeing reports that the collaboration has made solid headway.
"An AVIC subsidiary has received limited certification for economy seats that can be installed in Boeing retrofit aircraft (post-delivery modifications)," the Boeing spokesman tells Runway Girl Network. "We continue to explore opportunities for the other commodities mentioned in our announcement."
It is known that AVIC subsidiary Aerospace Life-Support Industries has been working to become a major player in the interiors space. According to Aircraft Interiors International, an Aerospace Life-Support Industries JV hopes to tempt the market with 'X-Light', an economy class seat that combines aluminum and carbon composite technology and weighs 6kg per passenger place.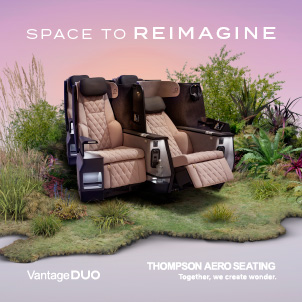 As it does with other potential suppliers, Boeing is working with AVIC to meet quality, safety and installation requirements. "AVIC considers what it can or wants to manufacture. Then we continue to explore opportunities that are mutually beneficial for both companies," says Boeing.
But with its aircraft order books bulging – an understatement after this week's Dubai Air Show – as well as those of other airframers, Boeing sees the introduction of new aircraft interiors suppliers to the market as necessary to ensuring that supply can keep pace with such substantial demand.
"As you know, Boeing is still in the process of significantly increasing production of our airplane programs, and other airplane manufacturers have increased their production, as well. This has generated significant demand in the global supply chain for interior commodities for both new and aftermarket airplanes. Our agreement with AVIC is to work together to advance AVIC's capabilities to manufacture interior commodities such as passenger seats, galleys and lavatories. In doing so, Boeing and AVIC will add to the global supply chain for these commodities at a time of increased global industry demand," says the Boeing spokesman.
He adds, "With regard to inflight entertainment systems, we have had discussions with AVIC on future opportunities."
Featured image credited to istock.com/onurdongel