Spafax, a global leader in inflight entertainment, is excited to introduce Spafax AdConnect at APEX Expo 2023. This all-new centralized marketplace allows advertising agencies to browse and purchase digital inventory directly from airlines.
Spafax AdConnect creates a comprehensive, self-service buying experience that closely resembles the programmatic buying systems most agencies are accustomed to but with the inherent brand security and controls that airlines demand. 
Built on the robust foundations of Salesforce and AWS, Spafax AdConnect stands out with its distinctive offline functionality, catering to the unique needs of inflight advertisers. But inflight opportunities are just the beginning. A highlight of the platform is its ability to navigate the entire passenger journey with relevant and contextual opportunities. Spafax AdConnect aids agencies in pinpointing crucial moments, such as at home or time of booking, at the airport, on arrival or at the destination, and identifies channels such as airline websites, mobile apps, notifications, airport lounge screens and onboard IFE systems.
By granting airlines the autonomy to present their digital inventories to specific approved agencies, the platform assures exclusivity, helping them maintain authority over pricing and advertisers. It also facilitates shorter lead times for ad campaigns by automating workflows, and it provides detailed reporting on financials for airlines, as well as and insight into campaign performance for brands and agencies. 
Jean-Marc Thomas, Managing Director APAC at Spafax, commented on the launch: "With Spafax AdConnect, we've not just created a platform; we've envisioned a new horizon for inflight advertising. By integrating powerful tools and insights into one marketplace, we are offering airlines and agencies an unparalleled platform to drive meaningful engagements, even in traditionally offline settings. AdConnect is about taking inflight advertising into the future." 
Highlight features of Spafax AdConnect include: 
Seamless Data Exchange: Efficient campaign data exchange via API and JSON interfaces, coupled with Tableau visualizations for easy comprehension.]
Autonomy for Agencies: Ensuring a self-service experience, from ad creative integration to invoicing, while offering real-time campaign performance insights.
Control for Airlines: With offline ad solutions, controlled pricing structures, and brand safety assurance, airlines can efficiently monetize their digital spaces. 
Help at Hand: Spafax Media Sales team is always available to assist and facilitate use of the platform.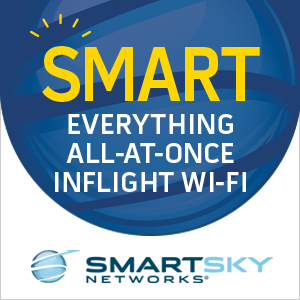 For agencies, AdConnect delivers a hassle-free experience in purchasing airline digital ad spaces, offering varied inventory options with the security of IAB standard digital formats. It also provides advanced ad serving functionality, comprehensive live data and other tools that ensure campaigns resonate with the right audiences to drive maximum revenue and engagement. 
Spafax AdConnect is being showcased in detail at the APEX Expo in Long Beach, California, from September 19-21, 2023, offering attendees an in-depth look into its capabilities and potential for reshaping the inflight advertising industry. 
About Spafax Group   
Spafax is a travel media network with one purpose: to entertain, inform and inspire travelers everywhere. Spafax delivers content technology and media assets at scale for the world's leading airlines and curates a vast catalog of global Movies, TV, Audio and Games across every major entertainment market. Current clients include Air Canada, British Airways, Emirates, Explora Hotels, jetBlue, LATAM, the Lufthansa Group, Singapore Airlines, Qatar Airways, and many others. Spafax provides brands with unique access to a global network of close to a billion passengers, across hundreds of touchpoints. The group is headquartered in London with over a dozen offices around the world. Spafax is a WPP company. 
Featured image credited to Spafax