Bluebox Aviation Systems has been selected by PLAY Airlines to run a trial of a passenger-facing onboard retail solution on PLAY's Airbus aircraft. Iceland's low-cost airline PLAY – which flies from Iceland to destinations in Europe and North America – will deploy Bluebox's Blueview onboard retail service via a Bluebox Wow portable streaming system in its battery-operated format for the trial.
The Blueview solution will help PLAY fulfil it's 'Pay less, Play more!' ambition by providing the airline with a platform to add new channels of revenue generation in support of its low-cost carrier strategy and at the same time enhance passengers' in-flight experience.
For the trial, Bluebox will integrate Blueview with MOST's retailing and payment platforms to present PLAY's retail offering wirelessly to passengers on their own devices, enabling touch-free ordering of food & beverages. Upon successful completion of the retail trial, a full deployment would add additional services to the Blueview platform, including paid access to in-flight entertainment.
"At PLAY we are committed to providing safe effortless travel and great value to our passengers, but in line with our ethos – and our name – we also want to provide passengers a happy and pleasant journey, and so chose Bluebox to help introduce the potential to 'play' through a digital services platform," said PLAY's Birgir Jónsson, CEO.
"Though we're trialling retail initially, Blueview's impressive flexibility as a broader digital platform would give us plenty of scope to expand the portfolio of digital services we offer on board in future. Bluebox's credibility in this sector and their willingness to deploy a solution that will evolve with us demonstrate they are the right partner to have on our side in this exciting and very challenging environment in which we're growing PLAY."
"Our Blueview solution – with its capacity to increase retail sales on board and the flexibility of adding additional ancillary revenue generating services including paid access to IFE content – epitomises the value of a digital passenger experience to airlines, especially low-cost carriers such as PLAY," said Kevin Clark, CEO, Bluebox.
"We're working closely with PLAY's team to trial onboard retail to start, and following a successful trial, we will introduce new elements in future phases – from retail initially to retail plus other digital services; and from a battery-powered deployment on Bluebox Wow to an aircraft-powered solution. This kind of flexibility – both as partners and in the technology options we can offer – is crucial for airlines seeking new channels of revenue and additional value for their customers in the digital world in which we operate."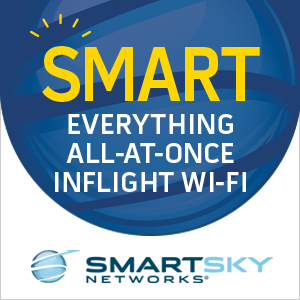 Blueview is an innovative software platform that provides both the browser-based portal through which passengers can view and access a range of digital services on board, such as onboard retail and in-flight entertainment, as well as all the underlying functionality which ensures secure payment processing, delivery of content, third-party app integration, content management and analytics. It is a digital eco-system offering airlines the ability to engage and entertain their passengers on board and earn ancillary revenue for the airline in the process.
Bluebox Wow is a cost-effective hardware platform that allows for rapid deployment of Blueview and provides the wireless network to deliver Blueview to passenger devices in any aircraft cabin. With a remarkably low cost of ownership, Bluebox Wow is a discrete, portable, lunchbox-sized unit stowed securely in overhead bins, and available in battery- or aircraft-powered options.
Bluebox Aviation Systems Ltd.
Bluebox Aviation Systems Ltd. designs and delivers award-winning digital passenger experiences for the commercial aviation industry.
Bluebox's award-winning digital services platform, Blueview, provides digital services and content – streamed to passenger devices or delivered via airline-owned tablets – that help airlines engage and entertain their passengers and earn revenue in the process. These can include onboard retail, advertising, and more traditional in-flight entertainment, including a wide range of film, TV, audio, games, and other digital content. Blueview is available on a range of hardware platforms including the company's award-winning Bluebox Wow portable wireless streaming platform and as a linefit solution on Airbus' Airspace Link (OSP). As part of every deployment, Bluebox also provides expert professional services including design & development, project & content management, and our highly rated and often-complimented ongoing customer support.
Headquartered in Dunfermline, Scotland, Bluebox has a global support network in Europe, the US, Australia, and Singapore.
About PLAY 
PLAY is a low-cost Icelandic airline that offers transatlantic flights between Europe and North America with Iceland as a hub in the middle of the Atlantic Ocean. PLAY airlines offers safe and pleasant journeys in our new and comfortable Airbus aircraft. The mission of PLAY is to make air travel more affordable with its transatlantic route network which gives the passengers the choice to spend less on their flight tickets and more on their destination.
Featured image credited to PLAY