Satcom Direct is inviting business jet operators that originally installed the Astronics tail-mount antenna in support of Panasonic Avionics' Ku-band inflight connectivity service and later Intelsat's FlexExec Ku IFC service, to retrofit SD's new Plane Simple antenna system to their aircraft "for more efficient connectivity" via FlexExec, company president Chris Moore tells Runway Girl Network.
"The reduced footprint, more flexible payment plans, and reliability of the Intelsat FlexExec network are extremely attractive to them. We have been supporting these customers with Intelsat FlexExec since Panasonic connectivity services were withdrawn from the space and are pleased to make this new [antenna system] option available to them," Moore says in reference to operators that have been carrying the Astronics kit for years.
His comment is a good reminder about just how much has changed in the Ku satellite connectivity camp for business aviation. Readers will recall that Panasonic once had ambitious plans for BizAv. In 2016, Panasonic announced that SD would be the first business aviation value added reseller for its global Ku BizAv connectivity service, and partnered with Astronics AeroSat for the tail-mount hardware. But Panasonic later seemed to quietly bow out of the mid-sized and super-mid bizjet IFC space, and its name was no longer mentioned as part of Astronics' work or SD's program. (It is understood that the commercial IFEC giant continues to support VVIP installs with its traditional Ku-band antenna hardware.)
Swinging in with a solution for the mids and super-mids that would talk to the Astronics antenna, Intelsat in the fall of 2018 launched FlexExec. It tapped SD as master distributor of the service and Astronics for its tail-mount. But FlexExec faced an early hurdle — the 2019 in-orbit failure of Intelsat's 29e satellite over the North Atlantic — and later, the challenges posed to industry by the COVID-19 pandemic. And Astronics later pivoted to providing the tail-mount for Collins Aerospace's competing IFC service, the Ku-powered LuxStream.
Now SD's Plane Simple Ku-band antenna, manufactured by Qest and billed by SD as a light, simple kit with a less invasive install, is nearly ready for primetime, having recently qualified on the FlexExec network. In addition to seeking new customers for Plane Simple, SD is offering bizjet operators with the Astronics hardware the ability to upgrade to Plane Simple to support their FlexExec service.
The aim of Plane Simple, which is purpose-built for BizAv and does not incorporate repurposed technology from other sectors, is "to simplify the customer acquisition and upgrade process by providing a two-Line Replaceable Unit system — the antenna and Satcom Direct modem — which are linked by fewer cables than previous systems," explains Moore.
This is the first time a purpose-built antenna and dedicated business aviation airtime provider has combined to deliver connectivity solely to business aviation. This means that SD can provide an even better service for the customers, as we are able to design and customize solutions to meet each client requirement.

The antenna is the piece of the puzzle that designed to support business aviation, and it also fits into the SD eco-system of software, hardware and ground infrastructure so adding value. It serves to streamline the acquisition process, enhance customer support, and enable simplified upgrades as well as ensuring that the 24/7/365 customer support is always accessible. Customers only have to make one call to SD to discuss any part of the connectivity service.
The SD modem, meanwhile, is compact and can be located in the unpressurised part of the aircraft fuselage which, notes Moore, returns valuable space to the cabin/stowage areas. "The antenna itself is just 12 inches in diameter so can be equipped on any aircraft tail that is capable of supporting an antenna of this size. The reduced footprint broadens the number of aircraft that can have the system installed. The simplification of the antenna and the modem reduces the weight impact on operational costs. It is also much less invasive to install than existing terminal system and allows for simplified transition pathways."
Supplemental type certification work for Plane Simple for the FlexExec program has begun for mids and super-mids from leading OEMs Bombardier, Gulfstream, and Dassault, and SD plans to have the first tranche of STCs completed by the end of the second quarter.
"We already have twenty customers ready to equip Plane Simple terminals on their aircraft and anticipate that we will fulfill more retrofit requests from existing, as well as new customers," Moore reveals to RGN.  "We are of course inviting any operator or owner with an aircraft that can support the reduced footprint terminal, and is seeking more affordable, flexible agreements to discuss their options. The only restriction we anticipate is maintenance slot availability." While initial installations will be focused on the retrofit market, SD is in ongoing discussions with leading OEMs about linefit opportunities.
Intelsat SVP of mobility Mark Rasmussen, meanwhile, reckons "there is still 3000-plus aircraft out there that do not have broadband" and FlexExec is "well positioned for that".
But SD is also bringing Plane Simple to the Ka-band IFC camp in BizAv. A Ka variant of the antenna will transmit via Inmarsat's Global Xpress satellite constellation and is slated to enter into service towards the end of the year, suggests Moore to RGN. However, Inmarsat in a statement says a "prototype unit" of the Plane Simple Ka-band antenna system is scheduled for completion later this year, "followed by design verification, testing, certification and its commercial service introduction in 2023".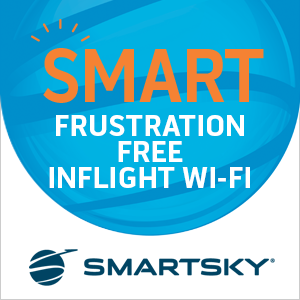 RGN reached out to Inmarsat to understand how Plane Simple is being positioned, given that Honeywell has long provided its JetWave terminal for Inmarsat's GX-powered Jet ConneX-branded IFC service in BizAv, with over 1,000 JX activations achieved.
Asked if operators will now have two antenna options when adopting Jet ConneX — Honeywell JetWave and SD's Plane Simple system — Inmarsat's head of business aviation, Kai Tang, says via email: "Yes, operators may have the ability to choose from different terminal options. Combined with Inmarsat's upcoming satellite launches and network enhancements, ALL customers will benefit from additional capabilities in the form of higher speeds and even greater customer experience."
He says Inmarsat does not favor one system over another. "The systems that we develop in coordination with our terminal partner are all perfectly suited for JX and we let each one of our partners bring their respective added value to the market."
With that said, Inmarsat expects that the major OEMs which already have JX as a linefit option today with "happy customers", will evaluate when they want to begin the transition to the new kit.
"The new terminal systems will have a smaller form factor that will allow Inmarsat to offer broadband connectivity to an even larger range of aircraft, on top of the large cabin business jet segment," he notes, adding that Inmarsat is also "actively working with the OEMs early in the process so they can incorporate the new solutions to their respective production lines."
It is not yet clear when flight-testing of Plane Simple for JX will begin, but Tang says: "We'll be working with Satcom Direct to get you more announcements as and when they become available."
Asked if Inmarsat and SD are working on a Plane Simple electronically steerable antenna for JX, and if so, when that might be ready, he says: "We're constantly evaluating new antenna but have nothing further to announce at this stage."
Intriguingly, however, when referencing the Plane Simple product line, Satcom Direct's Moore reveals that: "An electronically steered phased array flat panel fuselage mounted antenna is expected to be finalised in 2024, we are in discussions with a number of providers for this option."
Related Articles:
Featured image credited to Satcom Direct