Safran's interiors business, including its seats, cabins and inflight entertainment system lines, took a near 20% revenue hit in 2021 owing to the combined effects of the pandemic and slowed deliveries. Some green shoots for the passenger experience, however, include a resumption of Safran's linefit and retrofit IFE solutions, including for its popular RAVE in-seat IFE system found on many aircraft.
In 2021, says Safran, aircraft interiors revenue dropped by 19.9%, which was impacted by seats and cabin activities both from original equipment and services. Safran provides a wide range of seating and interiors to airlines — from slimline economy and full-flat seats to aircraft lavs and overhead bins. It notes a "positive contribution" from IFE activities in the second half of the year with a resumption of deliveries which were halted in preceding periods.
Even so, a significant drop in revenue due to exposure to widebody programs led to a decrease in recurring operating margin for Safran's interiors business. The company also cites, in the context of its equipment and defence businesses, the "low level of activity in the widebody market, and notably on the 787 program". Boeing has been grappling with 787 delivery delays due to production issues.
Safran, which also builds aircraft engines, saw overall 2021 revenue decrease by 7.5%, but nonetheless achieved a 7.1% rise in recurring operating income, driven by continued operational improvements and contained R&D expenses.
"2021 was an important year for Safran, marked by significant operational and financial progress. As the market recovers from its low point in Q1 2021 we delivered solid margin and cash performance, exceeding our outlook. We generated robust commercial orders across our businesses and gained traction from Rafale export programs," said Safran CEO Olivier Andriès in a statement.
"Safran is well placed to benefit from the positive trends in both aftermarket and original equipment as narrowbody traffic returns to pre-crisis levels by end 2022. In 2022 we see real momentum for sustainable growth, and are ready to raise OE production rates and accelerate the pace of investment for decarbonization. We intend to continue reinvesting capital from divested activities into complementary, bolt-on acquisitions with growth potential."
With respect to interiors, specifically, the French multinational corporation reiterates it is "on  track to target breakeven in 2022", noting that it halved its recurring operating loss in interiors during the second half of 2021 as compared to the first six months of the year. In short, it is heartened by this upswing.
The world's self-described "number three aerospace company", excluding airframers, ended its annual earnings report with details about its climate strategy, highlighting its CFM RISE technology demonstrator in partnership with GE, as well as an investment in a synthetic fuels startup and a sustainable fuels supply partnership with TotalEnergies, the newly rebranded oil company formerly known as Total.
Safran also cites some environmental and emissions aspirations, noting that it recently set itself the objective of reducing Scope 1 (direct emissions) and Scope 2 (indirect emissions) by 50% by 2030, compared with 2018 levels. 
It will do the same for employee commuting and business travel, which is part of Scope 3 emissions, sometimes referred to as "value chain" emissions: those that are the result of activities from assets not owned or controlled by the reporting organization, but that the organization indirectly impacts in its value chain.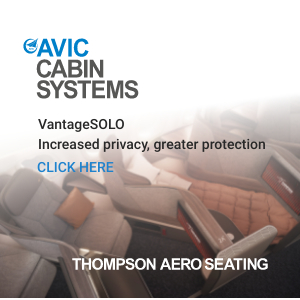 When it comes to the rest of the Scope 3 chain, the promises are presently few. "Safran will mobilize its 400 main suppliers, amounting to 80% of its emissions from purchases (Scope 3), on meeting the commitments under the Paris Agreement to keep global warming to well below 2°C and if possible to 1.5°C," writes the company in the English-language version of its results. 
This promise to "mobilise" is vague, and is a direct translation of a similar word in French, mobiliser. In context, this could mean anything from "calling upon" or "raising awareness". Safran has an opportunity to mobilise itself to be more specific about precisely what it intends to do here. And indeed, that seems to be its intent.
"The reporting of Scope 3 emissions from use of products for all categories of products and a corresponding reduction objective based on SBTi methodology will be disclosed in 2021 Universal Registration Document filing (April 2022)," says the firm. This document will be awaited with much interest.
Related Articles:
Featured image credited to Safran