Western sanctions against Russia have placed the country's aviation industry in an increasingly isolated position. Russian aircraft are banned from Canadian, US, UK and European Union airspace. Airbus and Boeing have suspended the supply of aircraft parts and services to Russian airlines. Lessors are working to terminate aircraft leases with Russian lessees. And suppliers of aviation systems and services are putting the brakes on their support of Russian operators.
Lufthansa Technik, which provides maintenance, completions, repair, and overhaul services for aircraft, as well as MRO services for engines and components, is among the firms immediately adhering to the sanctions imposed by the US and EU, following Russia's attack on Ukraine.
"I can confirm that with the entry into force of the US sanctions to stop the export of high-tech products and the EU sanctions on the transport sector in Russia, Lufthansa Technik has stopped all services for Russian customers," said company spokesman Michael Lagemann. "As a globally active company, we always strictly adhere to the applicable national and international export control laws and, of course, national and international country- and person-related sanction regulations."
Lufthansa Technik currently has contracts with about a dozen airlines in Russia. And Moscow is home to Lufthansa Technik Vostok Services, which employs about 40 staffers, and had provided material and component support for various civilian customers from Russia and the CIS states. In addition, Lufthansa Technik has a single-digit number of sales staff in the CIS region.
"The suspension of our services affects about 400 aircraft in total," explained Lagemann. "The service spectrum of these contracts mainly comprised component and engine services. Aircraft maintenance services played only a minor role."
Lufthansa Technik is a founding member of the fast-growing Independent Aircraft Modifier Alliance (IAMA), which also counts Eclipse Technics, Etihad Airways Engineering, Envoy Aerospace, Collins Aerospace, CarlisleIT and others as members, and is a growing force in the industry. As aircraft lessors move to repossess their aircraft from Russian operators, IAMA's work to ensure an open and transparent retrofit market could be seen as timely. Some aircraft will require refurb work before transitioning to new operators.
"With regards to the EU sanctions against Russia, IAMA is carefully following the recent developments related to this unprecedented crisis in terms of business but foremost humanitarian impact," said IAMA alliance manager Annelouise van Dijke, when asked what guidance is being provided to members.
She revealed that IAMA members are forming individual crisis councils or situation management teams to respond in their respective business areas. "As the situation is extremely dynamic all of us are observing and evaluating the guidelines given out by the authorities and respective governments."
Ireland, a hotbed of aircraft leasing activity, is exposed in this crisis. "[W]e understand that the Irish authorities are contacting lessors with aircraft leased from Ireland and informing them that any aircraft leases with Russian lessees must be terminated within the specified 30 day period (ie up to 28 March)," said Irish corporate law firm A&L Goodbody in a statement referencing the EU's new sanctions.
The restrictions imposed last week by the United States aim to "choke off" Russia's import of technological goods which US President Joe Biden said are critical to Russian President Vladimir Putin's ability to project power. "This includes Russia-wide denial of exports of sensitive technology, primarily targeting the Russian defense, aviation, and maritime sectors to cut off Russia's access to cutting-edge technology," he said.
"In addition to sweeping restrictions on the Russian-defense sector, the United States government will impose Russia-wide restrictions on sensitive US technologies produced in foreign countries using US-origin software, technology, or equipment. This includes Russia-wide restrictions on semiconductors, telecommunication, encryption security, lasers, sensors, navigation, avionics and maritime technologies."
The EU, meanwhile, introduced an export ban covering goods and technology in the aviation and space industry, as well as a prohibition on the provision of insurance and reinsurance and maintenance services related to those goods and technology. And it said it would prohibit the provision of related technical and financial assistance.
"This ban on the sale of all aircrafts [sic], spare parts and equipment to Russian airlines will degrade one of the key sectors of Russia's economy and the country's connectivity, as three quarters of Russia's current commercial air fleet were built in the EU, the US and Canada," said the EU in a statement.
The impact has been swift, and substantial. There are currently some 340 Airbus commercial aircraft based with Russian operators, including aircraft owned by leasing companies. In line with international sanctions, Airbus has suspended deliveries and support services to Russian customers, as well as the supply of spare parts to the country. That includes services provided to Russia via Airbus subsidiaries such as Satair and NAVBLUE, and joint ventures, the company confirmed to RGN. "This is applicable to all our activities across all divisions," it noted.
With respect to the sharing of technical documentation and data, Airbus said it is "applying the sanctions and regulations to all our facilities and operations in Russia".
Boeing, too, has suspended parts, maintenance and technical support services for Russian operators. And it has temporarily suspended major operations in Russia, including its Moscow Design Center, the Seattle Times reports.
In a statement today announcing its commitment to providing a $2 million emergency assistance package to aid in the humanitarian response efforts in Ukraine, Boeing said: "The health and well-being of Boeing employees and their families around the world remain a top priority for the company. Boeing and partner teams are checking on affected employees while continuing to coordinate with government agencies, customers and suppliers to assess human and business impacts in the region."
The sanctions don't just affect the activities of western airframers and suppliers in Russia, they also impact US and EU suppliers to Russian aircraft programs, including United Aircraft Corporation and Sukhoi Civil Aircraft which produce the Irkut MC-21 and the Superjet, respectively.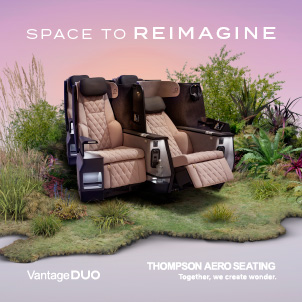 Aircraft suppliers of hardware and software are assessing their exposure and in some cases taking action. Major global distribution system Sabre, for instance, said today it has terminated its distribution agreement with Russian carrier Aeroflot. "Sabre is taking immediate steps to remove Aeroflot flight content from its global distribution system (GDS), a marketplace used by travel agencies, travel websites and corporations around the world to shop, book and service flight reservations."
European and US aircraft interiors and IFE companies have content onboard Russian operators. For example, Italian firm Geven is a major seat supplier to Russian carrier S7, whilst Collins Aerospace offers nose-to-tail seating on Aeroflot's Airbus A350-900s. Satellite operator and inflight connectivity provider Viasat last year signed a non-binding MOU with Russian satellite operator Gazprom Space Systems and Russian telecom operator TMC to deliver IFC over Russia, but a spokesman confirmed to RGN that: "We have suspended our activities in the region until further notice."
Last week, Delta Air Lines withdrew its codeshare services operated in conjunction with Aeroflot. Both carriers are members of the SkyTeam alliance. RGN has sought comment from SkyTeam as to whether or not it intends to continue allowing Aeroflot to remain a member.
Even industry associations and events are distancing themselves from Russia. The Farnborough Airshow today said: "Following the on-going events taking place in Eastern Europe, we have made the decision to suspend Russian participation at the 2022 Farnborough International Airshow, taking place in July. Our hearts go out to the people of Ukraine, and everyone affected by the current situation. We continue to hope for a timely and peaceful resolution."
Future Travel Experience, which hosts passenger experience conferences around the globe, said: "In solidarity with the people of Ukraine, Future Travel Experience announces that all Russian state enterprises are suspended from attending any FTE events until further notice."
Featured image credited to iStock.com/ID:1177702433