Like many other dreamy islands in the Caribbean, Saint Barthélemy — better known as St. Barts — isn't easy to reach. Most travelers opt to fly first into Sint Maarten, the Dutch/French Caribbean island nearby, where the Princess Juliana International Airport can accommodate larger aircraft and then from there, take a boat to St. Barts.
But Tradewind Aviation, founded in 2001, makes it possible to fly right into the extremely short runway at Gustaf III Airport (only 2,170 feet long) on St. Barts, thanks to its efficient fleet of Pilatus PC-12s which fly direct from Puerto Rico. Not only do these shared charter flights get you onto the French island faster, but they offer premium services such as airport lounges and airport escorts.
Check-In and Boarding:
Tradewind has a small check-in presence within the JetBlue terminal at Luis Munoz Marín International Airport in San Juan, Puerto Rico.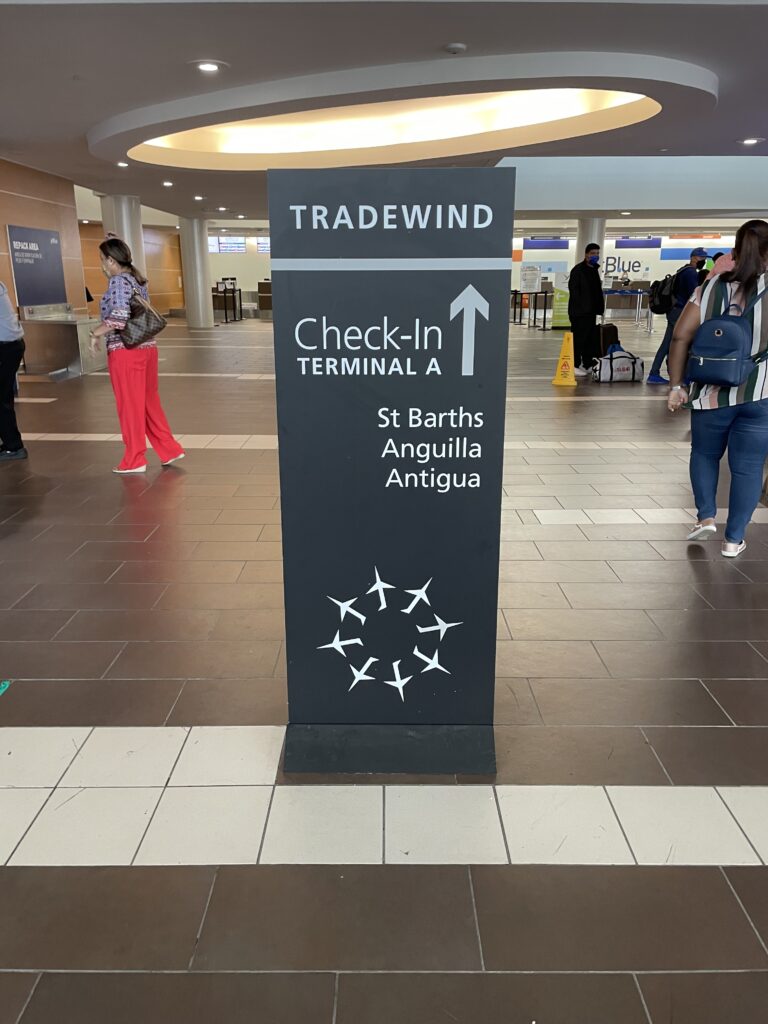 But once travelers have handed over their bags, shown their IDs and the necessary Covid paperwork, they are taken upstairs to the small Tradewind lounge where they can grab complimentary snacks and beverages, and hop on the free Wi-Fi, as they wait for their flight.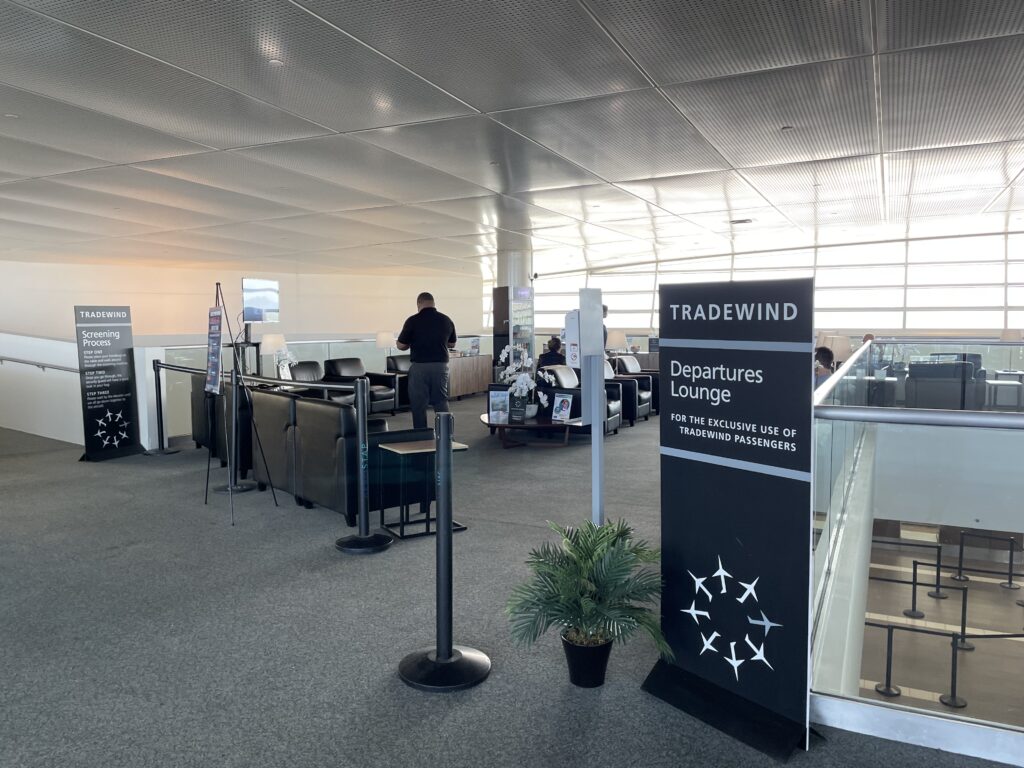 Once the flight is ready, passengers go through a quick TSA-screening before being taken outside to where the Pilatus PC-12 awaits.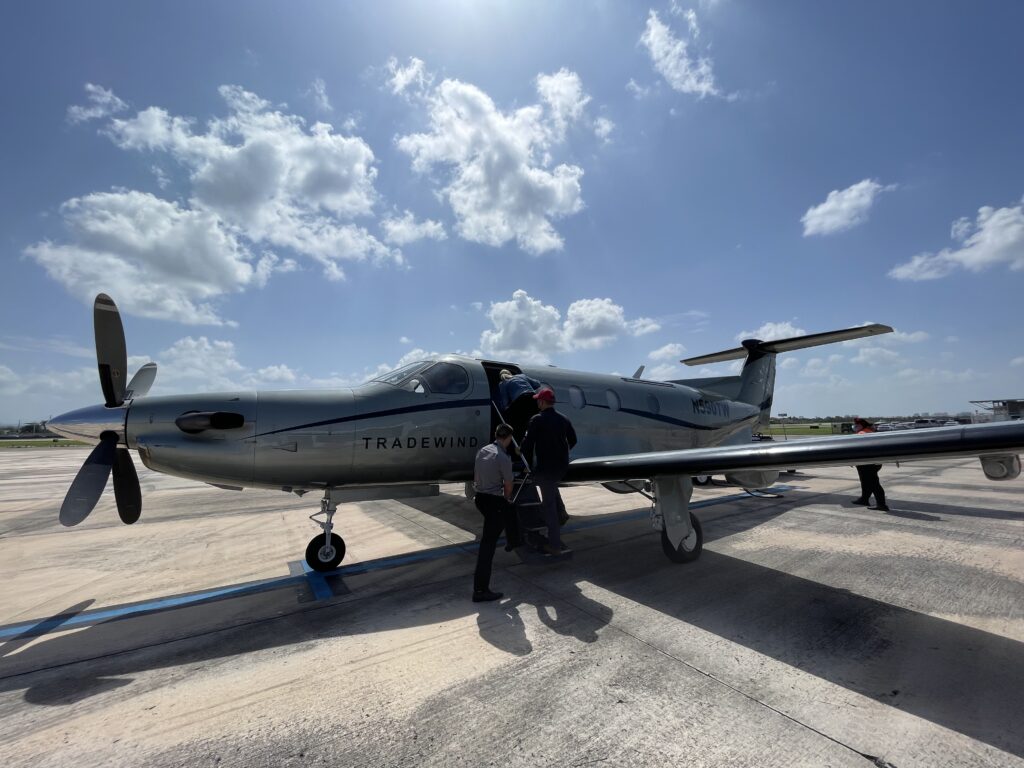 In-Flight:
Tradewind exclusively uses Pilatus PC-12s to fly from San Juan to St. Barts. The PC-12 is a sleek-looking silver turboprop plane with eight narrow passenger seats, in a 1-1 configuration, and about 100-sq.ft for luggage in the back. Two pilots are used for every flight but as with most small charter planes, the experience is friendly and laid-back. After a brief safety tutorial and weather update, the plane is then ready for takeoff.
The flight to St. Barts is a quick 50 minutes so there's not much of a need for meal service, but Tradewind does offer a basket of snacks and small bottles of water in case passengers are hungry or thirsty.
For most of the duration of the flight, however, you'll be gazing out the window down at the Caribbean water and trying to determine which islands are which.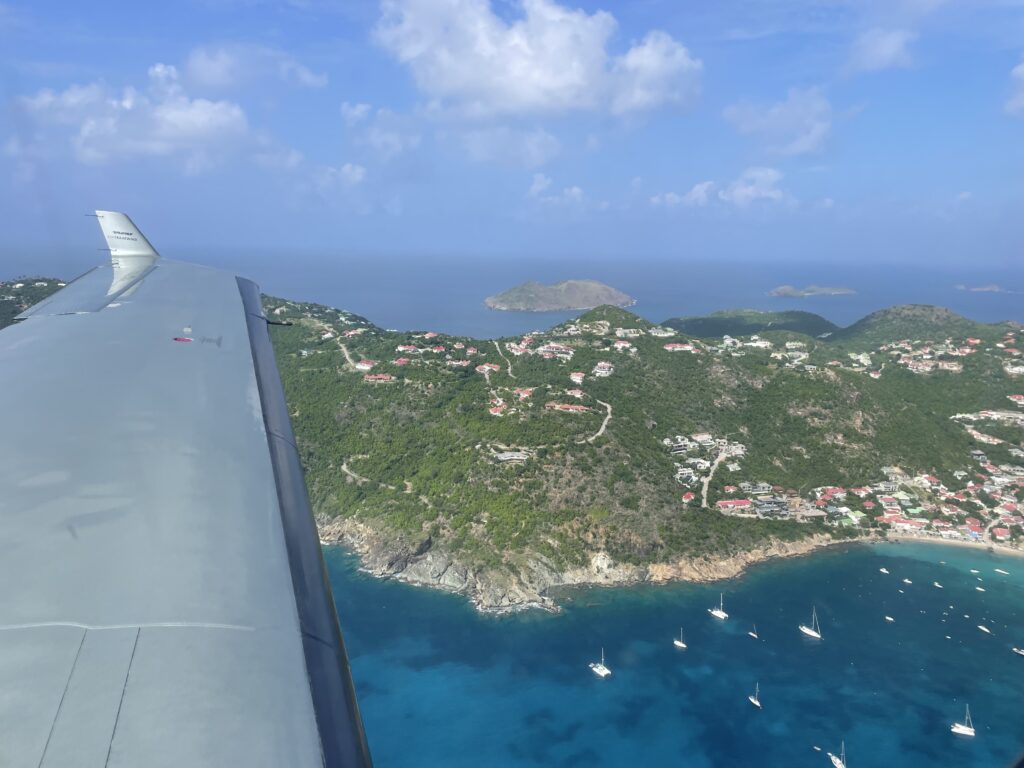 At the Airport:
Given that Gustaf III Airport (also known as St. Jean Airport) does have such a short runway, arriving into St. Barts is a thrill in itself, with the plane cruising over a steep hill that eventually folds out into the runway. Yet the thrill only lasts for a matter of seconds. Tradewind pilots, who run this flight a few times a day, expertly maneuver the plane onto the landing strip and voilá, you're in St. Barts.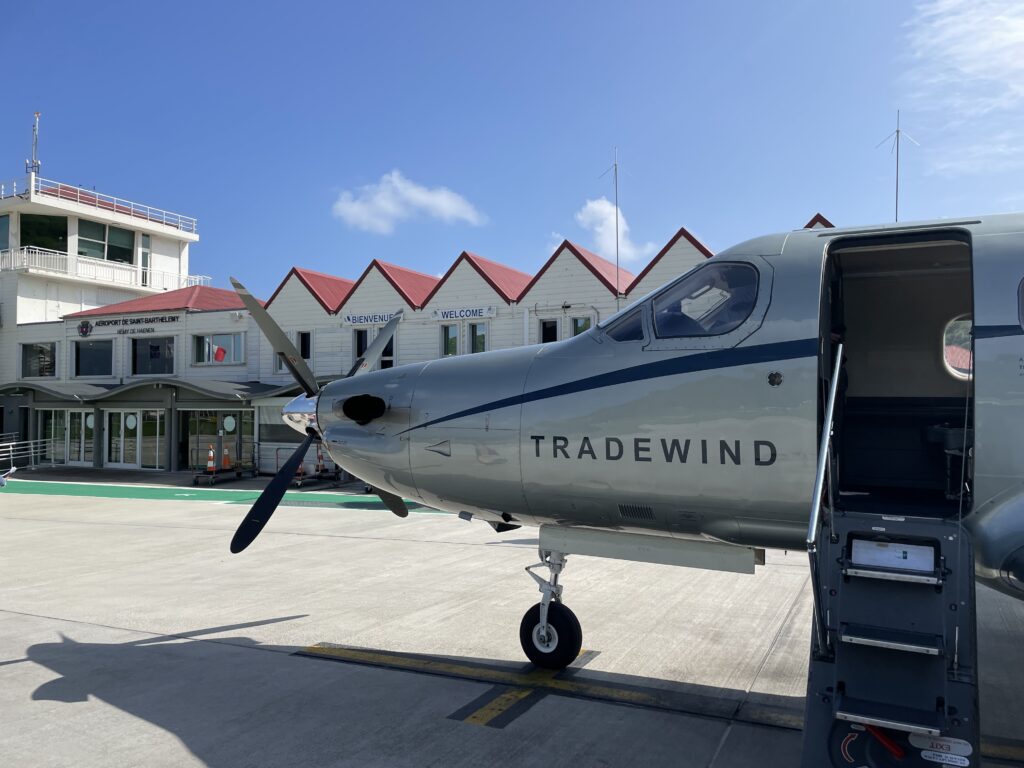 Tradewind pilots and crew on the ground can help passengers into the customs area with their luggage but since the airport is so tiny, navigating from customs to the front of the airport where taxis and car services await is easy to do without help. Similarly, when passengers show up to the airport to depart St. Barts, it's only a matter of steps from the check-in desk to the Tradewind lounge, a quiet space with a few rows of benches that overlook the runway. From there, passengers simply walk out to their plane.
However, in San Juan, Tradewind does have airport escorts who will stay with a passenger through baggage claim, customs, and either back into the Tradewind lounge to await their connecting flight or right up to security to catch their next flight.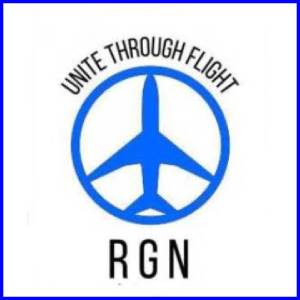 Depending on the time of day and season, the shared charter flights between San Juan and St. Barts range from about $315-$700 one-way. Given that you're flown directly into St. Barts without a bumpy boat ride, and provided with personalized service, this may be well worth the price for some passengers.
Where Else Does Tradewind Fly?: 
Tradewind offers charter flights, both scheduled and private, to other Caribbean destinations including Anguilla, Antigua and St. Thomas. Additionally, Tradewind is a popular choice for New Yorkers heading to Martha's Vineyard, Nantucket and Newport, Rhode Island in the summer months. Tradewind's fleet also includes a Citation CJ3 as well as options for mid-size and larger jets for private travel.
Not only does Tradewind seek to be the preferred provider of Caribbean charter flights, it's also aiming to be one of the most sustainable charters out there. As of last month, Tradewind is also automatically adding carbon offsets to all its flights throughout North America and the Caribbean, and all funds raised through the program will go to TerraPass, a social enterprise that funds various greenhouse gas reduction projects.
Related Articles:
All images credited to the author, Juliana Shallcross