Omnevo, leading provider of digital ancillary revenue models, has partnered with Greece-based carrier SKY express to establish a core digital ancillary revenue platform for the airline – enabling SKY express to develop a new standard of experience for its customers and significant new operational gains and competitive advantages for the young airline.
The new digital platform is tailored to the needs of SKY express in prioritizing the airline's key customer service and operational elements as it continues to expand its network of mid-range European destinations. Central in this is the development of its inflight customer service and F&B offer from the industry standard of a simple complimentary offering, particularly through the development of its new 'SKY Drinks & Bites' expanded menu on international routes.
From Omnevo's menu of fully-integrable modules SKY express was able to select precisely the elements needed for its initial phase of digitalization, with the platform built on four key modules: Retail/F&B program – including product offering, pricing, promotions, financial reconciliation; Supply Chain Management – supplier management, product procurement, inventory management; Logistics – core management and logistics preparations, including preparation & operational processes across the product journey and; ePOS – onboard sales and crew support and training.
The platform provides SKY express with greater control of its F&B program, including the ability to define its F&B offer to its operational and customer needs through the expanded freedom to select caterers, suppliers and service providers. Such versatility will be a crucial strength as airlines seek to respond to the shifting needs of the passenger as traffic recovers in 2022.
Michael Raasch, CEO of Omnevo, commented: "We are delighted to partner with SKY express in its dynamic ambitions for its digital capabilities, beginning with a digital foundation that will support both the customer experience and the airline's performance in the post-COVID recovery and beyond.
After the unprecedented battering that airlines have weathered over the past two years, it's crucial that they now respond to this new climate. Passengers demand a new standard of experience and airlines are simultaneously under huge pressures to raise efficiency and re-ignite their ancillary revenue streams. Digitalization is the only pathway to resolving those issues, but it isn't simply about a 2022-23 recovery; it's about developing the passenger experience and the airline's performance capabilities for the decade ahead.
Over the past few months we've seen the anticipated interest in digitalization from major flagship carriers but we're also finding a rising number of smaller, forward-thinking airlines are also alert to the performance-enhancing potential of digitalization and the rising expectations from returning passengers for digital experiences.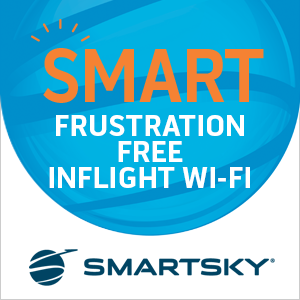 From the smallest LCC to the largest FSC, our tailored platform enables any airline to take control of the revenue journey by combining a new standard of customer experience with higher benchmarks in operational efficiency and revenue. Regardless of airline size, as the recovery accelerates the airlines digitalizing right now are seizing competitive advantages that will deliver significant returns and strengthen their performance – not only this year but also in their long-term positioning and competitiveness."
George Lioumpis, General Manager, SKY express, added: "Despite the challenges of the global crisis, SKY express has successfully continued to expand our routes, develop our operations, and improve the customer experience. Omnevo's solution has helped us in delivering those ambitions by creating powerful new efficiencies in our F&B operations as we bring greater choice and a stronger inflight experience to the SKY express passenger.
The SKY express team did a great job in implementing the platform and Omnevo team has always been there for assistance and hands-on problem solving. Their ability to understand our needs and challenges was a key factor in selecting them as our digital partner. From its initial operation it is clear that our new digital platform provides greater operational efficiencies, stronger control of our ancillary revenue strategies and gives us a solid foundation for further digital development in response to market needs in the future."
Omnevo: 
Launched in February 2021 as the specialist Aviation division of the AOE group, Omnevo's aviation industry digitalization partnerships include Virgin Atlantic, Singapore Airlines' Kris Shop, and Avianca, as well as Auckland, Heathrow, and Frankfurt airports.
SKY express: 
Established in 2005, SKY express serves over 40 domestic and international destinations. One of the few airlines to expand its fleet during the pandemic, including the recent delivery of its first A320neos among 12 new aircraft, SKY express celebrates its position as has one of the youngest and most environmentally-friendly fleets in Europe with the slogan, 'The youngest and greenest fleet in Greece!'.
Featured image credited to SKY Express