Gotham Studios, which this year saw its Goji Geotainment solution installed for the first time onboard business aircraft, is eyeing continued momentum in the BizAv sector. But the company also intends to ultimately approach airlines with its product when recovery from the COVID-19 crisis is more fully afoot in commercial aviation.
"[W]e are going into commercial. But they are not ready for us. They need a little more time after COVID," Gotham Studios' Russ Johnson, an inflight entertainment industry veteran, revealed to Runway Girl Network.
Flight information and a state-of-the-art 4K 3D moving map are core parts of Goji Geotainment, but Gotham Studios is quick to point out that the system facilitates a "full entertainment experience" that goes above and beyond a moving map, and is in fact more akin to an inflight tour guide. During any given flight, Goji Geotainment presents a continuous stream of geo-relevant stories that are dynamically assembled from thousands of stories stored in the "GojiBox" onboard server. It is accessible to passengers via onboard displays and on their own devices.
"[E]very now and then you will see the map, but then what you will see is points of interest. And also during the entire flight you will hear stories about all the places that you are flying," explained company president and Emmy Award-winning TV producer Peter Nissen. For example, on a flight approaching San Francisco, passengers might be served a 10-minute story about the Great San Francisco Earthquake, narrated by an award-winning historian with sound effects and music. "[S]o it's a documentary about all the places that you fly with beautiful pictures as well," he said.
Goji Geotainment is also accessible. "Think about ultimately the accessibility of having a flight narrated via audio and a map narrated via audio. How does a blind person otherwise know? They can't read the map [on a display]. This tells you where you are every three minutes," noted Nissen.
Given that Goji Geotainment is effectively an airborne geo-triggered radio show, Gotham Studios reckons that its GojiBox server and accompanying software and content competes more directly with Hollywood than with the Collins Aerospace-provided moving map solutions that are popular in business aviation.
"We provide full length entertainment that is a whole lot cheaper than a Hollywood movie, but just as entertaining and actually is geo-relevant. And the fact that we dynamically assemble this in-flight means that every flight is different. So, it is not boring, and we go to great lengths to make sure we are not boring," said Johnson.
Even so, Gotham Studios is happy to see Goji Geotainment used as a drop-in upgrade for Airshow 200, 400 and 4000 moving map systems, and has developed a special brace to accommodate the work.
In order to operate Goji, explained Johnson, "we need power" for the server. "We need an ARINC feed and connection to the cabin wireless. It's an installed STC [supplemental type certified] box."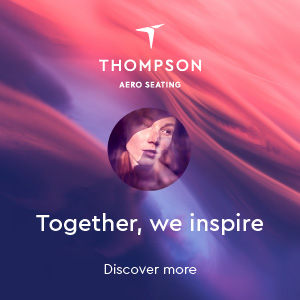 On business aircraft that have already been fitted with Gogo's air-to-ground inflight connectivity solution, the GojiBox can be integrated into the cabin wireless network. "So, on Gogo there is actually a little button that says Goji. So you go over and it plugs right in," said Johnson.
"We made that decision because we didn't want to have two WAPs in aircraft and a lot of our customers have Gogo so for us it's better to integrate with Gogo and let the customer have a seamless experience rather than try and force our own," continued the executive.
But Gotham Studios is willing to integrate with other onboard wireless networks, or partner with IFE and connectivity players in scenarios where it provides the experience and they provide the hardware. So, for example, said Johnson: "[I]f we go into the commercial world and Panasonic wants to put it on their servers, we are absolutely willing to do something like that. We are not tied to our own hardware."
The Arlington, Virginia-based company believes that commercial airlines and their passengers would also appreciate this brand of geo-entertainment. "In the eye of an airline the install cost [on a regional jet] is probably $65,000 installed and the annual costs are $10,000 to $12,000 a year and you have entertainment that they don't have to worry about because we keep it updated. The box has got an LTE modem; every time it's on the ground it phones home, gets more stories and we continually keep it fresh, and they don't have to do anything."
When the time is right, the company will approach the commercial market, he said. "I don't think anybody has this type of product, where it's a tour guide. And so, yes, they have people out there doing moving maps. They have people doing 'points of interest'. But nobody is putting them together into a tour guide with constant narration in-flight. So, for us we don't have competition out there that's doing this."
For now, Gotham Studios is savoring the fruits of its labor in business aviation. Global Aviation Technologies (GAT), a minority woman-owned engineering and maintenance firm, owns STCs for the GojiBox, and is installing it on aircraft.
"COVID gave us two things," Nissen told RGN during the NBAA-BACE show. "It actually gave us an ability to really concentrate on getting this off and launched, and also increase the desire for people to fly in business jets."
Related Articles:
Featured image credited to Gotham Studios