SmartSky Networks, the next-generation air-to-ground connectivity provider, announced today the launch of business operations for commercial regional airlines across the Continental United States (CONUS). Supported by SmartSky's broad and growing network availability, publicly demonstrated high-performance service, and FAA certifications for a growing range of regional jet aircraft models, this launch signals an inflection point for domestic regional airline connectivity.
"We are ready to introduce our superior connectivity solution to regional airlines and provide best-in-class inflight connectivity for passengers," says David Helfgott, CEO of SmartSky Networks. "The need for consistent, secure access to data and applications is constant, especially for regional passengers who are often traveling during the busy work week. As domestic travel returns to pre-Covid-19 levels, those who fly are increasingly frustrated by poor connectivity that is slow, unreliable and not secure."
In the past year, SmartSky has achieved many technical and business milestones on-time, to-spec, and on-budget. SmartSky continues to deploy its ATG network – now covering over 65% of CONUS flight hours, has received FCC and FAA approvals, confirmation of Honeywell and Avionica as authorized Value-Added-Resellers, and has raised over $100M in funding from committed investors.
SmartSky continues to expand its network footprint and will complete 2021 with coverage activated for roughly 80% of CONUS flight routes on its way to FULL CONUS in the first half of 2022. With supplemental type certificates (STCs) covering more than 4,000 aircraft already in hand, including the popular ERJ 135/145 series, and performance over 10x better than currently available legacy ATG services, SmartSky is challenging the status quo for inflight connectivity and ready to deliver superior value to regional airlines looking to upgrade.
"All SmartSky products, systems and solutions have been built with technical integrity and excellence, working closely with the industry to provide the best combination of features and functionality. We are ready to bring these advancements to regional air travellers," adds Helfgott.
SmartSky delivers a superior air-to-ground connectivity experience for regional airlines, with its patented beamforming technology and network architecture. The result is a very low-latency, high-bandwidth, and symmetrical data communications service capable of providing responsive Internet/data access for cloud-based business applications, secure encrypted communications, and support for the aviation community's operational data and real-time telematics needs.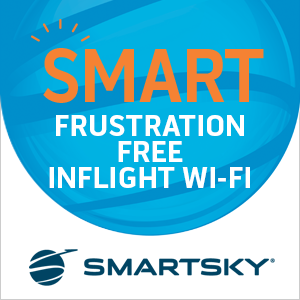 SmartSky's products and services are available through a growing network of Value-Added-Reseller (VAR) and installation partners and includes three interrelated offerings: i) the best-in-class, next-generation Air-to-Ground network, ii) advanced shipset hardware for aircraft communications, and iii) a transformational digital platform and application-layer, Skytelligence®.
About SmartSky
SmartSky Networks was founded to transform aviation through disruptive communications technologies, services, and tools. Its innovative air-to-ground network is now available, with full CONUS coverage coming in the first half of 2022. The network takes advantage of patented spectrum reuse, advanced beamforming technologies and 60 MHz of spectrum for significantly enhanced connectivity. SmartSky Networks uniquely enables an "office in the sky" experience with unmatched capacity for data transmissions both to and from the aircraft. This real-time, very low latency, bidirectional data link makes SmartSky Networks the best in-flight user experience, and a key enabler for new and enhanced applications and services.
Featured image credited to SmartSky Networks