Flying Colours Corp. the international maintenance, repair, overhaul, and completions company, has signed an agreement with North Carolina-based SmartSky Networks to act as a sales and installation facility for SmartSky's air-to-ground connectivity equipment.
Sales and installation of the advanced antennas and aircraft base radio will be available through Flying Colours Corp.' Peterborough, ON. and St. Louis, MO. locations. The continued strengthening of the business aviation sector is driving greater use of connected services for avionics, aircraft health monitoring, and cabin WiFi. This is increasing the demand for inflight connectivity that is dependable, immediate, and secure, and necessitating a wider variety of options for owners and operators.
"Every time we talk to a customer about refurbishment, or completions, we have the connectivity conversation. We already have extensive experience upgrading and installing connectivity equipment, and regularly advise on the most suitable options for a customer's mission profile.  Adding the SmartSky equipment to our roster brings yet another dimension to our offering as it expands the choice for those seeking an unparalleled connectivity experience that supports both the cabin, and the aircraft, in North America," says Kevin Kliethermes, director of sales, Flying Colours Corp.
The SmartSky Networks' flagship equipment consists of two sleek antennas and a small aircraft base radio (ABR).  The antenna and radio design has been optimized for business aviation use by providing high throughput to and from the aircraft – a key requirement for today's cloud-native applications and services. Flying Colours Corp. will be providing the entire shipset through SmartSky's latest Early Arrival promotion, and already has equipment available for immediate installation on many STC'd aircraft types.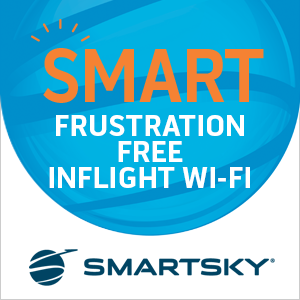 "We are pleased to add Flying Colours Corp. to our community of partners and share in their commitment to delivering the highest quality and performance for business aviation's connectivity needs. Their track record of delivering exceptional aftermarket services, developing STC's, and installing innovative systems has established Flying Colours Corp. as a sought-after provider for business aviation."
About Flying Colours Corp
With facilities in Canada, the USA, & Singapore, global aviation services company, brings decades of experience to every facet of its business, which includes Green Completions, Interior Refurbishment & Modifications, Heavy Maintenance, Exterior Paint, Special Mission Modifications, and Avionics Installations.
Flying Colours specializes in all mid to large sized business aircraft, including the Bombardier Global Express and Challenger families, Dassault Falcon, Beechcraft/Hawker and Gulfstream models. Flying Colours is an Authorized Service Facility for Bombardier and a Bombardier Preferred Completion Centre. It is also a GE Aviation Approved Service Centre.