Bluebox Aviation Systems, the leading provider of cross-platform wireless in-flight entertainment (W-IFE), has realigned its organisational structure and bolstered its management team to pursue an ambitious business plan as the aviation sector emerges from the global pandemic.
Bluebox has already seen an uptick in new opportunities and overall very high demand for its solutions, with new and existing customers wanting to tap into the potential digital platforms offer in terms of ancillary revenue and passenger experience.
With the market opportunity ahead and digital offerings evolving at an increasingly rapid pace, Bluebox is planning to grow considerably over the next several years, requiring a management and team structure to support that growth and innovation.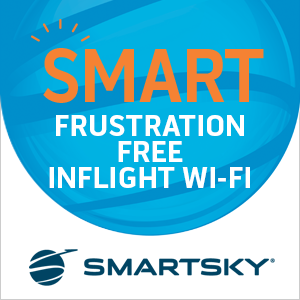 Speaking of the opportunity ahead for Bluebox, Kevin Clark, CEO said: "Though we're keen to firmly put the pandemic behind us, the fact is it presented us with a real opportunity to transform our business; not only to build on the successes we were having pre-2020, but to re-stock, re-charge, re-design and re-structure the team to deliver what IFE is emerging to be – a digital platform for engaging passengers and delivering revenue-generating services directly via passenger devices.
"What Bluebox IFE once was began to blur before the pandemic, developed considerably during it, and we're emerging from this period focussed on a market rebound that is already seeing retail and ancillary revenue business models attracting new types of customers – all keen to engage their passengers in new ways as they return to the skies. To ensure we can achieve all that we're planning to do, we'll be growing considerably over the next few years and needed to structure the organisation to support that growth."
Key changes to Bluebox's senior management team include:
Expansion of Business Development and creation of a new Account Management function under the leadership of Paul Rayson. Currently a Board member, Paul will formally assume the role of Business Development Director in October 2021.
Paul will not only continue and expand Bluebox's current strategic commercial and technology partnerships but establish a new Account Management function to onboard and support customers through their ongoing platform developments, something that is proving far more demanding with the rapid development of digital technologies, including partner and third-party app integrations.
"I am delighted to be joining the management team of Bluebox at such an exciting and important time. As a Non-Executive member of the Board, I've been in an advantageous position to experience Bluebox's success – as well as witness the challenges it has faced over the past year, and how the team has responded to them. But the past year also made it clear to me that I wanted more than a seat at the table. I wanted to play a personal part in the strategic transformation the management team envisaged to pursue the exciting market opportunities ahead for on-board digital platforms – several recent new customer acquisitions already being a clear testament to the opportunity ahead."
David Brown, currently Business Development Director, will be retiring at the end of September 2021. He is currently working closely with Paul on a handover of core Business Development activities.
David has held this position and been a Board member since January 2017, following the creation of Bluebox Aviation Systems from the restructuring of the original Bluebox Avionics joint venture between DMD and AviIT Ltd., a company which he founded in 2004.
Commenting on his decision to retire, David said: "I always did want to retire early but kept putting off the decision as the exciting growth and technology developments we've had at Bluebox, especially in the last few years, kept drawing me into even more interesting projects and partnerships. They truly have been exciting times. But with the combination of clear signs of recovery from the pandemic underway and Bluebox being well placed in terms of an exciting new strategy, it seemed the right time to include in that a succession plan for myself – and an opportune time to make the move and spend more time with my grandchildren, one of whom just arrived this summer."
Mark Stevens has been promoted to Head of Sales. Mark, who was previously Sales Director for Europe, Middle East, and Africa regions, has taken on management and development of the global sales team which is expected to grow over the next few years to meet anticipated demand.
Bluebox's digital platforms offer the ancillary revenue potential of onboard retail services, including the ability to order and pay for products and services via passenger devices with full inventory synchronisation, in parallel to traditional sales from galley carts via cabin crew point-of-sale devices.
In addition to onboard touch-free sales, Bluebox's retail solutions also enable pre-paid (booking path) purchases. They also provide more traditional IFE content streamed to passenger devices in any aircraft cabin, including a wide range of film, TV, audio, games, and other digital content. These services can be offered to passengers on a complimentary basis or paid for via payment card or voucher access with no cabin crew interaction required.
Bluebox's solutions are available on a range of hardware platforms including the market leading Bluebox Wow (battery- and aircraft-powered versions), a linefit option available on Airbus OSP, and retrofit on traditional avionics grade hardware. This range of hardware options ensures the greatest choice and flexibility are available to customers, especially those with different aircraft types and fleets of any size. This also means that Bluebox can deploy a consistent customer experience across a fleet – whether that be to offer food & beverage or retail sales on board or through the passenger journey, provide more traditional entertainment content, or deliver other innovative services designed to engage passengers and build customer loyalty as well as increase ancillary revenue.
About Bluebox Aviation Systems Ltd: (www.blueboxaviation.com)
Bluebox Aviation Systems Ltd. specialises in software solutions for the aviation industry. The Bluebox in-flight entertainment (IFE) portfolio provides airlines the latest technology to enhance the passenger experience with cost-effective and revenue-generating alternatives to seatback IFE systems.
Bluebox wireless IFE software is available on a range of hardware platforms to provide services on passengers' own devices, including on-board retail and IFE content (movies, TV, audio, games and other digital content), in any aircraft cabin. As part of any wireless IFE deployment, Bluebox also provides user interface development, content integration, and highly-rated ongoing system support.
Headquartered in Dunfermline, Scotland, Bluebox has a global support network in Europe, the US, Australia and Singapore
Featured image credited to Becca Alkema