Many a company has been diversifying as a result of the COVID-19 pandemic, but French infotainment provider Moment has been building on a partnership it began before the pandemic to provide entertainment and connectivity to the new Spanish low-cost high-speed rail operator Ouigo, part of the French SNCF group.
Moment's involvement is essentially creating the full onboard entertainment and information system for the train, building on the portal it started trialling with Ouigo France in 2019 and implemented in 2020, with wifi called, naturally, OUIFI. Runway Girl Network sat down with Tanguy Morel, Moment's chief executive officer, to learn more.
The #PaxEx, Morel says, starts with "an onboard portal for the passengers to be able to connect their own devices to reach wifi connectivity." From there, they can buy à la carte Internet or entertainment access.
In an age where many passengers will have either unlimited or practically unlimited 4G that they could theoretically use instead, Morel explains that the key benefits for passengers buying the 4G connectivity OUIFI are that the wifi network itself connects to 4G cellular networks via a multi-modem, multi-antenna, multi-operator system on the exterior of the train. "There are several modems on board. You have more antennas with much more gain than your cellphone. There are eight SIMs on board the modems, and it's a multi-operator network, with three operators."
"At least four" 4G connections per train will be active at any one time, Morel confirms. Access to the Internet starts, according to the collateral provided by Moment, at 3€. That's the same price as "OUIFun", which is the entertainment section, offering options movies, TV shows, magazines, newspapers, podcasts and games, all stored on the server on the train itself.
Also on the server are train information, the railway equivalent of the moving map, destination info and the bar menu.
"For the beginning right now," Morel notes, "we haven't digitalised seat ordering, because the bar is closed because of COVID, but they will open that bit later this year."
Offering connectivity and a services portal is in some ways similar to aviation, but in some ways passenger behaviour is very different, Morel explains. The environment itself is markedly different, with the through corridors upstairs on the double-decker trains and the downstairs sections quieter.
But in some cases, "we have had some similarity with some airlines using our services," he notes. The portal sees "basically quite low usage from from six to eight. During the work hours it's usage of connectivity, for which I think the main usage is for work. And the entertainment usage is later in the day after, after five."
In terms of its airline work, "as you can imagine, 2020 was a very hectic year, very difficult for us," Morel says. "We've been lucky enough to start diversifying our business lines back in 2019, before the pandemic with maritime and the train, because we started operation with Ouigo France. We started a trial back in, I think, October 2019, and we deployed the service in July 2020."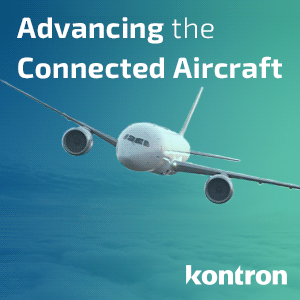 As for 2021, though, "we are very optimistic about it. We are currently deploying our solutions on on five airlines: Air Senegal, Air Cairo, LOT, Azerbaijan Airlines, and Air Belgium."
Those airlines are installing a mix of portable and installed wireless IFE, largely for economic reasons, as a mid-term move, Morel says, before installing full connectivity systems, while exploring wider IFEC technology and options.
Returning to the rails, adding a low-cost, full-functionality onboard entertainment and connectivity suite is certainly a smart competitive move for a rail operator. Moreover, it will be very interesting indeed to observe the passenger experience provided by Spanish Ouigo (run by the French national rail operator SNCF in competition with the Spanish national rail operator Renfe) compared with French Ouigo (run by the SNCF in competition with the SNCF's own full-service TGV trains). One would imagine that competition regulators in France might be peeking a hairy eyeball over the Pyrenees as a result.
Related Articles:
Featured image credited to Moment