Global Eagle is open to testing a "hybrid, multi-vendor environment" that would see its satellite-based connectivity paired with a nextgen air-to-ground (ATG) solution.
During a wide-ranging interview with Runway Girl Network this spring, Global Eagle CEO Josh Marks suggested that, as "the last open architecture pipe in IFC" — one that hasn't committed billions of dollars to building a global network — Global Eagle has the flexibility to deploy new technologies such as a regional hybrid network.
He said:
We will have a lot of opportunities to test these technologies to see how they cover regional flights and work with different partners to find the right antenna modem and ground infrastructure to support that.
Having recently emerged from Chapter 11 bankruptcy protection, Global Eagle believes that investing in R&D is important, said Marks, "and we'll continue to fund it. I think there are a lot of questions today around which of the new technologies coming to market are going to be the most effective in an airline environment. There are a lot of questions around nextgen ATG … and the answer is likely going to be a hybrid network, where multiple technologies will be used."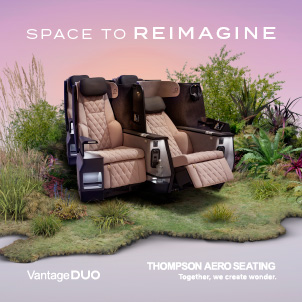 Industry stakeholders have long touted the benefits of being able to dynamically route cabin connectivity traffic over the most logical and efficient pipe. Gogo Commercial Aviation years ago tabled a hybrid Ku/ATG solution called Ground-to Orbit. Gogo Commercial Aviation is now owned by Intelsat.
Gogo Business Aviation, meanwhile, last week revealed it is eyeing the possibility of integrating future LEO satcom technologies with its ATG solutions.
Runway Girl Network in March asked Global Eagle if it had entered conversations (formal/informal) with Gogo Business Aviation's competitor, SmartSky Networks, on a possible collaboration.
"To answer the question, we engage in discussions with various parties from time to time, but do not comment on any specific discussions or partnerships. As you know if anything official partnership is secured with any third party, we'd make a formal announcement," responded a Global Eagle spokeswoman.
For SmartSky's part, a company spokesman said at the time: "The demands of the connected aircraft ecosystem will require innovative solutions. Unfortunately, I am not able comment about our potential collaborations." As previously reported, SmartSky is rather intriguingly now offering to provide "hybrid solution analysis", a review of what it would cost to integrate a satellite solution with the SmartSky network.
Related Articles:
Featured image credited to istock.com/Herbert Pictures