The Metropolitan Washington Airports Authority, together with American Airlines, launched the soft opening Tuesday of 14 gates in a newly constructed 225,000-square-foot concourse at Ronald Reagan Washington National Airport (DCA).
A major milestone in the airport's Project Journey capital improvement program, the new concourse will serve as the home of American Airlines' regional operations at DCA and provides direct, enclosed access to aircraft via jetbridges, as well as spacious waiting areas. This summer, when construction is complete, the concourse also will feature new shopping and dining options.
Designed to enhance passenger convenience and comfort, the new facility was built to complement the architectural features of DCA's current Terminal B/C. The concourse, which includes Gates 46-59, features exposed steel arches and columns, expansive glass walls and skylights that complement the Jeffersonian domes in the existing terminal, giving travelers large, open, brightly lit gate areas with panoramic views of the iconic Washington, D.C., skyline.
"The opening of the new concourse is the culmination of years of work by thousands of employees who overcame numerous challenges and the seismic changes of a global pandemic to deliver a world-class passenger experience at Washington, D.C.'s airports," said John E. Potter, president and chief executive officer of the Airports Authority. "The airport's $1 billion investment to transform the traveler experience inside the terminals at the gates and along the roadways will bring a new era of travel to American Airlines' customers, who can now board regional jet aircraft from jetbridges instead of through Gate 35X."
Prior to the opening of the new concourse, passengers reached regional jets parked in 14 outdoor boarding areas by riding in buses to the airfield. The new gates provide a one-for-one replacement of the former remote positions – without adding capacity for additional flights.
Included in the new concourse is various types of seating, many with electrical outlets, for 850 passengers, as well as 14,000 square feet of concession space, four public restrooms, four moving walkways, two mother's care rooms, an indoor pet relief area, new airline office space and a new baggage-handling system.
"The dreaded Gate 35X is no more! American's new regional concourse at Reagan National Airport is fantastic news for our customers," said Robert Isom, president of American Airlines. "When fully complete, the investments made in partnership with MWAA will finally enable American to deliver a convenient, accessible, world-class product befitting the gateway to our nation's capital."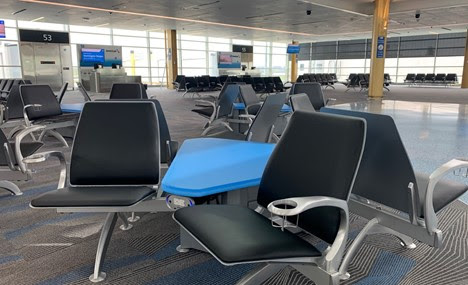 Until the construction process is completed this summer, limited concessions will be available in the new concourse at the soft opening, including Peet's Coffee and Capitol File newsstand. Additionally, passengers will be able to access post-security concessions near Gates 35-45. A complete list of shops and restaurants that are currently open at the airport can be found on the COVID-19 shopping and dining information webpage. Featured concessionaires slated to open permanent locations later in 2021 in the new concourse include Wolfgang Puck Bar & Bites, Mezeh Mediterranean Grill, Peet's Coffee, Capitol File News and InMotion Entertainment, with several others to follow.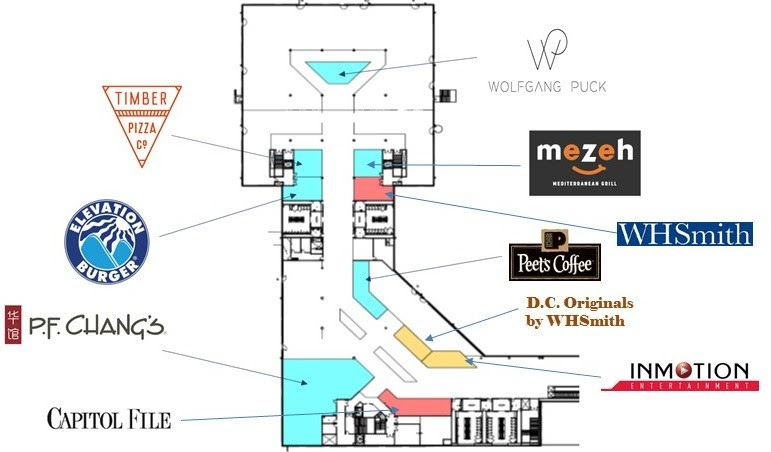 Following the planned completion of two new 50,000-square-foot security checkpoints later this year, which also are part of Project Journey, DCA's post-security footprint will expand to include Gates 10-59. This will allow ticketed passengers to enjoy a wide array of airport amenities without having to be re-screened.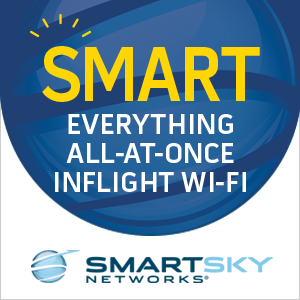 About the Metropolitan Washington Airports Authority
The Metropolitan Washington Airports Authority operates the U.S. Capital Region's gateways to the nation and the world, Ronald Reagan Washington National Airport and Washington Dulles International Airport, as well as the Dulles Airport Access Highway, the Dulles Toll Road and construction of the Silver Line project, a 23-mile extension of the Metrorail public transit system through northern Virginia.
About American Airlines Group
American's purpose is to care for people on life's journey. Shares of American Airlines Group Inc. trade on Nasdaq under the ticker symbol AAL and the company's stock is included in the S&P 500. Learn more about what's happening at American by visiting news.aa.com and connect with American on Twitter @AmericanAir and at Facebook.com/AmericanAirlines.