Canadian satellite operator Telesat has selected Thales Alenia Space as the prime manufacturer of its global LEO constellation, which will comprise 298 Ka-band satellites integrated with an advanced ground network, and offer pole-to-pole coverage.
The network, branded Lightspeed, is being optimized to serve the broadband connectivity requirements of aeronautical and maritime users, in addition to fixed and mobile network operators, enterprise customers and governments.
Telesat has been developing the LEO network strategy for about seven years, and more recently worked with all the key players in the satellite manufacturing space including Thales, to refine the design. Today's announcement advances the program, though financing for the project is still being finalized.
"We are very pleased to be moving forward with Thales Alenia Space on Lightspeed, the most advanced and capable LEO network in the world," said Telesat president and CEO Dan Goldberg in a statement.
"As the world's leader in manufacturing and implementing cutting edge global satellite constellations, Thales Alenia Space is the right industrial partner to deliver Lightspeed, a fully integrated global communications network that will revolutionize satellite-delivered broadband and give Telesat and its customers a decisive competitive edge in this high growth market."
Thales has ample experience in NGSO satellite manufacturing, having designed the Iridium NEXT satellites, and SES Networks' O3b satellites.
IFC applications
For its part, Telesat has supported the inflight connectivity (IFC) market for some time with broadbeam and high throughput satellite (HTS) capacity. Panasonic Avionics, Gogo and Global Eagle are among its customers.
Lightspeed is widely viewed as among the most viable forthcoming LEO constellations for the aviation vertical. In 2018, Global Eagle tested its mechanically steered Ka-band antenna over Telesat's first LEO satellite, known as Phase 1 LEO, which launched earlier that year.
Gilat and ThinKom have also tested their respective antenna hardware for IFC over the Telesat Phase 1 LEO satellite.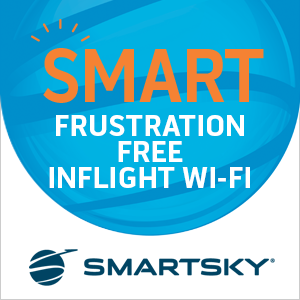 Pertinent to the aero market, Telesat says sophisticated phased array antennas on each Lightspeed satellite combine with advanced beam hopping technology to create approximately 135,000 beams "that can dynamically focus multiple Gbps of capacity – an order of magnitude higher than any other system – into demand hot spots like remote communities, large airports or major sea ports".
Moreover, nearly 1,200 high capacity optical links – four on each satellite – will combine "to create a first-ever, highly resilient, flexible and secure space-based IP network, moving data across the network and around the world at the speed of light".
Operating under Telesat's global Ka-band priority spectrum rights, the first Lightspeed satellites are expected to be launched in approximately two years, with customer beta testing beginning shortly thereafter and commercial services commencing in the second half of 2023.
The company says it is developing affordable end-user terminals, with a range of antennas and modems optimized for each of the market verticals Lightspeed will serve.
Telesat notes:
Lightspeed will fully support both electronically steered antennas (ESAs) and mechanically steered antennas for commercial, government, and defence markets including requirements for land, land-mobile, aeronautical, maritime, and other platforms.
Commencement of full satellite construction activities and the final constellation deployment schedule are subject to, and conditional upon, the progress of the financing for the program.
Related Articles:
Feature image credit to