SmartSky Networks has closed on more than $32 million in additional equity and debt funding as it prepares for the launch of its next-generation air-to-ground (ATG) inflight connectivity service later this year.
"In a display of confidence in the future of SmartSky's groundbreaking technology and services, we received new funds from our institutional investors," says SmartSky CEO David Helfgott in a statement.
The company's low-latency, high-speed ATG service will make its debut on business aircraft in the state of Florida. Helfgott tells Runway Girl Network that a "test corridor in Florida and part of Georgia" will be finished in April. "The rest of it will roll out as fast as we can, but our goal is to have 90% of all flight hours [in CONUS] covered by the end of the summer. It might leak a little to the right depending on how fast we deploy."
The radio system "is in production right now as we speak", he adds. SmartSky still has to do a single element upgrade and make sure that the product is 'hardened commercial grade and enterprise ready'.
Since last year, SmartSky has traded lawsuits with its former radio contractor, Wireless Systems Solutions LLC (WSS). "We are very confident that the outcome will be fair and we expect it to be resolved in a matter of due course of these processes. I am very confident in our position," says Helfgott.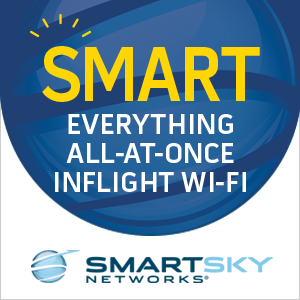 SmartSky will compete with Gogo Business Aviation's ATG inflight connectivity service in the US, as well as a variety of Ku- and Ka-band satellite-supported IFC systems.
The company uses a single-beam-per-aircraft approach, which is backed by a sizable patent portfolio and years of flight testing. It is offering a Flagship product for business jets and regional jets, and a LiTE product for light jets and turboprops.
"We are moving forward with specific channel partners and specific aircraft initially and expanding that through STCs [supplemental type certificates] as quickly and methodically as we can," says the SmartSky CEO.
Satcom Direct will provide the service in business aviation, while Honeywell will support the commercial space. Honeywell vice president and general manager, aerospace and connectivity services John Peterson tells RGN he has been on a number of SmartSky-equipped flights "and it works really fantastic" and is "really impressive".
The size and the weight of the system, "and the data rates that SmartSky can get, we believe that has a real home in North America, or you know, other places", like the China market.
Helfgott stresses that the "number one focus" for SmartSky is execution and deployment in CONUS. "However, as you say that, things don't always line up linearly. We have multiple opportunities to take this business model and technology and work with partners internationally."
With the business aviation sector recovering from the COVID-19 crisis faster than the commercial space, SmartSky feels confident it will enjoy strong take-up in BizAv. But the company is intentionally keeping a lower profile until it can discuss its various milestones in the coming months.
Featured image credited to SmartSky