Achieving and maintaining high quality aircraft seat manufacturing is a complicated job, with today's mobile, social and vocal airline passenger never shy of highlighting when products aren't up to snuff. But how does that work in practice?
During a socially distanced site visit to German seatmaker Recaro's headquarters in Schwäbisch Hall, Runway Girl Network sat down with head of quality operations Laura Karbach to learn more about this crucial — but often hidden — part of the puzzle.
Quality operations, Karbach explains, is "a function that ensures that parts come in at the right quality… from our suppliers and our in-house production".
At the start of the process, that includes first article inspections — methodically checking that the first batch of whatever has been ordered matches the specifications. "We have to look at the material certificates, the first article inspection report and the verification of all dimensions. We have to thoroughly inspect the product, measure it, make sure that everything is right," she says.
Ongoing incoming inspections, meanwhile, check that subsequent parts are up to standard. The frequency of these inspections, Karbach says, "depends on the product: if the product is a safety part then we have to do an incoming inspection more often. There are EASA regulations we need to stick to, and as well we have internal processes to make sure that everything is aligned with our quality standards."
It's a challenging role at a company with sites in Germany, the US, China, Poland and South Africa, with Karbach working hard to ensure that every team worldwide understands the processes, incorporates regulatory and supplier change, and ensures the interfaces between the many moving parts — literally and figuratively — are working together.
To get to where she is today, Karbach says, "I studied business engineering in cooperation with Bosch for three years at university, and afterwards decided to go to a smaller company because I wanted to talk to the CEO and understand how processes work, and have more influence. Then I went to purchasing, and first of all I was a strategic buyer. In 2013 I was promoted to commodity manager for indirect purchasing in my former company and directly reported to the vice president for supply chain. Afterwards I joined Recaro in 2017 as head of strategic purchasing. That's when this department was newly created. In 2019 I became part of our Operations Management team as head of quality operations."
Like her Recaro colleague Lydia Manski, Karbach is enthusiastic about the German educational system's three-year dual study programme, which she sums up as "three months study, three months practice at Bosch, for three years. You get to see the practical side of business life as well, not only as your studies" and, in an effective preparation for the world of work, "thirty days' vacation — just like working!"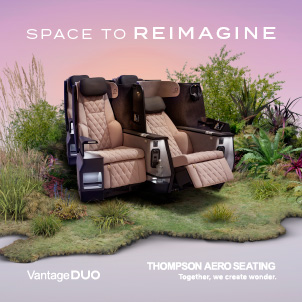 During the COVID-19 pandemic, Karbach's team has been drawing on previous (and ongoing) digitalisation work that has proven helpful becoming more efficient in the new remote way of working.
A particular challenge has been managing supplier stability and even prospective failure, ensuring that the supply chain remains stable if a supplier experiences problems. Complexities arise if, say, Recaro is only 20% of a supplier's business, but the importance to Recaro's supply chain is proportionally more significant.
The context of Recaro's own demand drop has led to innovative ways of working too, in order to ensure that output is maintained even in the COVID context., as Karbach explains. "It's very important to deliver all the products to our customers on the final assembly lines. So we're working in two teams: one team is working on Monday and Tuesday, the other team is working on Wednesday to Friday, and again on the Monday and Tuesday of the next week," Karbach explains. "Both teams have people who can fulfil every task: measurement, incoming inspection, colour, appearance, and so on."
That has been complex, Karbach notes. "There are many topics we need to consider. At the moment the biggest challenge is coordination, because we never have all our people on the same day in the office… make sure that we do not forget anybody, that everybody is still informed."
The key, she says, is "building a strong team, and remaining mindful and open to adapt our processes in a way that serves the interests of our company in the best way possible — making sure that we are even stronger after the crisis."
Recaro provided overnight accommodation for RGN's journalist in Schwäbisch Hall to enable this interview during a physically distanced site visit at a time of low COVID-19 spread, in full compliance with all local hygiene and public health restrictions.
Related Articles:
Featured image credited to the author, John Walton