As hopeful signs of recovery are observed in business aviation, US-based inflight ISPs Viasat and Gogo have enhanced their respective products in a bid to meet the heightened Internet connectivity requirements of this contingent of flyers.
"I'm encouraged because we're seeing several positive trends taking shape in the market," said Gogo Business Aviation president Sergio Aguirre late last month, when the company reported that its connectivity service had hit 3,000 daily flights – up from a single-day low-point of 378 daily flights in mid-April.
"We've strived to be a good partner with our customers to get through a very difficult time together," said Aguirre in reference to the COVID-19 crisis, "and we're now in the midst of a measurable recovery as flight activity increases."
Like Gogo, Viasat is seeing positive signs that the business aviation market is starting to pick up again. Viasat's James Person, who manages business development for the firm, told Runway Girl Network that the Internet usage data and flight hours on Viasat's business aviation customer fleets confirms the uptick.
In tandem with this trend – and in an unprecedented move – Viasat has announced the removal of Internet speed limits across all of its Ka-band satellite-based inflight connectivity service plans for business aviation. It also said it has "doubled its minimum committed Internet speed to the aircraft" for the same Ka service plans.
Viasat has traditionally offered up to 16 Mbps for every Ka plan. By removing the speed limit delivered to the aircraft, said Person, customers have already experienced higher speeds "and have seen 40 Mbps and more, but that is not the maximum speed limit. We feel that max speeds are not important for the customer experience."
He continued, "What really matters is how consistently a provider can deliver data volume to the aircraft. All of our Ka-band plans deliver typical speed to the aircraft of 20 Mbps or greater; enabling passengers to access data intensive applications faster. We are in a unique position to do that given that our satellites have the highest capacity."
Commercial airlines are still operating only a small fraction of their fleets, including Viasat's airline customers. But the satellite operator intends to continue offering its 'no-caps' program in business aviation, even when the commercial sector rebounds.
Person explained:
Viasat is able to do this because we have the highest capacity satellites in market. Our capacity enables us to serve both the commercial and business aviation markets simultaneously.

These new Ka-band speeds will be in place moving forward and we do not plan on ending the maximum speed delivered to aircraft on our business aviation Ka-band plans.

We were cautious with our initial Ka plans to really understand performance and behavior and now we feel we are in a position to unleash the capacity.
Notably, this no-caps solution is available across the satellite operator's Ka-band aviation network, including over Europe (via the KA-SAT joint venture satellite).
Separately, Gogo this week announced it will lower the altitude at which passengers can begin using its air-to-ground (ATG)-based connectivity services to 3,000ft from the usual 10,000ft, ensuring that business aircraft equipped with its AVANCE L5 or L3 systems – and commercial regional jets with its ATG-4 and ACPU2 technology – in North America receive an additional 15-20 minutes of connectivity on many flights.
The Chicago-headquartered firm will begin a phased process to enable service at 3,000ft through ground-system configuration and remote software updates. It said the process will not require any onboard manual intervention. Crucially, Gogo will offer the additional service time with no additional fees, though its service guarantees still only apply once an aircraft reaches 10,000ft above ground level.
"The additional connectivity time is a significant enhancement and will deliver even more value to customers. It makes connectivity available to those who believed inflight Wi-Fi wasn't an option because they fly shorter routes," said Aguirre in a statement.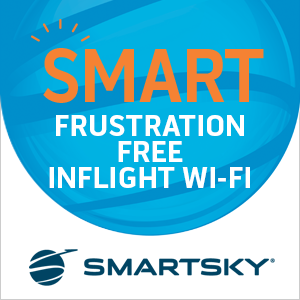 A supplier to both Gogo and Viasat, Communications & Power Industries (CPI), meanwhile, is starting to have discussions about loosening up on business travel and what that might look like for its own executives. But even with restrictions lifting, "people are not stepping out to the full effect that they would be allowed to, particularly those with health issues. Young people are more inclined to go out and take the risks; those a little older are more cautious about what we're willing to do," said CPI chief operating officer, Andrew Ivers in a recent interview.
"I have actually been pondering whether people like NetJets are going to benefit from this," he continued. "Will the business traveler in corporations that were right on the bubble before, where a NetJets was a little more expensive than business tickets, does that color that decision threshold? I don't know. It's an interesting philosophical question," he told RGN.
Given the uncertainty created by the COVID-19 crisis, that philosophical question may not yet have been fully answered, but Viasat's Person confirmed that private flying for Viasat executives "is something we can leverage for our teams when needed".
He noted: "At Viasat we are always working hard and putting measures in place to ensure the safety of our entire workforce."
Related Articles: