Financially-ailing Global Eagle Entertainment is selling its assets to an entity established by holders of approximately 90% of its senior secured first-lien term loans. To facilitate the sales process, the company and certain of its US subsidiaries have filed for Chapter 11 in the US Bankruptcy Court for the District of Delaware.
Global Eagle provides inflight connectivity and IFE content to airlines, and serves other mobility markets including the cruise industry. It has seen dramatic declines in demand for its services due to COVID-19-related travel restrictions.
Prior to and amid the COVID-19 crisis, Global Eagle has also been challenged by the protracted Boing 737 MAX grounding, and Boeing's decision to halt MAX production in January. Global Eagle counts MAX operators Southwest Airlines and Norwegian as customers for its connected entertainment services.
Under a "stalking horse" asset purchase agreement announced today, substantially all of Global Eagle's assets will be acquired for $675 million by a group led by lenders managed by Apollo Global Management, Inc., Eaton Vance Management, Arbour Lane Capital Management, L.P., Sound Point Capital Management, Mudrick Capital Management, or one or more of their respective affiliates; and certain funds and accounts under management by BlackRock Financial Management, Inc.
"We remain steadfast in our belief that our airline, cruise line and other customers will recover from COVID-19 and generate significant long-term demand for our services," said Global Eagle CEO Josh Marks in a statement.
He added: "Our investors have been strong strategic partners with Global Eagle, we appreciate their continued support, and we believe this is the best path forward for our company and our customers, partners and employees."
Jeffrey Rosen, Managing Director with the Credit business segment of Apollo, said, "We believe Global Eagle's services will continue to be core to the passenger experience over the long term, and see significant opportunities ahead for the company to continue driving growth and innovation.
"We also have tremendous confidence in Josh and the management team's ability to lead Global Eagle through the current environment and into the future, and look forward to working closely with them as we move forward."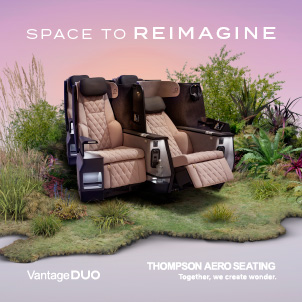 In connection with its Chapter 11 process, Global Eagle said it will obtain $80 million in debtor-in-possession financing from the investor group. It expects that this new financing, together with cash generated from ongoing operations, will provide "ample liquidity" to support its operations during the sale process.
That should come as welcome news to Southwest, Norwegian, and Global Eagle's other airline customers, including  Air France, which has been fitting its short-haul fleet with connectivity and live television.
The acquisition is also expected to be financed by an additional investment in the business in the form of a $125 million exit facility, which would include assumption or refinancing of the DIP financing.
As a result of the proposed transaction, Global Eagle will reduce its total debt by approximately $475 million and obtain significant additional liquidity, "positioning it to continue driving long-term innovation and growth and serving its customers around the world", it assured.
Featured image credited to istock.com/shironoso