In the fall of 2018, China-backed FTS Technologies announced it would equip Qingdao Airlines' fleet of Airbus A320 family aircraft with its XstreamSAT-branded Ka-band inflight connectivity hardware. Fast forward to today, and the system is now live, supporting broadband transmissions for passengers on a single A320. FTS says it is now working to accelerate equipage on the rest of the Chinese carrier's 25-strong A320/A321 fleet, and is eyeing opportunities in other markets.
The launch of Internet service on Qingdao is a remarkable achievement for Beijing-based FTS, which is a relative newcomer to the inflight entertainment and connectivity scene. It marks the culmination of a "relentless team effort" by FTS, satellite operator China Satcom, service provider China TDT Link and other partners, says the firm.
The XstreamSAT system, which received double airworthiness certification this spring from both the US FAA and China's CAAC, comprises a cabin wireless network, MODMAN (modem manager), a satellite antenna system, radome and adapter plate system. Israeli firm Gilat in a statement says it provided the modem. For the China market, XstreamSAT has been optimized to connect with China Satcom's ChinaSat-16 (CS-16) Ka-band high-throughput satellite.
Given that the Chinese government favors home-grown technology, FTS appears well positioned to capture market share in China. But FTS reveals it is also eyeing opportunities outside the region.
The company states:
Following the successful launch on Qingdao Airlines, FTS has announced to the world that it is now a serious contender in the inflight connectivity solution provider space and looks forward to engaging global airlines and markets on a wider scale.
To realize its vision of fully connected digital aircraft, FTS says it is also progressively introducing other applications in areas such as flight operations, flight safety, aircraft maintenance, and cabin crew services.
In the meantime, FTS management is celebrating the launch of Internet service with Qingdao. The carrier's XstreamSAT-equipped A320 on 7 July hosted a live inflight broadcast event on a flight between Qingdao and Chengdu. Passengers aboard the flight were able to connect to the Internet, as well as access wireless entertainment.
"On the debut flight, passengers connected to the onboard wireless network using their own mobile devices and were treated to a galore of over 2,000 entertainment selections, curated inflight shopping catalogue with over 500 items (supporting online payment), flight map and of course, the high-speed Internet access," says FTS, whose kit also supported a two-way live video communication between the flight and ground audiences.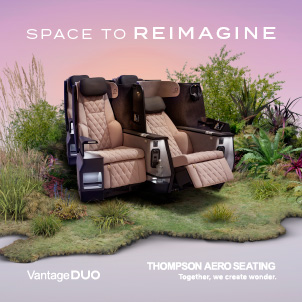 Though various news agencies are reporting that the XstreamSAT-fitted Qingdao A320 is China's first aircraft to offer high-speed Internet services to passengers, the truth is that multiple Chinese operators have trialed IFC though the years, from homegrown air-to-ground (ATG) solutions to Global Eagle's Ku-band service. In 2017, Global Eagle fitted a 9 Air Boeing 737-800 in conjunction with Boeing Shanghai Aviation Services Co.
But none of these IFC offerings have seen widespread adoption in the sizable, but as-yet-largely-untapped domestic Chinese airline market. And none hold the distinction of exploiting the ChinaSat-16 Ka-band high-throughput satellite, which is capable of serving 80% of the flight routes in China, according to US satellite operator Viasat, which also plans to support IFC in China.
"Our success is hinged on a multi-talented, multi-cultural team comprising of people who are professional, passionate and dedicated to providing technical excellence and unrivaled service to our customers," notes FTS, which hired long-time industry veterans to aid in its market entry.
Photo credited to FTS Technologies
Related Articles: