The coronavirus crisis is testing the limits of the aviation industry, both financially and creatively. Designers, engineers, and manufacturers are joining forces to answer some of the more challenging questions around long-term cabin hygiene.
The latest development is a collaboration between Tapis Corporation, SIMONA Boltaron and Molon Labe Seating. Together, these firms have developed an aircraft seat proposal that uses antimicrobial materials, creates barriers with the aim of enhancing respiratory protection, and supports a level of passenger separation while retaining use of the middle seat.
Using the staggered layout of Molon Labe's S2 economy class seat as the core architecture, they've added thermoformed Boltaron 9815N FAR-rated antimicrobial treated thermoplastic sheet for the seat shell, and Tapis' Promessa-branded Ultrafabric for the seat covering.
The new Boltaron 9815N FAR-rated material was specially engineered to withstand frequent cleaning with strong chemicals, as well as UV-C disinfection and electrostatic fogging. It comes standard with its own antimicrobial treatment, and can be customized in an unlimited range of textures and colors.
Molon Labe worked with SIMONA Boltaron's SCM360° prototyping and specialty design team to develop the S2 seat shell. They wanted to use a material that could not only withstand rigorous cleaning procedures but also stand up to wear and tear, resisting scratches and impact.
Ultrafabric, meanwhile, has built-in antimicrobial properties. Silver ion technology on the top skin of the material, and inherent in the polymer, ensures that the antimicrobial treatment remains active throughout the service lifetime of the product. It will cover the seat, armrests and headrest.
In addition to the antimicrobial properties of all surface assemblies of the seat, the new design also offers other potential protections. A large rotating, one-sided headrest acts as a physical barrier between seat occupants, and can be adjusted 180 degrees to offer options for passengers traveling with friends and family.
The inherent staggered layout of the S2 seat increases lateral space for the middle seat passenger, whilst reducing contact points between the three passengers on a triple seat, according to Molon Labe. The designers also included an option for a Bluetooth-controlled inflight entertainment system, which would allow passengers to control entertainment using their smartphones or other similar electronic devices, without having to touch the screen or use a built-in controller.
Runway Girl Network reached out to Matthew Nicholls, sales director at Tapis, to learn more about what inspired this collaboration and what lies ahead for the industry as it grapples with the new market conditions ushered in by the coronavirus pandemic.
Nicholls said Tapis has taken an active role in communicating with the aviation community, both airlines and supplier partners, to foster an exchange of ideas about solutions that address health and hygiene for the long-term.
As a company, Tapis has been hosting webinars directly with airlines for the last few months, so we've been exposed to their problems first hand. The airlines are generally looking for solutions that solve the problem and provide a long term fix, as opposed to a knee a jerk reaction that only solves the COVID issues in the short term and have no long term benefit.

As we have been talking to our airline customers, the Molon seat kept coming to mind. When they told me about their new headrest design it seemed like a great collaboration with our antimicrobial materials.
Tapis has also been actively engaging with stakeholders that are working on antimicrobial standards, including experts on advisory panels such as SAE and EASA, as well as the new working group established by SEKISUI Kydex to explore standardization of materials, cleaning and disinfectants.
"There hasn't been much detail in these standards before now, but much has changed in the last few months," Nicholls told RGN.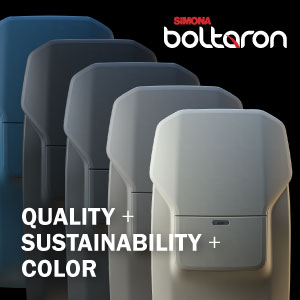 During recent industry discussions about cabin solutions, however, a number of airlines and some designers have expressed skepticism that any alternative seating would be available in time to manage what everyone hopes is a limited time event; or that airlines could afford to make major changes to cabin design, given their current hardships.
We asked Nicholls for his thoughts. He acknowledged that airlines are in a vulnerable financial position, but believes the coronavirus pandemic will inherently change marketplace expectations for cabin hygiene, requiring long-term solutions to address future threats.
"For as long as I can remember, we've used the cabin design to hide as much soiling and dirt as possible to make aircraft turns and maintenance cheaper and quicker," said Nicholls. "This has been a wake-up call. It's not going to be acceptable to the flying public to not have clean, sanitized passenger places. Whoever starts to implement that first will win; not only in the 'here and now', but in the long term also. Spanish flu came and went and is still with us today, as is H1N1; COVID-19 will most likely be no different. The future is about how we manage the problem."
Another innovation that Nicholls believes could be part of the new normal in cabin design, is the AirShield design developed by Teague which redirects air in the cabin with the aim of reducing the risk of virus spread.
"When you combine this with antimicrobial surface technology, we believe the risk is reduced to a low enough level to allow safe flight with the use of middle seats," said the Tapis executive.
"We have Molon's innovative headrest, our antimicrobials, Boltaron's antimicrobials and then, if you added the Teague AirShield, you would have a potential safe solution that doesn't disrupt the commercial economics of making airlines viable. We're all in this together and it's nice to see everyone working towards a common goal."
Related Articles: