Maintenance, repair and overhaul firm Etihad Engineering has developed a cadre of solutions to support onboard social distancing, should Abu Dhabi-based Etihad– or indeed any of its other airline customers – opt to take this approach amid the COVID-19 crisis.
During a recent webinar, hosted by the Independent Aircraft Modifier Alliance (IAMA), of which it is a founding member, Etihad Engineering revealed that its portfolio includes four low-cost solutions: a head-level shield for both sides of a seat; a flat, horizontal partition which stretches across a middle seat's armrests in a seat triple to block that specific seat; a simple box-type structure that serves as a seat blocker; and a seat divider.
According to the MRO provider, the various devices can be installed on all Airbus and Boeing commercial aircraft types. It reckons that an aircraft modification can be executed as soon as "15 days from signing of contract depending on option and LOPA [layout of passenger accommodations]".
Asked by Runway Girl Network if any of the solutions would require the seats to be recertified, Etihad Engineering's head of engineering, Shevantha Weerasekera, explained that the goal is to not require full seat recertification, but rather to provide "something simple that can be certified and quick without complication". Indeed, all of the ideas being studied by Etihad Engineering right now constitute "minor modifications" that would not require recertification of seats.
In recent weeks, a number of aircraft interiors stakeholders have proposed various shields and shrouds, seat blockers, seat dividers and screens in a bid to help prevent lateral person-to-person droplet transmission.
Lufthansa Technik, which is also a founding member of IAMA, is in the process of doing the certification work for a new head-level divider, using supplemental type certificates (STCs) from the European Aviation Safety Agency, which signs off the work.
For its part, Etihad Engineering has been in close contact with its airline customers' guest experience executives about the various possibilities now on the table. "Whatever the decision is, we're ready to support them with the request," said Weerasekera.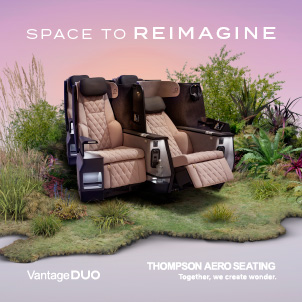 The company is fielding interest from airlines but understands "everybody is shooting in the dark right now" in determining what the airline passenger experience will entail as the crisis continues.
The MRO provider has also developed "quarantine" and "private" zone solutions for aircraft using curtains across seats and aisles.
It revealed it has already installed a quarantine zone on a Boeing 787 "to keep some areas isolated".
Intriguingly, Etihad Engineering has also devised a crew disinfection solution that would see an onboard lavatory converted into a decontamination chamber by installing a hydrogen peroxide atomisation (fog) unit.
Related Articles: