Having designed unique antenna radome solutions for both Gogo and Viasat, Communications & Power Industries (CPI) appears to be in a solid position to benefit should either inflight connectivity service provider secure new IFC business in the coming months and years.
"We support both customers, and we love them both – both Gogo and Viasat – so it's always good to be in a situation where you're providing to all the players and you don't have to spend as much angst picking the winner," CPI's new chief operating officer, Andrew Ivers, told Runway Girl Network in a lengthy interview.
"Obviously, they have different approaches and very different products and we designed unique solutions for each of them," he added.
Work with Viasat
CPI's Radant Technologies Division has been a partner to Viasat for years, with the firm confirming in 2016 that its hybrid KuKa radome solution was housing antennas on Viasat-equipped 737NGs operated by El Al and A320 family aircraft operated by Virgin America (before the acquisition by Alaska Airlines).
Last year, a CPI Radant executive revealed to RGN that the firm's Ka-band radome could be found on Viasat's "Ka-only" IFC installs at American Airlines "unless it goes on a linefit Boeing aircraft and then it's the [General Dynamics] tri-band radome".
Work with Gogo
At that time, RGN also learned that CPI was supplying radomes for a "new generation of Gogo 2Ku" packages. Meggitt, which acquired Cobham's composite business in 2015 and with it 2Ku radome content, in 2017 signed a long-term agreement with Gogo. So CPI's disclosure was certainly news.
"The new one that we're making for Gogo are primarily linefit for Boeing, one version, and linefit for Airbus, [a] slightly different version because Boeing and Airbus have different priorities. But they look the same. You could never tell the difference from the outside [of the radome]," RGN was told last year.
"That is true, they are different," Ivers recently confirmed.
It would seem that a dual-source approach on 2Ku radomes is in play. (And perhaps the tri-band radome does not suit the unique, low-profile nature of 2Ku.)
Gogo is eager to hang onto as many as 575 aircraft covered in its newly amended 2Ku IFC agreement with Delta Air Lines, after revealing that the US major intends to diversify its IFC service provider base. So Gogo is prepping for a possible pivot from 2Ku to 2Ka should the need arise.
Consequently, CPI Radant is eyeing how it might support Gogo's potential transition to 2Ka, should Gogo see demand for such. "It would probably be a modification of an existing [radome] design," said Ivers of the 2Ka radome.
But if Delta were to choose Viasat for a portion of its fleet – as many industry observers are predicting – CPI could also benefit, which would be great news for the firm as well.
Impact of COVID-19
The COVID-19 crisis has, naturally, slowed the roll of IFC installs across industry. CPI Radant in 2016 expected to eventually benefit from Viasat's prime status at JetBlue, telling RGN at the time: "From this point on, for any customer that acquires Viasat Exede direct with Viasat, it would be our aspiration to be the radome partner on their future high-performance applications." But Ivers said he doesn't believe CPI Radant radomes have been installed on the New York-based carrier's aircraft as yet.
"I don't believe we do at the moment, and obviously in the current environment, everybody has slowed down all of their radomes from all of the vendors. And we understand that Viasat has a couple of new customers, although they've pushed out all their radomes. Usually the first clue we get is the color of the paint that they want their radome with," said Ivers, who served as an executive for 18 years at L3 Technologies before joining CPI last year.
Regarding new Viasat IFC installs for United Airlines (new A319s, for example), there is also a chance to secure radome business with Viasat, but CPI Radant is still a little bit at arm's length to airlines so the company is not always certain when its content is being used. "We deal through our primes," noted Ivers. "If Viasat is quoting us for a product, we don't always know which aircraft it will go on."
(Note: General Dynamics is understood to have provided the radome for the Thales/LiveTV Ka connectivity + receive-only Ku television system installs on JetBlue and part of United Airlines' fleet. Through the years, a growing number of defense companies have secured business in #PaxEx.)
Essential business
CPI Radant builds production hardware at its Stow-based facility and its new Hudson facility, both in Massachusetts, and the latter now houses its very large autoclave. In terms of the COVID-19 pandemic, said Ivers, it has been "very difficult" in the commercial aviation space, with most stakeholders "putting the brakes on and pushing us into a 'go slow' mode. We're managing through that."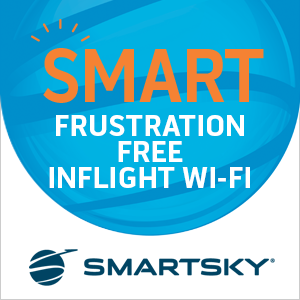 All of CPI's North American facilities were deemed essential amid the pandemic But one of the things that manufacturers like CPI Radant must contend with when building radomes is the material has a certain shelf life. "Do we turn the material into a radome or let it age out? If you turn it into a radome and it doesn't have a customer, that's not great," he noted. So CPI Radant has "addressed the size of the workforce" given the near-term challenges.
The rest of the business – roughly three quarters – is largely in support of military and three-letter agencies, and this seems "almost completely unaffected". So whilst the crisis is a drag on CPI Radant, if its business was 100% inflight live television and connectivity radomes, "we would be in a much more difficult situation than we are. We do radomes for the B-52 Bomber that covers the radar, radomes for jamming pods so that's perking along pretty well."
CPI also this month successfully completed the purchase of SATCOM Technologies, the antenna systems business of General Dynamics Mission Systems, Inc. The newly acquired business, which will be called CPI Satcom & Antenna Technologies Inc, "will work closely with CPI's existing antenna systems businesses, CPI Malibu Division and Orbital Systems LLC, to offer customers a broad and deep portfolio of satellite communications antenna systems and related products for use in defense, communications and scientific applications", said the firm in a statement.
The organization's executive management team will remain in place and report to Ivers.
Related Articles: