Emirates is adopting social distancing in-flight in response to the coronavirus pandemic, with the airline announcing today that seats will be "pre-allocated with vacant seats placed between individual passengers or family groups".
The Dubai-based airline is the latest in a string of carriers to block seats to ensure passengers are spaced apart on board. Others include easyJet, Delta Air Lines, WestJet and Chinese airlines operating under guidance from China's CAAC. This measure is easy to implement because load factors are very low amid the pandemic.
In a statement today, Emirates said its inflight physical distancing protocol is part of a bevy of precautionary measures being employed at the airport and on board aircraft to ensure the health and safety of employees and customers. Among the other measures, cabin crew are donning personal protective equipment (PPE) including a protective disposable gown over their uniforms, and a safety visor, in addition to masks and gloves. Boarding agents and ground staff who are in direct contact with passengers are also wearing PPE.
Emirates stated:
At Dubai International airport, gloves and masks are mandatory for all customers and employees. Thermal scanners monitor the temperatures of all passengers and employees stepping into the airport. Physical distancing indicators have been placed on the ground and at waiting areas to help travelers maintain the necessary distance during check-in and boarding.

The airport team has also installed protective barriers at each check-in desk to provide additional safety reassurance to passengers and employees during interaction over the counter.
Travelers should expect to see other airlines adopt similar protocols. Indeed, Executive Traveler reports that Korean Air cabin crew are to wear protective gowns, goggles and gloves to protect against the spread of COVID-19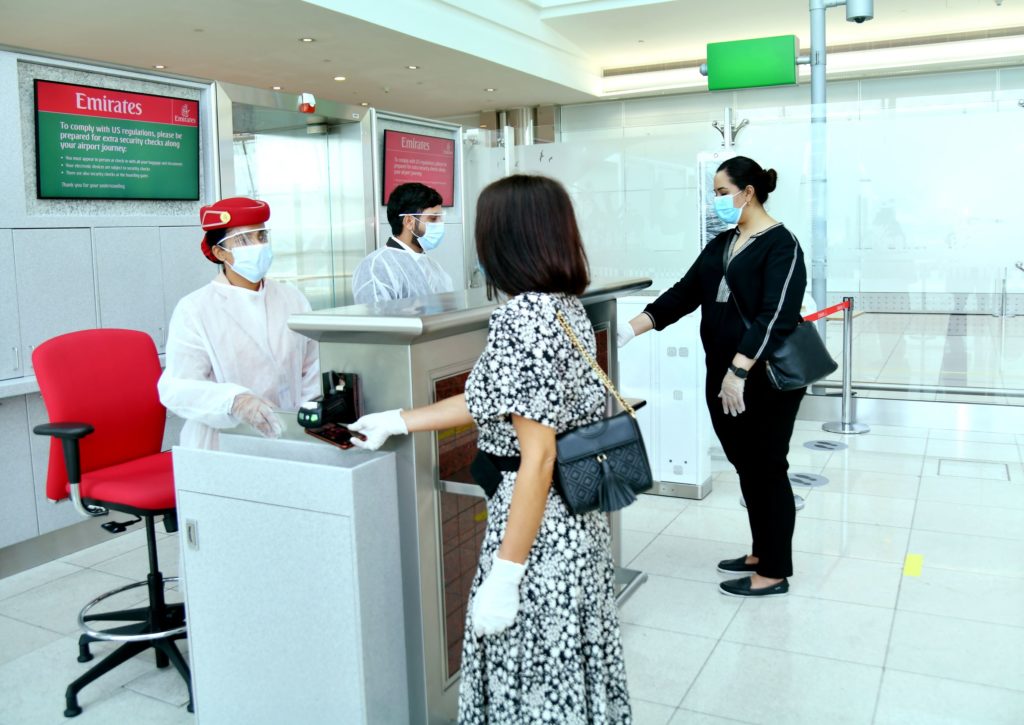 Virtually every touchpoint of the passenger experience (PaxEx) has changed since COVID-19 was named a pandemic. Delta announced last week that customers in all cabins will receive their own personal snack bags on domestic flights, building on recent food and beverage changes aimed at reducing contact between crew and customers. The snack bag can double as an individual trash collector once its contents are consumed, said the airline.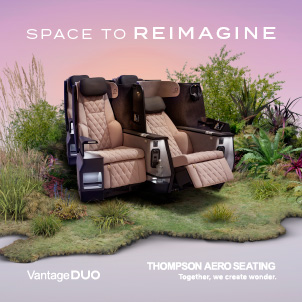 Emirates, too, has modified its inflight services. Food and beverages continue to be offered in the form of bento-style boxes. Magazines and other printed reading material are temporarily unavailable, said the carrier. Cabin baggage is currently not accepted on flights, though passengers can still carry on their laptop, handbag, briefcase or baby items. Emirates said it will add the cabin baggage allowance to customers' check-in baggage allowance.
At present, Emirates is operating limited passenger flights to carry travelers outbound from the UAE to London Heathrow, Frankfurt, Manila, and Sao Paolo. Stringent entry restrictions remain in place at these destinations as well as others across the world. Emirates likely won't resume regularly scheduled flights until July at the earliest, reports One Mile At A Time.
Meanwhile, virtually all airlines that are offering limited schedules have stepped up their cabin cleaning and disinfection processes in line with guidance from health agencies, such as wiping down surfaces and fogging aircraft overnight.
Related Articles: