As the coronavirus crisis pummels air travel demand, forcing airlines to park aircraft and airframers to slow production, many suppliers in the airline passenger experience (PaxEx) sector are reeling from the impact to their businesses. But those with diversified portfolios, including defense content, boast some advantages as they seek to weather the storm.
W. L. Gore & Associates is among the firms with strong industry diversification. Best known for developing the waterproof, breathable Gore-Tex fabric, Gore has been growing its content on board commercial aircraft in recent years, including supplying high-grade cables for two of the most prominent new nextgen inflight connectivity programs underway at present, Inmarsat's European Aviation Network and SmartSky Networks' nextgen ATG program.
But Gore's track record in the defense industry dates back to 1958, when it prototyped designs of fluorocarbon-insulated wires and ribbon cables for use in military aircraft. Since then, its product portfolio has expanded significantly, and its content can be found on every major military aircraft, including Lockheed Martin's F-35. Gore's Medical Products Division, meanwhile, serves 62 countries around the world.
Having such a balanced portfolio positions Gore to take a bit of a hit on the commercial side during the coronavirus pandemic. "[W]e're well-positioned in all markets and have a balanced portfolio in the industry. The temporary hit on the commercial market may see some of the maintenance products slow down or be put on a pause right now; however on the defense side, we don't see that happening," says Margit Burnett, who spearheads Gore's global marketing communications for aerospace and defense.
Gore's defense work will not directly benefit from the $2.2 trillion CARES stimulus package signed by US President Donald Trump. Even so, Gore is confident it can manage the present headwinds. "Because the initial federal stimulus package is focused on small business and the airline industry, Gore would not qualify for those funds and, as a privately held company, we are well positioned financially. It is assuring that defense programs will continue as planned. There might be some temporary production stops at some of the defense companies, and that would have an impact. But overall, our portfolio is well balanced and trenched towards defense," says Eva Geywitz, who handles global strategic marketing for Gore's aerospace and defense work in Europe and Asia.
Adds Burnett to Runway Girl Network: "We're in a good position short-term but also looking at programs that are far out. The Future Vertical Lift and other vital aircraft modernization programs will continue as planned with the DOD confirming down- select [in recent weeks]. The commercial market, that might impact a lot of businesses, and we'll see how that goes forward, and on the IFEC side, we'll have to see what's happening there."
Another firm that is exposed to the current challenges in the commercial aviation sector but which is nonetheless strongly diversified is, of course, Raytheon Technologies, the mammoth business that was formed on 3 April with the successful all-stock merger between Raytheon and United Technologies. Billed as one of the largest aerospace and defense companies in the world, Raytheon Technologies now has four segments: Collins Aerospace Systems, Pratt & Whitney, Raytheon Intelligence & Space, and Raytheon Missiles and Defense.
While Collins is best known in the commercial sector for providing aircraft interiors, cockpit avionics and connectivity, and Pratt engines power commercial narrowbodies including the Airbus A320neo and A220 (formerly C Series), both business segments also support military and defense. That puts Raytheon Technologies in an enviable position, despite being materially exposed to the present challenges faced by airlines and airframers.
Just before the mega-merger with Raytheon was completed, United Technologies chairman and CEO Greg Hayes announced a number of cost-cutting measures, including ordering a hiring freeze and suspending discretionary spending, as the economic volatility and uncertainty created by the coronavirus pandemic extended to its commercial customers. But Hayes, who is now at the helm of Raytheon Technologies as CEO, believes the combined strengths and capabilities of the new business will "make us uniquely equipped to support our customers and partners during this unprecedented time".
He added: "We will also play our part in the war on the COVID-19 pandemic, including doing everything we can to keep our employees around the globe safe and well."
That work is well underway, with the Collins unit alone already using its engineering expertise to help produce personal protective equipment (PPE), donating products to local hospitals, volunteering in communities (while abiding by social distancing guidelines) or providing much-needed financial support to nonprofits.
According to Jake Chalupsky, who is manager of international trip support at Collins, this piece of the business is working 24/7 to support customers during the crisis. In an update on LinkedIn, he noted:
Our datalink services enable air-to-ground communications for commercial, business and government aviation – including flights supporting medical equipment distribution and other relief missions.

Our International Trip Support services help provide urgent flight planning and logistics for Air Ambulance flights, bringing citizens to their home countries and delivering much-needed supplies.

Our ARINCDirect team is creating a Helpdesk for customers who need real-time, travel updates during the crisis, complete with information about local travel restrictions.
Astronics Corporation, which is known in the commercial space as being a leading provider of in-seat power to airlines, also possesses a diversified portfolio with defense content. While the firm has implemented a number of cost-cutting measures – and drawn down $150 million from its existing line of credit to augment cash on hand – it is considered an essential business. It provides power, lighting, connectivity, interiors, structures, and test equipment to the military, and the majority of its operations remain functional.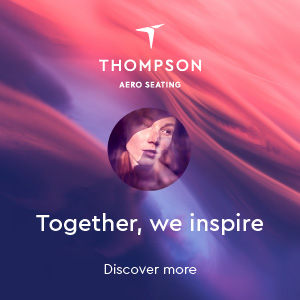 Perhaps surprisingly, even some prominent inflight entertainment and connectivity companies have their fingers in defense. For instance, while 85% of Global Eagle's business is exposed to airlines and cruise lines, the company has government business – supporting the US Navy, US Army, three-letter agencies and other DOD activities centered around national security, notes CEO Josh Marks. CARES allocates $17 billion in loans to "businesses critical to maintaining national security" so Global Eagle and others are exploring what this might mean for their defense-related work.
Meanwhile, Gore is monitoring the impact of COVID-19 on commercial aviation "very closely", Burnett tells RGN, "and we are also ready to ramp back up and support when customers need us" in the sector.
Related Articles:
Featured image credited to istock.com/tonefotografia