With a number of non-geostationary orbit (NGSO) satellite constellations in the works, including but not limited to OneWeb, SES Networks' next generation O3b mPOWER, and Telesat LEO, the race is on for antenna-makers to deliver systems for civil aviation that can offer low-latency inflight broadband connectivity via LEO and MEO networks, in addition to connecting to current GEO satellites.
Among the notable hardware test achievements thus far, ThinKom Solutions' Ka2517-branded mechanically steered, phased array VICTS-based antenna last year validated an interoperable GEO/MEO connectivity platform via airborne tests involving SES, Thales and Hughes. Now ThinKom's Ku3030-branded antenna, which was white labeled as 2Ku by Gogo, is poised to be used by the inflight connectivity provider to support transmissions over NGSOs as they come online, Gogo CEO Oakleigh Thorne revealed today during the company's fourth quarter and full-year earnings conference call.
Noting that one of the most frustrating inflight connectivity problems for passengers can be traced to the high latency of GEO satellites, Thorne said NGSOs "are much closer to earth so packets from the teleport to the satellite to the aircraft travel much shorter distance, hence arrive much faster than GEO satellites".
This type of responsiveness, he said, is not only important for web pages, gaming and chat, but Microsoft 365 services and other high-bandwidth applications, and is "very important" for driving passenger satisfaction in the future. He noted that quality IFC is the "number one" driver of customer satisfaction according to many airlines, so Gogo is working with potential NGSO providers and wants to demonstrate that 2Ku can work on a variety of constellations. It hopes to have an announcement regarding a demo shortly.
Other antennas have shown themselves capable of supporting NGSO satellites. Even though traditional, gimbaled antennas are not ideal for supporting LEO and MEO satellites, Global Eagle in 2018 successfully trialed its Qest-made mechanically-steered Ka-band-antenna over the Telesat Phase 1 LEO satellite.
But it's also true that electronically steered antennas (ESAs) are having a moment in aero, as these are seen as well positioned for NGSO environments. Gilat Satellite Networks recently demoed its electronically steered antenna (ESA) aboard the Honeywell 757 testbed aircraft, successfully switching between LEO and GEO satellites in the Ka-band frequency.
Another player on the scene, Isotropic Systems says its ESA technology has the ability to track multiple independent satellite beams, connecting with satellites in different orbits simultaneously. But the London-headquartered firm does not plan to build the end terminal itself. It in talks with inflight connectivity providers and other IFC stakeholders to license the patented core components.
This decision to deliver the hardware through partnerships with integrators "is not an experimental R&D journey", Isotropic Systems founder and CEO John Finney told Runway Girl Network in advance of this week's Satellite 2020 exhibition in Washington DC. Rather, it is the go-to-market strategy in aero chosen by the company for its optical digital beam-forming lens technologies. In short, Isotropic will supply the core components and integrators will supply the terminal to the end user, including airlines.
"We're sharing the pie," said Finney. "We provide the component, they build it into their standard ARINC [792] platform, and then march that through."
Isotropic is in talks with "most" of the usual suspects in inflight connectivity, he told RGN, but the company won't ink an exclusive arrangement with any one provider "and the reason for that is our technology itself creates one hundred different ways to differentiate at the service level" which is where the integrators, as value added service providers, excel.
"At this stage, I think our interest is in having a strong channel, and exclusivity doesn't lead to having a strong distribution model," he suggested.
Moreover, Isotropic is "open to talking to everyone" and does not have any restrictions on what business ties it makes, despite receiving an investment from Boeing HorizonX.
Though Isotropic's technology has already performed well during ground tests, it still needs to be flight-tested to confirm its capabilities in the airborne environment. The firm has "some opportunities" to get its technology on aircraft, but Finney "can't say who". He said to expect an announcement over the next 12 months. "It's more likely than not that we'll have done some testing on board an aircraft before the end of this year," he said, though the timing may be colored by Isotropic's talks with integrators.
In its official PR statement to the press, however, Isotropic said integrators that license Isotropic's antenna technologies "will be working toward the integration of patented lens modules and chipsets into their terminal platforms throughout 2020, with trials set for the first half of 2021." It believes the commercial launch timeframe aligns well with new high throughput LEO and MEO constellations expected to initiate services in 2022.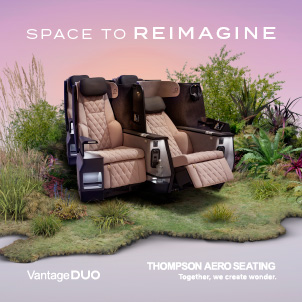 In terms of competing ESA-makers, Finney suggested that Isotropic has an advantage: "I would say 95% of all aero terminals are limited to a single beam. Very few aero terminals are available in Ka-band, which we're leading with. And none are available in Ka with multi-beam," he claimed. He added that the technology can be conformed to the aircraft frame or the radome, and is extremely low power even at a high frequency such as Ka.
Heat and power are the key issues that ESA-makers need to address. That's why Gilat and Carlisle Interconnect Technologies this week showcased a collaboration at Satellite 2020 involving Gilat's terminal with CIT's integrated Thermal Management Solution.
"Gilat's proven and scalable technology easily integrates our Thermal Management Solution for both the small form factor business and general aviation market, as well as the commercial aviation market," said Kris Samuelson, director of sales, IFCE/Interiors at CIT.
Gilat previously told RGN that its ESA technology is ready now and the Israeli firm can bring a fully certified product to market within 12 months.