As the Boeing 737 MAX grounding continues to drag on, airlines around the world have had to get creative with how to plug gaps in their fleets and route maps. Air Canada's efforts have been particularly interesting, with the airline acquiring narrowbodies from defunct Icelandic carrier WOW, extending existing aircraft leases that would have otherwise ended, and transferring routes to other Star Alliance partners.
While I find such things fascinating, none interests me more than the exciting world of dry/wet leases.
If you are not familiar, the basics are straightforward: Air Canada needs an airplane ASAP, and pays another airline to use their airplane as its own. Sometimes the airplane comes with a crew from the owner as part of the deal (wet), and sometimes it doesn't (dry). Interiors and paint jobs reflect the owner of the plane, not the airline you're ticketed on.
There are airlines that cater to this almost exclusively, having no scheduled flights of their own. Think EuroAtlantic and Hi Fly, for example.
And then there are airlines like Omni Air International, which makes its living largely via military transport contracts and charters. That is at least until recently, when Air Canada began wet leasing Omni's Boeing 767-200s on select flights from its Vancouver, British Columbia hub to cover for the MAX.
As someone who increasingly likes an adventure, and even better a somewhat obscure one, this was an opportunity I couldn't pass up.
Credit card in hand, I purchased a ticket on Air Canada from Phoenix to Vancouver for $216CAD one-way. I added an Air Canada Bistro meal voucher, which it claimed would save me a few bucks over in-flight pricing, for $7CAD. I passed on advance seat selection, which ranged in price from $27CAD to $64CAD per seat. The flight was clearly marked as operated by Omni on Air Canada's website.
Arriving at Phoenix SkyHarbor's beautifully renovated Terminal 3, check-in was found to be in a bit of disarray. The desk was roped off with an hour to go before departure, though an agent hurriedly printed a ticket. Something was up with the checked bags, which, instead of being on their way to the plane were congregating in a large group beside the desk. There was also no mention of a delay, despite the inbound aircraft landing an hour behind schedule.
The gate also showed no signs of a delay at first, even while arriving passengers were still disembarking after the scheduled boarding time had passed. Word was getting around the gate area that it was delayed an hour – apparently some passengers were receiving text updates – and queries to the gate agents were being quietly confirmed. Finally, the gate screen was updated to show an hour delay. No mention of it was made at the gate by agents, at least while I was there.
With time to spare, I wandered on over to a nearby brewery to pass the time. Returning at the newly scheduled boarding time proved unnecessary, as we were clearly still not ready. After a false start 30 minutes later, the twin-aisle 767 boarded quickly. We were finally up in the air not long after, a full one hour and forty-five minutes behind schedule.
Today's seat was 30K, located a few rows behind the wing in economy. The aircraft is configured in a 2-3-2 layout, split between two cabins (one ahead of the overwing exit, and another behind). Seat width was 17.5 inches. I couldn't find any published information on pitch, though I'd guess it was roughly 32″.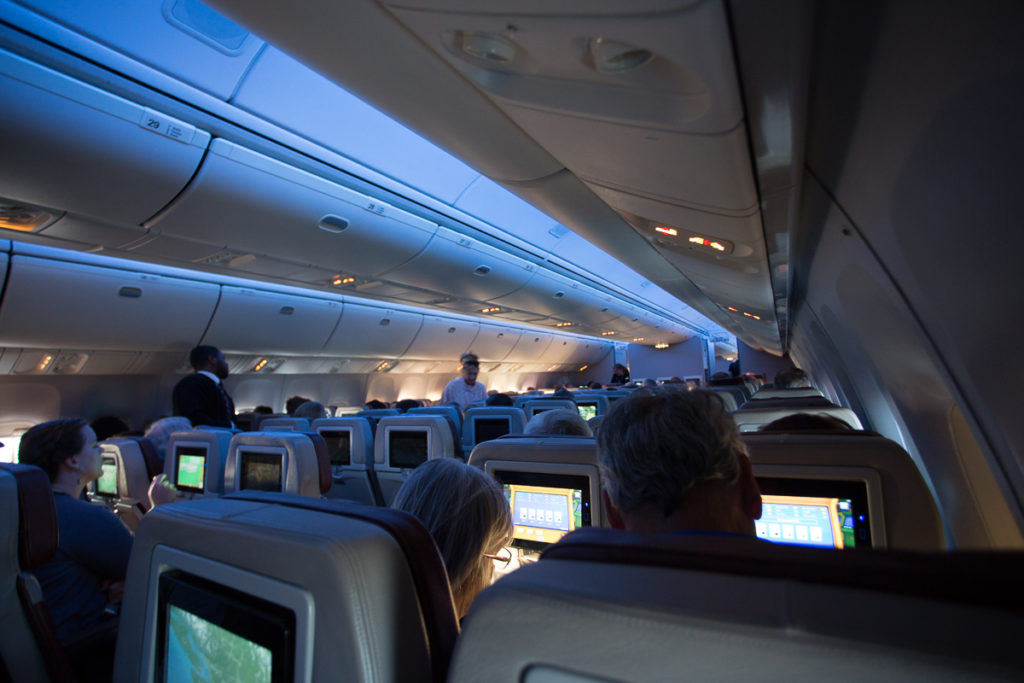 The seat had a generous recline, which is not surprising since the aircraft mostly commonly flies long-haul. It was also very plush and comfortable. In short, it was not an ultra-thin slimline with little padding.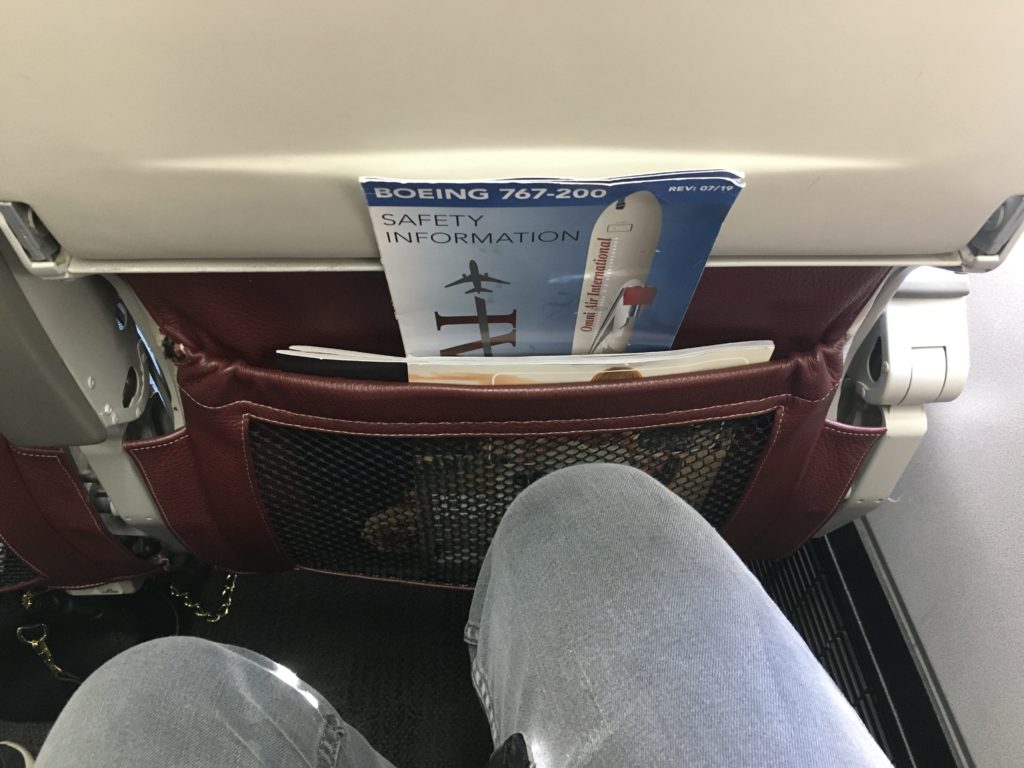 Being an Omni Air airplane, the interior was clad in a creamy off-white color with red accents, not unlike its livery.
The airplane featured newish cabin features, with larger overhead bins (not the thin, boxy style often found on older 767s) and soft blue mood lighting.
Each seat came with a USB port. I couldn't find the advertised international power port. There were no personal air vents, though this is common on the 767 across most carriers.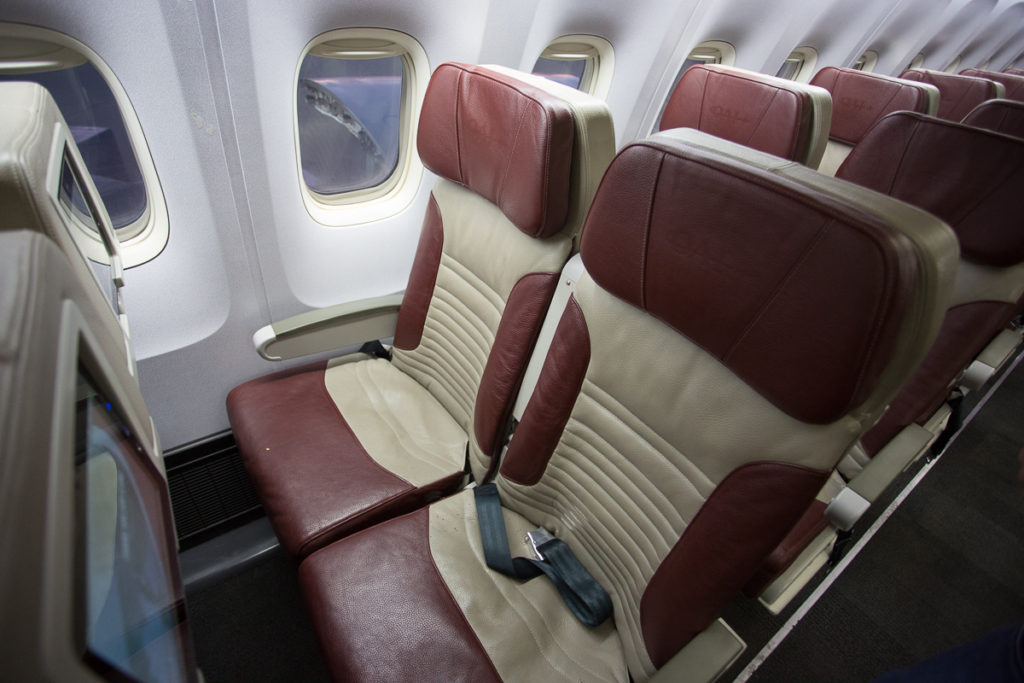 Each seat also has its own 8.9"-wide, RAVE-branded HD touchscreen IFE system from Safran Passenger Innovations. It was stocked on the slimmer side, with a few dozen movies and TV choices each. That's more than enough for a shorter flight, though frequent fliers would probably run out quickly.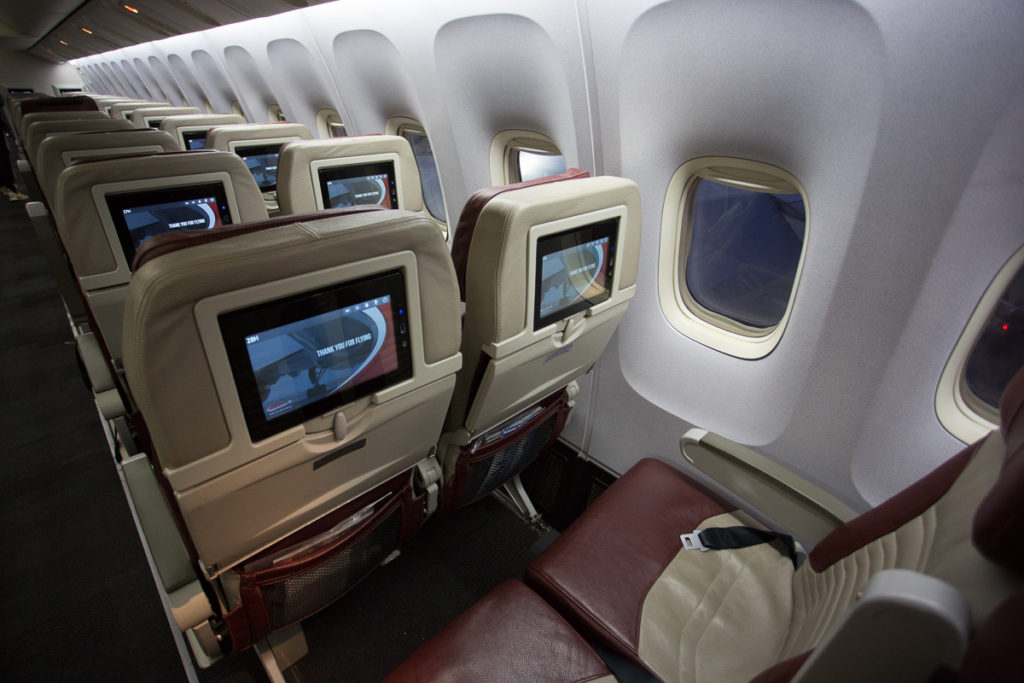 The IFE system worked great, with no lags or hiccups. There is no Wi-Fi on the aircraft.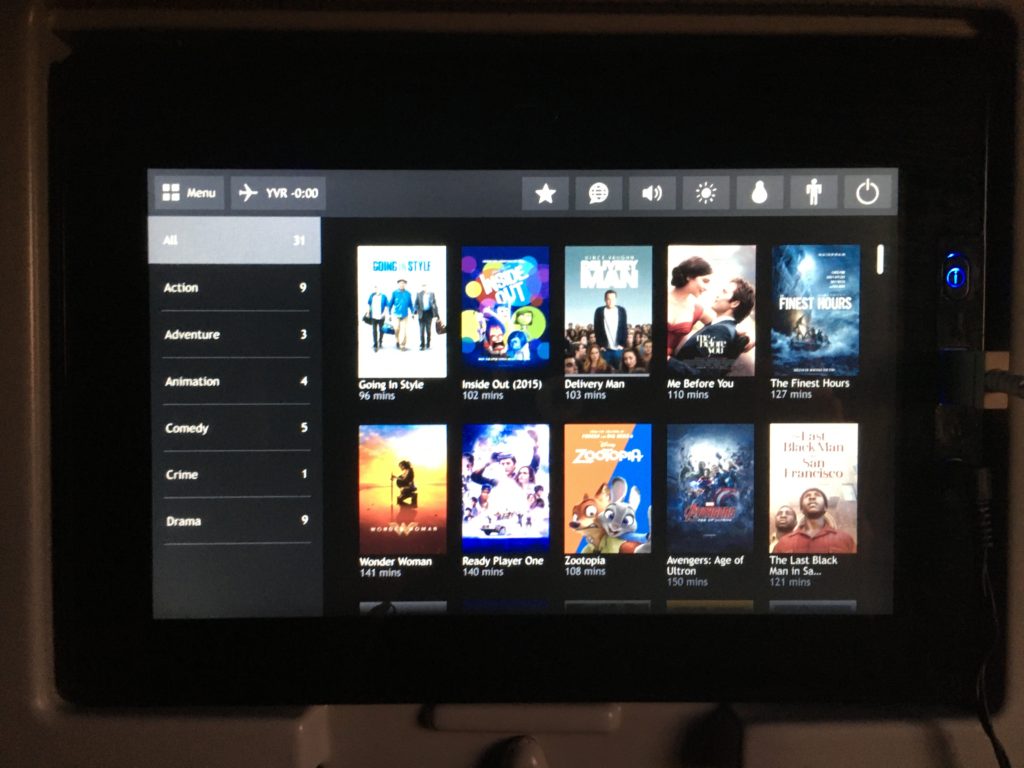 The crew set-up was rather peculiar, as the flight is crewed by both Omni and Air Canada staff. Omni handles the pilots and a handful of flight attendants (hence the wet lease), mostly for safety purposes. Air Canada staff provides the bulk of the service. Different uniforms identify the different crews.
A quarter of the way into the flight Air Canada crews brought out the buy-on-board meal wagon and drink carts. Prices for small snack items start at $3CAD, ranging up to what looks like business-class style meals for $13.50. Standard drinks (juices, soda, water) are free, while specialty drinks and alcohol go for $6-$10 each.
As mentioned earlier, I had purchased a meal voucher for $7CAD, which ended up saving me $5. Sweet. Crews offered a choice of entree and snack item. Though many items were out of stock by the time the trolley got to my row, a tasty chicken wrap and Hershey snack mix remained.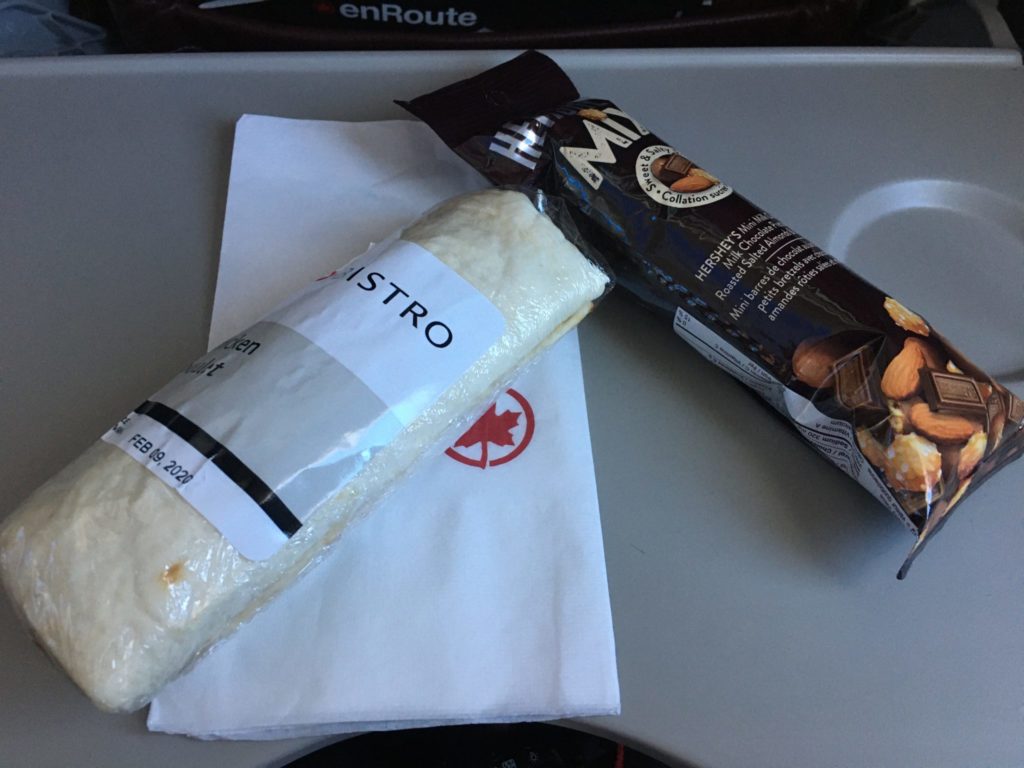 As I've discovered with Air Canada's buy-on-board experience in the past, there can be a disparity between the photo versus what appears on the tray. And this wrap wasn't an exception to that rule, but to its credit it tasted just fine.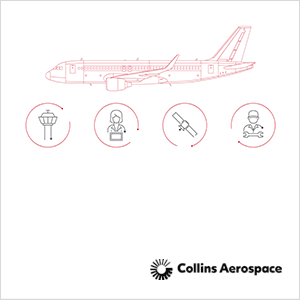 The airplane landed in Vancouver under a beautiful sunset.
Typically, wet leased aircraft have not led to the best #PaxEx experiences. Hard products are often older, perhaps a generation or two behind what the leasing airline typically offers. Service can be hit and miss too. Omni bucked that reputation easily, with a nicely kept cabin and good service.
I regularly overheard passengers remarking that they preferred the Omni jet over the usual Air Canada experience: the comfort of the plush seats being the main draw. Yes, many of us still prefer a bit of padding!
Air Canada's service on the plane was also fine. But its ground operation in Phoenix, at least on this experience, was a bit of a mess.
Omni will continue operating for Air Canada through April on routes from Vancouver to Phoenix and Hawaii.
All images credited to the author, Jeremy Dwyer-Lindgren
Related Articles: