To say that things are changing in the airline passenger experience (PaxEx) industry would be an understatement indeed. Airlines are slashing capacity, grounding fleets and joining the likes of Boeing in seeking economic relief given the collapse in air travel demand due to the coronavirus pandemic. The entire PaxEx supply chain is bracing for the knock-on effect to their businesses.
Major airline caterer LSG Group's latest earnings report, released today, put the wider industry challenges in stark relief. Though LSG achieved record revenue in 2019, it says: "Massive entry restrictions and travel warnings, the halting of business travel by many companies and event cancellations have brought air traffic to a partial standstill that is also affecting the catering business. It is not yet possible to predict how strongly these events will be reflected in the company's future business results." PaxEx stakeholders Global Eagle, Gogo and Astronics are also not providing 2020 guidance at this time.
Airlines and their suppliers are unlikely to walk away from the COVID-19 crisis unscathed. But some PaxEx stakeholders are taking the opportunity to double down on their proficiencies and offer deferred payment options for customers. Aircraft seating overhaul provider Latitude Aero, whose off-wing services include manual deep cleaning, is one of them. The Greensboro, North Carolina-based company is now focusing on offering cabin decontamination services as airlines park their aircraft.
"Every day is a new adventure. Some projects have cancelled but we're shifting to cleaning and decontamination right now," Latitude Aero president and CEO Kelvin Boyette tells Runway Girl Network. "We're hiring, not laying off. We're all in this together. We understand that our airline partners need the work done while airplanes are parked. It's easy for us to do, so we're offering deferred payment. I fully believe the airline industry will come back stronger than ever."
Latitude Aero's decontamination team is mobile. "We will go to the airplanes wherever they're parked," says Boyette, especially as travel restrictions lift. "When you get that stimulus, pay me later." For smaller airlines, Latitude Aero is willing to work out a payment schedule that suits their needs. He says the firm has been "blessed" and "can afford to wait" for payment.
The company uses traditional decontamination methods at present. "Large international airlines are fogging and misting the cabins to kill COVID-19 and other bacteria and viruses, but those fogging chemicals have chlorides in them and that causes corrosion over the long term, so we use only CMM (component maintenance manual)-approved methods: soap, water and isopropyl alcohol," explains the Latitude Aero CEO. "The fogging methods are quick and easy but the proper method is manual labor, soap, water and a human in every nook and cranny of the seat to decontaminate everything from tray tables to seat controls to latches. The CDC recommends isopropyl alcohol of 60%; we use 70%. That's what we do as our standard deep clean."
In its latest guidance, the CDC recommends routine operating procedures for cleaning aircraft and managing solid waste if no symptomatic passengers are identified during or immediately after a flight. In the event that there were symptomatic passengers on board, the CDC recommends a far more thorough cleaning process, including of soft and hard product.
Clean non-porous (hard) surfaces (e.g., leather or vinyl seats) at the seat of the symptomatic passenger(s) and within 6 feet (2 meters) of the symptomatic passenger(s) in all directions, including: armrests, plastic and metal parts of the seats and seatbacks, tray tables, seat belt latches, light and air controls, cabin crew call button, overhead compartment handles, adjacent walls, bulkheads, windows and window shades, and individual video monitors.
While Latitude Aero's "sweet spot" is in supporting smaller operators with fleets of 20 to 50 aircraft, including sports and vacation charters, Boyette says he is currently in talks with a larger airline on sanitizing its airplanes when they are parked. "We have several services we can offer airlines, but it seems like a lot of our focus right now is how can we decontaminate cabins," he says.
A new machine that uses ultraviolet-c lamps to remove bacteria and viruses from seats and other surfaces has received a lot of attention of late. The GermFalcon is a 2017 Crystal Cabin Award finalist whose time may have come. Though Boyette hasn't seen the data specific to GermFalcon, he says he knows ultraviolet light works really well. "It is used for water filtration systems and it has fantastic results."
However, even though an aircraft cabin can be bathed in ultraviolet-c light, Boyette says a "semi-manual process" is still needed to open tray tables, move latches right and left, and ensure every crevice receives attention. "I haven't found a way yet to take humans out of the equation," he says. "For now, we're going to stick with what we know, but I do spend hours each day looking for a new technology that can speed it up for us."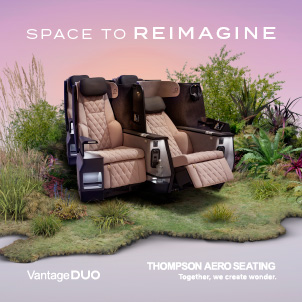 This week Latitude Aero technicians showed HondaJet fractional ownership firm, Jet It, how it decontaminates aircraft. Boyette's team is accustomed to working on Boeing 747s and 767s, but he says the experience at Jet It in Greensboro was fun and educational.
A Boeing approved vendor since 2016, Latitude Aero isn't new to the aircraft cleaning business. Boyette recalls "a situation where we detailed, cleaned and removed corrosion from 787 Line #19, an airplane that sat in Seattle for a bit", and was known as one of the troubled teens.
As the airplane sat there, the seats corroded "and we did corrosion mediations, and the airplane is now flying", according to Boyette.
The company also provided over 1,000 overhauled seats for the Boeing 777X flight test program. "We bought 777 [Sicma-made] seats from KLM and detail-cleaned them, refurbed, replaced the plastics as needed, and sold them to Boeing for the 777X. On 777X, you have all the engineering [equipment], ballast tanks, but throughout the cabin you have random seats … those are our seats." Boyette is now hiring workers for a new shop in Everett, Washington.
In general, adds Boyette, the work is still coming in for Latitude Aero, despite the challenges posed by the coronavirus pandemic. But, he noted: "The work is shifting. Anyone that doesn't have the ability to pivot in these next few months, to find the proverbial dollar under every rock, will have trouble. If we have to do some fleets of business jets, we're fine doing that. Our bread and butter is commercial and through the summer, the primary source of revenue will be deep clean and sanitation…"
Related Articles: