Astronics Corporation restructured its struggling aero antenna business with remarkable speed, reducing headcount from 106 employees at the beginning of the year to about 44 at the end of February. Importantly, after opting to realign the unit last year, Astronics has narrowed the focus of the antenna business from four initiatives to one – securing near-term opportunities in business jet connectivity. Delivering a tail-mount antenna for Collins Aerospace's LuxStream Ku-band IFC program, as contracted, is paramount.
In business aviation IFC, Astronics Corporation's "main partner" is Collins Aerospace, admitted company president and CEO Peter Gundermann during the firm's fourth quarter and full-year earnings conference call.
Referring to Collins, Gunderman said: "They are very successful obviously in a lot of ventures and they have a lot of fingers in a lot of places. And so far, I'd say, we think things are going pretty well. We have made some changes to our product [for LuxStream], partly driven by improvements on our side, partly driven by requests on their side, and we think the combination makes it a compelling product. It's a little early to put detailed plans out there, as to how we're going to succeed. But we're optimistic."
Competitive landscape
The business aviation IFC market is hotly competitive, with SmartSky's nextgen air-to-ground (ATG) offering scheduled to enter revenue service in the second quarter, and Gogo's nextgen ATG slated to launch next year, supporting IFC in North America, providing the coronavirus pandemic and associated challenges do not push plans to the right.
One small potential upside to the COVID-19-inspired airline scheduling changes is that the business aviation sector might benefit from the airline capacity reductions, Gogo CEO Oakleigh Thorne said last week, noting that analysts believe current events "could drive demand for private aviation in the future". Private jet charter broker PrivateFly said that in times of disruption, people "do turn to private jet charter to fill the gap". However, travel restrictions both within corporations and more broadly, between the US-Canada border as announced today, do not bode well for non-essential travel pursuits at present. Trade will not be affected, assured US President Donald Trump.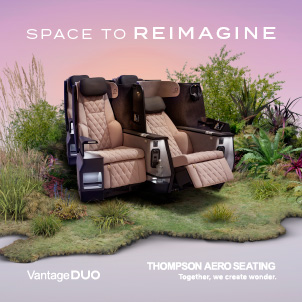 On the satcom front, in addition to the forthcoming LuxStream service, business jet operators can avail themselves of Viasat's near-global Ku-band connectivity for large business jets, in addition to Ka and hybrid Ku-Ka (with various distribution partners); as well as Inmarsat's GX-powered Jet ConneX service through various VARs including Satcom Direct.
While the loss of the Intelsat 29e satellite dealt an early blow to the satellite operator's FlexExec Ku-band IFC service for BizAv, master distributor Satcom Direct has taken the bull by the horns, announcing that it is expanding its hardware portfolio with the launch of a new tail-mounted antenna series called Plane Simple, and embracing an open architecture approach.
Notably, while Astronics was tapped to supply the Ku-band tail-mount antenna for FlexExec, Satcom Direct said it has selected QEST to deliver the hardware (more on this later). Gogo has also vowed to offer global Ku for BizAv, though here again there appears to be some hardware changes afoot. A deal for the tail-mount antenna, which was believed to have been secured by Gilat, is no longer in play for the Israeli company.
"Gilat's tail-mount Ku-band antenna project, previously announced on August 5th, 2019, was discontinued. Gilat will refocus on other opportunities that the significant growth in the IFC terminal market offers," said the firm as part of its 4Q and full-year earnings statement. A Gilat spokeswoman told RGN: "We cannot share anything beyond what we said until closing." But she noted that Gilat believes its ESA solution, which is now proven over GEO and LEO "has great potential for both business and commercial aviation".
Gogo's latest Ku IFC brochure for BizAv states that new "Gogo-exclusive tail-mount antennas have been designed specifically for large, business aviation aircraft" for service.
In BizAv, Astronics' Gundermann said in late February that the company is "a little bit cautious obviously based on our experience, but we're giving everything we got to this one program [Collins Aerospace's LuxStream]. And we're very focused on that. And as the year progresses, we should be able to start talking about installation rates and STCs. At this point, it's mostly a certification exercise." It's certainly a pivot from two years ago, when Astronics still saw opportunities for its antenna hardware in the commercial space.
Keeping it simple
Satcom Direct is not taking the LuxStream development lying down. Its new tail-mounted antenna system offers two variants for operation in Ku- or Ka-band frequencies. The Ku-band variant is expected to be available for STC in early 2021, followed by the Ka-band version later in the year. Partnerships with Inmarsat for Jet ConneX service delivery and Intelsat for FlexExec connectivity have already been established, it noted in its statement.
RGN asked Satcom Direct if it opted to source its own antenna hardware supplier for FlexExec because Astronics is reducing its footprint in BizAv IFC. A spokeswoman for SD said: "It was part of our long-term vision and not a reaction to Astronics' footprint reduction in the BizAv IFC sector." Astronics could not provide immediate comment.
Asked if SD will use Honeywell's tail-mount antenna for the Jet ConneX Ka service, the SD spokeswoman clarified:
Right now the Honeywell tail-mount supports Jet ConneX Ka services – in the future when the dual variant SD Plane Simple tail mount antenna is available, customers will have the option to choose the SD Plane Simple antenna for Ka support. SD is developing the phased array flat panel antenna and the new Plane Simple tail-mount antenna in partnership with QEST. The tail-mount will support Intelsat Ku while the flat panel will support LEO Ku. The Plane Simple tail-mount antenna is being designed to be easily changed out to support Ka or Ku band networks eg if an aircraft is sold [the] new owner may want to change from Ku to Ka. Honeywell hardware does not feature as part of the SD Plane Simple portfolio.
She noted that the SD Plane Simple antenna portfolio will include antennas to support L-band in addition to Ku-band, and Ka-band "so that SD can offer connectivity solutions that extend from the flight deck to the tail. It means that SD can provide customizable connectivity solutions at every stage, except for the satellite network, and has partnerships with numerous network operators agreed and in place. The antenna portfolio includes the phased array flat panel antenna development, the new tail mounted dual variant antenna, and the Certus Iridium antenna. The business strategy is to take an agnostic open architecture approach providing customers with a single source solution for all their connectivity needs. Developing antennas is part of that overall strategy. It also enables our data management business which is growing."
Back at Astronics, breakeven for the antenna business known as AeroSat was "down from about the $40 million level to $10 million today" following the previously-announced restructuring plan, said Gundermann during last month's earnings call. "This was not an inexpensive exercise."
After announcing ambitious plans a few years ago for Ku tail-mount IFC in BizAv, Panasonic Avionics, meanwhile, appears to have bowed out, with its name no longer mentioned as part of Astronics' work or indeed SD's program. It is understood that the IFEC giant continues to support VVIP installs with its traditional Ku-band antenna hardware. The road to success in BizAv IFC is, as in commercial, no way assured.
Related Articles:
Featured image credited to istock.com/Cavan Images