ST Engineering's Arc lavatory aims for an interior appearance that is immediately eye-pleasing to economy class passengers but also industrially robust, reducing long-term wear and tear.
At the 2020 Singapore Airshow, ST debuted an updated design to address an overlooked source of damage: the wear and tear incurred during ground servicing.
Emptying the lavatory waste bin and restocking the supply cabinet has always been done inside the lavatory's tight confinement. With Arc, the bin and cabinet "cubbies" slide out of the lavatory into the aisle so they can be serviced without entering the lavatory.
A ground employee would still need to enter the lavatory to clean it, but foot traffic inside the lavatory would be reduced. The design eliminates interior latches that sometimes break, causing the mirror or waste bin cover to swing open – at best untidy, at worst hitting passengers.
This iteration of Arc evolved from ST and design firm Acumen's previous concept for surface modifications without changing the whole lavatory unit. Their work was shortlisted for a 2019 Crystal Cabin Award.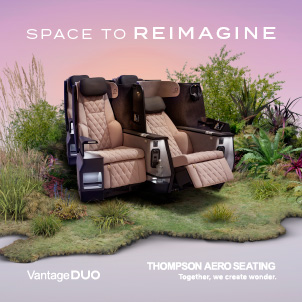 ST made this complete lavatory unit as it began to confront the challenge of applying its interiors to existing lavatories.
"We realized we should start from scratch instead of improving someone else's. We could add new features," ST Engineering VP commercial business Hean Seng Tan said. The lavatory box frame is made by EFW, an ST-Airbus joint-venture.
He said Arc appeals to airlines that "want commonality across aircraft". Attention to lavatory details is not exclusively the domain of airlines in ST's home market of Asia. "There is global interest in consistency," Tan noted.
ST proposes Arc for A350s, 777s and 787s, but Tan cautioned that Arc is still conceptual, unlike its PRM-friendly Access lavatory that aims for October 2020 certification.
This iteration retains the original design curves – hence "Arc". A typical sink deck is flat and joins side walls at a ninety-degree angle. But as Arc's sink deck approaches the side walls, it slopes upwards and forms part of the side panelling. This eliminates joints on the sink surface where water accumulates, creating a wet environment for passengers and gradually decaying the caulking between sink surface and walls.
The mirror is also curved, allowing greater room around the sink basin.
The result is a lavatory that seems surprising to be for economy class and not a premium cabin. Yet ST, which is eyeing a larger role in aircraft interiors, wants a strong baseline. "How can we make a standard lavatory?" Tan asked. "Then we scale up."
Related Articles: